W2Mnet WWE No Mercy 2016 Preview
Smackdown once again has the historic WWE Pay-Per-View name. No Mercy started as PPV in 1999, which is probably remembered more for the first ever Tag Team Ladder Match between EDGE and Christian and the Hardy Boys, than for the main event of Triple H defending the World Wrestling Federation Championship against Stone Cold Steve Austin. This could be the case on this show as well. Especially, since the true main event is going to air as the opener of the show.
This means AJ Styles defends the WWE Championship in a Triple Threat Match against John Cena and Dean Ambrose right at 8pm ET. However, this show may go down as the true retirement of Dolph Ziggler as he challenges The Miz one final time for the WWE Intercontinental Championship, which also probably closes the show. There's also been a late injury reported to Becky Lynch. This could put the Smackdown Women's Championship Match on hold and force WWE to scramble to fill time.
Even with that, Smackdown should conitnue to set the precedent for how single branded PPV's are done. Perhaps there's some surprises in store with all the moving and shaking happening. So, let's get on with the W2Mnet WWE No Mercy 2016 Preview.
An Introduction to the Article
As someone that has quite a bit of experience doing these roundtable type articles, I wanted to do this a bit differently than some others. Instead of having six people all give thoughts on each match, I felt it better to assign one match to each person. So, one of our staff members will answer a question pertaining to a match, then give their thoughts on the match itself, and finally predict a winner. This continues until the end of the article, when everyone gathers to give their overall thoughts on the event.
W2Mnet Staff
Sean Garmer, Editor-in-Chief, Co-Host of Wrestling 2 the MAX
Paul Leazar, Wrestling Dept. Head, Co-Host of Wrestling 2 the MAX
Patrick Ketza, Wrestling Senior Editor, Host of Wrestling Unwrapped
Noah Mooney, W2Mnet Wrestling & Football Contributor
Brandon Biskobing, W2Mnet Wrestling & Football Contributor
Rick Beslin, W2Mnet Wrestling Article Writer
Thomas Grim, W2Mnet Wrestling Article Writer
Pre-Show Kickoff Match
Jack Swagger vs. Baron Corbin
Jack Swagger can be an asset to Smackdown?
Yes, Jack Swagger isn't a promo God, nor is he the most compelling guy. However, he's very good in-ring and he has a gimmick that still appeals to fans. He's a great addition to a Smackdown midcard and provides a veteran presence as well. He could challenge The Miz for the WWE Intercontinental Championship if need be. He's also a former world champion and he's dabbled in the tag ranks too. He can work in any spot he's placed and I just hope he's given new life on the Smackdown brand. The guy deserves it.
So, while he works in situation like this that seems made to elevate Baron Corbin, he deserves better honestly. Corbin is directionless and he's boring inside the ring too. I don't really see what else you are going to have either one of these guys do right now. So, why not keep it going and have neither man lose in this spot. – Sean Garmer
No Contest
MAIN EVENT: WWE World Championship Match
Triple Threat Match: (Champion) AJ Styles vs. Dean Ambrose vs. John Cena
John Cena should get his 16th title reign in a singles match against AJ Styles?
It seems as if John Cena's 16th title reign is inevitable. However, I don't think it should happen from a victory over AJ Styles in a singles match. AJ should be in line for a long title run, as John Cena can have a feud with Dean Ambrose right now and then move onto some Smackdown heels. Potentially, another program with a more experienced Miz now, or maybe a feud with Baron Corbin, which would really help his development.
Eventually, a year or two from now, depending on how long Cena plans on sticking around, Cena can win the title one more time, probably at a big event such as Summerslam or even WrestleMania. However, I think he shouldn't defeat AJ in a Singles match for the title or ever, now that AJ has beat him twice, it would be nice if SuperCena could finally have kryptonite he couldn't conquer in the form of AJ Styles. – Noah Mooney
Winner AND STILL WWE CHAMPION: AJ Styles
The Fearless Queen vs. The Staten Island Princess
Nikki Bella vs. Carmella
The Heel turn was the best thing for Carmella?
To answer the question, I don't truly have an answer simply because from my vantage point it was the ONLY thing for Carmella.
Her main roster debut was welcomed with a pop so loud you could hear a pin drop. The fact she was drafted to the show opposite Enzo and Big Cass has been disastrous for her in my opinion. She's not my cup of tea in the first place and being without those two has further proved my point that she needs them to truly be relevant. This feud with Nikki Bella is a make or break for her personally. As a Nikki fan, I'm all for her being complete fodder on Nikki's way to a future championship reign, but on the other side of the coin I hope for her sake that Carmella manages to build a character worth getting behind be it as a heel or an eventual face that connects to the audience creating more variety for the Smackdown viewers to enjoy.
If you look into the feud without all the dirtsheet info ie. Nikki slept her way to the top and all that good stuff. The fact is Nikki Bella is the equivalent to John Cena being that a feud with her has now become the new game of sink or swim. Whether Nikki wins or loses is irrelevant in the long run. The question to ask now is what do you do with Carmella from here?
Much like when Alex Riley got his big win over the Miz….the question of "what now?" has no answer. – Thomas Grim
Winner: Nikki Bella
The Viper vs. The Face of Fear
Randy Orton vs. Bray Wyatt
It's time to reveal Sister Abigail?
No I do not think it's time yet unless you are going to give Bray Wyatt a huge push, and plus I'd like to see them do that reveal at a bigger PPV. I really hope this is a good match and they actually do it this time unless they are saving the ending for Survivor Series. I'm really hoping for a Wyatt win but highly doubt they will give him one so I am going with Randy Orton. – Brandon Biskobing
Winner: Randy Orton
Smackdown Tag Team Championship Match
(Champions) Rhyno & Heath Slater vs. The Usos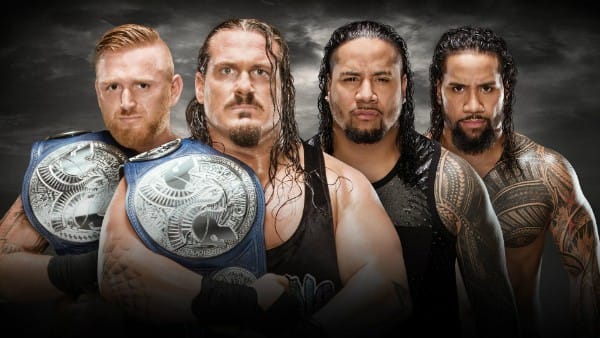 You are excited for the potential Usos vs. American Alpha Tag Title feud?
Yes I'm excited for a potential Usos amd American Alpha feud for the tag titles. However, I think we may have to hold off a bit before those two teams start feuding for the belts because I'm predicting Heath Slater and Rhyno to retain here. Right now, the Usos and Alpha doesn't need the championship to fuel their feud. There's plenty of personal animosity between the two with the Usos costing American Alpha their spot in the tournament and trying to injure one of them every chance they get. I think American Alpha gets some retribution Sunday by costing the Usos their match for the titles continuing their feud. This allows Slater and Rhyno to fued with another team to create more depth within Smackdown's tag team division. – Rick Beslin
Winners AND STILL SMACKDOWN TAG TEAM CHAMPIONS: Heath Slater & Rhyno
Smackdown Women's Championship Match
(Champion) Becky Lynch vs. Alexa Bliss
*Be advised that this match may not happen because of Becky Lynch's injury*
Alexa Bliss is a future Women's Champion?
So, there's a heck of a thing with this one. I know WWE gets knocked for doing it. But, would they really let the first Smackdown Women's Champion lose the belt in her first PPV defense? My gut tells me no. Sorry, Alexa Bliss. That's not to say she won't be a future champion. She has all of the makings of being a champion down the line. Maybe even by Mania or, really pushing it, by the end of 2016. However, I think Becky Lynch pulls this one out after what should be an awesome match, proving she is straight fire. – Patrick Ketza
Winner AND STILL SMACKDOWN WOMEN's CHAMPION: Becky Lynch
WWE Intercontinental Championship Match
Title vs. Career: (Champion) The Miz w/ Maryse vs. Dolph Ziggler
A win would help The Miz a lot more than Dolph?
So if Dolph Ziggler wins, what do you really accomplish other than getting Dolph another title run at the midcard. Sure, with the renewed focus on the championship since the brand split, it might be a run that could help rebuild Dolph into something more. However, it's a tall order to fill, a huge mountain to climb, and their just might be too much damage to repair for the Kent State University Hall of Famer. The Miz going over gets him more heat, lets him look like a huge freaking deal (something that he desperately wants to prove to all of his naysayers.)
This really builds him to not only maybe challenge for the WWE World Heavyweight Championship down the line, but certainly gives whoever knocks him off his perch a huge rub. I would certainly say that the win would benefit The Miz more than Dolph Ziggler. – Paul Leazar
Winner AND STILL WWE INTERCONTINENTAL CHAMPION: The Miz
Overall Thoughts Part 1
So prediction wise, your winners on Sunday are Swagger, Miz, Nikki, Becky, The Usos, Hawkins and John Cena. Bold predictions maybe, but if you wanna shake things up you hit the reset button and make a bunch of IWC favorites start chasing belts. Cena walks out tying Ric Flair. Mark my words. Ziggler and Miz will be match of the night, no doubt in my mind. – Thomas Grim
Overall, there are certainly some very interesting match-ups on this card. Like I said for the Cesaro-Sheamus match if the Miz-Ziggler match isn't some form of stipulation match so Miz and Maryse can't weasel their way out of this and Ziggler loses due to interference then this whole thing was dumb and pointless. The triple threat match will be interesting, but I'm really hoping that Cena does not get the title – Brandon Biskobing
Smackdown has been on fire lately and most critics are in agreement that they have been producing far better shows than their Raw counterpart. I'm really excited to see how they follow through with their recent string of great shows. Miz vs Ziggler has a great storyline to work with and both guys work so well together. The main event triple threat will be a joy to watch and honestly there are so many matches that can go either way that this ppv is sure to keep your interest. I'm looking forward to see what the blue brand has in store for us this Sunday. – Rick Beslin
Overall Thoughts Part 2
Smackdown has been the show to watch since the brand split. The same can be said for their PPV's as well. Their stories are much more developed, the characters for the most part are interesting, and the General Managers don't get too involved. Not to mention, Talking Smack is a great post show that adds a ton to the show. The Triple Threat match should be all kinds of great. So should the IC Title match too. Everything else could be decent to good. The card may look a little anemic after the Becky injury, but I have faith they can pull it together once the show airs. – Sean Garmer
So, I think most of us gave the first round of PPV's to Smackdown, between Backlash and Clash of Champions. Since the brand split, Smackdown has become the place to be in the WWE, and I see no reason why that should change. A potential classic for a main event, a great women's title match, plus Bray vs. Randy Orton, this has the makings of Smackdown going 2-0 in the WWE PPV Wars. – Patrick Ketza
I'm really looking forward to this show. All of the title matches should be good to outstanding, and I'm highly invested in all of them despite some having better builds then others. The rest of the undercard outside of Nikki/Carmela leaves something to be desired, as I could care less about Swagger/Corbin. Hopefully, these other matches deliver just as much as the title matches. Either way, I'm expecting Smackdown Live to outshine RAW when it comes to the PPV's once again. – Paul Leazar
Overall Thoughts Part 3
Ever since I was little, No Mercy was always one of my favorite PPV's. So aside from my excitement from the return of the pay per view in general, the card seems to be tremendous as well.
The Women's Title match between Becky Lynch and Alexa Bliss along with the Tag Title match between The Usos and Slater and Rhyno don't seem like they are going to be technical masterpieces, but the finishes storyline wise interest me.
Then we got a match between Randy Orton and Bray Wyatt in which Bray Wyatt may finally have more momentum with the writers of Smackdown digging into his mystical aura, possibly leading to this being a non-conventional match which should be interesting.
Then we move onto the Title vs. Career match between Miz and Dolph Ziggler, which will most likely be an absolute barn burner. We've seen these two have great chemistry and put on great matches together, and with the added drama that if Ziggler loses his career is over, this match is sure to lead to fast heartbeats and a dramatic outcome.
After that match, the crowd will most likely be exhausted, but they will quickly be rejuvenated for the triple threat main event for the WWE World Title. Dean Ambrose has recently showed a more edgy side of his character, making him a lot more interesting and bad ass.
John Cena has made it a mission to get the WWE World Title for a 16th time to tie the Nature Boy with the most reigns of all time. Then you have the champion AJ Styles, who has been at the top of his game since coming to the company at the Royal Rumble, and really flourishing since turning heel.
Three capable ring generals will put on a fantastic and possible chaotic main event. This seems to be shaping up into another very successful Smackdown Live PPV. – Noah Mooney
Farewell For Now
Well, that's it for our W2Mnet WWE No Mercy 2016 Preview. Let us know your predictions for the show in the comments. In addition, join us later in October for WWE's next PPV Hell in a Cell. There should be a Wrestling 2 the MAX EXTRA review on Monday morning.
Sean, Gary, and Paul have their customary WWE special event preview on this week's Wrestling 2 the MAX. You can click the button below to listen through Sound Cloud or find the podcast on I-Tunes, Stitcher, Youtube, Google Play and many other places.
https://soundcloud.com/w2mnetwork/wrestling-2-the-max-ep-215-pt-2-no-mercy-2016-preview-goldberg-vs-brock-njpw-kopw-2016-preview