WWE Fastlane 2018 marks the final single branded special event for the foreseeable future. WWE has decided to combine the big monthly shows due to a variety of factors. So, this could certainly go down as a history maker, or just simply a final blip on the radar of the single brand events. However, that's not the only purpose of this show. This is also the final major stop before going full bore into Wrestlemania hype mode. The biggest event on WWE's calendar. Although it seems things should stay the course with the granddaddy of them all looming large, it is certainly not a foregone conclusion considering who is the ultimate Master of Ceremonies.
So, this show probably sees most, if not, all the champions retain their titles. But again, you never know who might pull a surprise. Could it be Ruby Riott as she challenges Charlotte Flair for the Women's Championship. The Usos once again meet bitter foes New Day for the Tag Team Championships. While two of the more methodical wrestlers on the roster, Bobby Roode and Randy Orton battle for the United States Championship.
Plus, in the main event, AJ Styles has the toughest task of all in fending off five other men to retain the WWE Championship. A Six-Pack Challenge sees John Cena, Baron Corbin, Dolph Ziggler, Kevin Owens, and Sami Zayn all vying for a chance at glory. So, there's quite a bit on tap as WWE hits the Fastlane towards Wrestlemania. This is the W2Mnet WWE Fastlane 2018 Preview & Predictions. – Sean Garmer
WWE Fastlane 2018 Preview and Predictions
An Introduction to the Article
As someone that has quite a bit of experience doing these roundtable type articles, I wanted to do this a bit differently than some others. Instead of having numerous people all give thoughts on each match, I felt it better to assign one match to each person. So, one of our staff members will give their thoughts on the match itself and predict a winner. This continues until the end of the article when everyone gathers to give their overall thoughts on the event. – Sean Garmer
W2Mnet Staff
Harry Broadhurst, Host of Wrestling 2 the MAX Smackdown and 205 Live Reviews, Co-Host of Wrestling Unwrapped, W2Mnet Wrestling & Football Contributor
Elizabeth Pugliese, Co-Host of Wrestling 2 the MAX Smackdown and 205 Live Reviews, W2Mnet Wrestling Contributor
Glenn Smith, W2Mnet Wrestling Contributor
Cedric Colon, W2Mnet Wrestling Contributor
Women's Tag Team Action
Becky Lynch & Naomi vs. Natalya & Carmella
Probably the most pointless match on the card. While Natalya and Naomi gave us a pretty solid promo on Smackdown Live, this seems like frenemies being put together to give them something to do. I expect this match to be either pre-show or early on on the card. Only because I want to see Carmella cash-in her Money in the Bank briefcase later. Team Glow Fire takes the win. For no other reason than they seem to be more popular. – Elizabeth Pugliese
Winners: Becky & Naomi
Other Staff Member Predictions: Everyone else also picked: Becky & Naomi.
Singles Match
Shinsuke Nakamura (2018 Royal Rumble Winner) vs. Rusev
The proud Lion of Bulgaria looks to finally make his mark on the greatest day of the year Rusev Day. He goes up against the noble King of Strong Style Shinsuke Nakamura. Though this match may not have any bearing on what happens going forward. A win for Rusev could maybe make Smackdown management give Rusev a title shot down the line. Now in the case of Nakamura, he's on the road to get as much momentum on his side before going toe to toe with potentially AJ Styles at Wrestlemania. So, at this point for him, every win matters in the build-up to the big match. – Glenn Smith
Winner: Shinsuke Nakamura
Other Staff Member Predictions: Everyone else also picked: Shinsuke Nakamura.
Tag Team Championship Match
(Champions) The Usos vs. New Day
We have been here and done this many times now. However, I really can't complain because all of their matches are pretty stellar. These two teams have carried the division for awhile. Going into Mania one might think the company would want the titles on New Day, who are the bigger draw/moneymaker. However, the Usos have really come into their own. The match should be another great one between the two teams. I am going to call it a no contest. The Bludgeon Brothers interfere, destroying both teams. Thus, setting up a triple threat match at Mania. – Elizabeth Pugliese
Match Ends in No Contest
Other Staff Member Predictions: Harry & Cedric: The Usos. Glenn: New Day.
United States Championship Match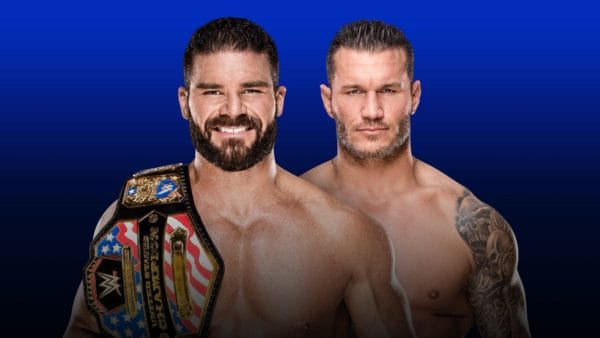 (Champion) Bobby Roode vs. Randy Orton
In one corner the most cunning of Vipers, a Killer of Legends if you will. In opposing corner, the Champion who is the most GLORIOUS being in all of existence. I'll be honest here, this match could easily go either way which is both a blessing and a curse in my eyes. Randy doesn't necessarily need to win but in all honesty, it wouldn't be too surprising if he does. For Roode, on the other hand, he needs to cement his place as being a worthy and credible champion by beating Randy Orton. For that reason, I say the champ retains here. – Glenn Smith
Winner AND STILL CHAMPION: Bobby Roode
Other Staff Member Predictions: Harry & Liz: Randy Orton. Cedric: Bobby Roode.
Women's Championship Match
(Champion) Charlotte Flair vs. Ruby Riott
I guess it's Ruby's turn to attempt to dethrone the Queen of WWE. She's young, athletic, quick and has some pretty good wrestling moves. And with the Riott Squad near ringside there's a chance that the upset could occur. But this is the Queen of WWE we're talking about. Charlotte is a Flair after all. I have not seen a woman dominate in every area of wrestling like she has on multiple occasions. She is definitely top 10 among all current superstars. Ruby might have called Charlotte "just another bleach blonde failure with a famous last name" but once this match is done she'll have to call her "the still WWE Women's Champion." – Cedric Colon
Winner AND STILL CHAMPION: Charlotte Flair
Other Staff Member Predictions: Everyone else also picked: Charlotte Flair.
WWE Championship Match
Baron Corbin vs. Kevin Owens vs. (Champion) AJ Styles vs. John Cena vs. Sami Zayn vs. Dolph Ziggler
A lot of people are worried about the John Cena factor. Having him added to this match puts a little doubt in people's minds. I don't buy it. With all the little subtle jabs and hints that we've seen, there is no way in my opinion that you need to turn away from the path that you have set for Mania. Of course, I mean, Styles and Nakamura. So, it's with that in mind that I officially pick AJ Styles to not only retain but pin John Cena to further his storyline as well. – Harry Broadhurst
Winner AND STILL CHAMPION: AJ Styles
Other Staff Member Predictions: Everyone else also picked: AJ Styles.
Well, this concludes the WWE Fastlane 2018 Preview. Leave your predictions in the comments below. Also, check out Sean and Paul giving their predictions on-air, on the Wrestling 2 the MAX Podcast.