This month marks the 20th anniversary of the Hell in a Cell match, which featured Shawn Michaels and The Undertaker. It's now wrestling lore, but a year later, Mankind and The Undertaker battled in the same match, in what turned out to become one of the most memorable moments in WWE history. From then on, there's a mystique the match carries with it. So much so, WWE decided on introducing the Hell in a Cell PPV. This year marks the ninth edition of the event, and the 2017 version is a Smackdown Live exclusive show.
WWE Champion Jinder Mahal has managed to keep the title a while now, and continues his feud against Shinsuke Nakamura. Thankfully, they are kept out of the cell and are in just a regular match. Charlotte has been through a torrid last few months with her father's health, and now returns to action against Natalya for the Women's Championship. The two matches inside Hell in a Cell, are a Tag Team Title contest between champions New Day and The Usos. While Shane McMahon makes another appearance inside the big cage, as he takes on Kevin Owens. This is the W2Mnet WWE Hell in a Cell 2017 Preview and Predictions.
WWE Hell in a Cell 2017 Preview & Predictions
An Introduction to the Article
As someone that has quite a bit of experience doing these roundtable type articles, I wanted to do this a bit differently than some others. Instead of having numerous people all give thoughts on each match, I felt it better to assign one match to each person. So, one of our staff members will give their thoughts on the match itself and predict a winner. This continues until the end of the article, when everyone gathers to give their overall thoughts on the event. – Sean Garmer
W2Mnet Staff
Sean Garmer, Co-Host of Wrestling 2 the MAX, W2Mnet Editor in-Chief
Paul Leazar, Co-Host of Wrestling 2 the MAX, W2Mnet Wrestling Dept. Head
Patrick Ketza, Host of Wrestling Unwrapped, W2Mnet Wrestling Senior Editor
Harry Broadhurst, Co-Host of Wrestling Unwrapped, W2Mnet Wrestling & Football Contributor
Angel Gonzalez, W2Mnet Wrestling & Games Contributor
Glenn Smith, W2Mnet Wrestling Contributor
Pre-Show Tag Team Match
Chad Gable & Shelton Benjamin vs. The Hype Bros
Chad Gable & Shelton Benjamin vs. Hype Bros: While the rest of the tag team division continues to lag behind The Usos and The New Day's amazing work in the ring, that hasn't stopped them from trying to keep the rest of the division interesting. The Hype Bros seemed bound for splitsville. Zack and Mojo's growing rift over not being able to win seems to have one of them bound to turn heel. Meanwhile, Gable & Benjamin have been racking up tons of wins, and even though Shelton's heart doesn't seem to be in it, their inevitable challenge for the tag team titles can't be too far away, and I expect them to get the duke here. – Paul Leazar
Winners: Chad Gable & Shelton Benjamin
Other Staff Predictions: Everybody else picked Gable & Benjamin

Does This Go Longer Than 30 Seconds?
Randy Orton vs. Rusev
Out of all the wrestlers within the WWE Universe that needs a win, There's nobody that fits this description more than Rusev who let's face it has been on a downward spiral and just hasn't seem to have been catching a break to make that all important climb into the title picture on Smackdown and the one thing that's standing in his way is a Vicious Viper by the name of Randy Orton who's coming off being in the championship picture and has no real sense of direction or motivation as to what he's doing right now on Smackdown.
And really would have nothing to gain from beating someone that has made no impact on WWE in 2017 and would have real no long term benefits in a victory, on the other hand Rusev has everything to gain by beating Orton and at this moment Rusev is at his most dangerous because this win will either make or break his 2017 and could give him that right push to propel him into 2018 to be Rusev that dominated 2014. – Glenn Smith
Winner: Rusev

Other Staff Predictions: Harry, Patrick, and Angel: Rusev. Paul & Sean: Orton.

They've Got Beef Over Entrances
Bobby Roode vs. Dolph Ziggler
Dolph Ziggler vs. Bobby Roode: First things first, I kinda wanna see Dolph come out and do Bobby's entrance, just to see how ridiculous he can make it. Secondly, if this gets more than ten minutes, I'll be shocked. I don't think they're gonna wanna overexpose what's supposed to be happening here (especially with how both guy's styles will work against their dispositions). This is all here for Bobby to get the win, and I don't know if they really need all that much time to tell the story with all the other stuff on the card going on. – Paul Leazar
Winner: Bobby Roode

Other Staff Predictions: Angel: Dolph Ziggler. Everybody else picked: Bobby Roode.

WWE Smackdown Women's Championship Match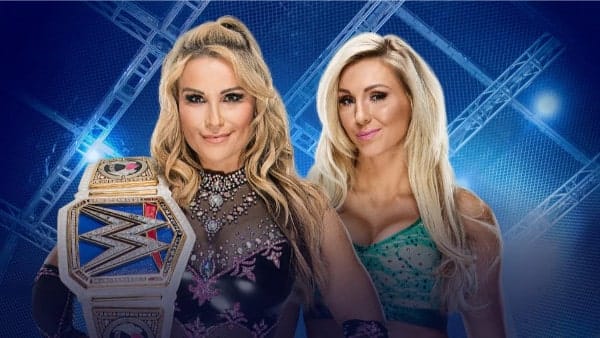 (Champion) Natayla vs. Charlotte
I am not going to lie, over the years WWE was successful in killing any love I had for Natalya. Despite her great in ring skills, the creative team gave her terrible gimmicks. How can anyone forget Natalya's "hilarious" flatulence issues? Recently they made her into a crazy cat lady that likes to yell "get off my lawn" to the newer talent. Thankfully since Natalya Smackdown Women's Champion reign, WWE creative has focused more on her in ring skills and less on the nonsense.
It's exciting Natalya's first feud is versus Charlotte. They are arguably the two best women in ring performers on Smackdown. It's a natural rivalry. Both come from great pedigree. Natalya comes from the Hart family, a name that for years signified the phrase, "The best there is, the best there was and the best there ever will be!". Not to be outdone, Charlotte's father is the Nature Boy Ric Flair. Someone who many wrestlers such as Stone Cold and HBK, consider the greatest in ring performer of all time.
Their last televised encounter was on the second NXT Takeover special (May 2014), where they had the match of the night. Charlotte won that encounter but will she be able to best Natalya a second time? I am thinking that will not be the case. The WWE will want to extend this rivalry at least until the Survivor Series. That's why Natalya will win with shenanigans. By the end of the night I can see this being in discussions of match of the night.  – Angel Gonzalez
Winner and STILL CHAMPION: Natayla

Other Staff Predictions: Harry, Sean: Charlotte, Paul, Patrick: Natayla

WWE Smackdown Tag Team Championship Hell in a Cell Match
(Champions) The New Day vs. The Usos
The best in ring content on Smackdown the last couple months has come courtesy of these four (five) gentlemen. They have gone out and busted their asses to entertain everyone in attendance and watching at home. Sadly, my guess is that it comes to an end here as there is really no where else to go from the Hell in a Cell match. The question then becomes who leaves Detroit as the last team standing on Sunday. To me, with challengers waiting in the form of Gable and Benjamin, my pick would be the Uso's here. They have more face teams to battle then New Day does heels and you could argue that the Uso's have been the best tag team in the WWE since the bread split. – Harry Broadhurst
Winners and NEW CHAMPIONS: The Usos

Other Staff Predictions: Angel: The Usos. Everybody else picked: The New Day

WWE United States Championship Match
(Champion) AJ Styles vs. Baron Corbin
A feud where AJ is trying to have an open challenge and Corbin keeps interrupting it. Wanting an easy opportunity at gold makes plausible sense for Corbin, who is holding onto anything to keep him relevant after the shock loss of the Money in the Bank briefcase. However, there's another man involved here, Tye Dillinger, who could once again distract, or perhaps even cost Corbin said opportunity. Thus pushing him off to that feud. Opening the door for AJ to continue the Open Challenge.
Although, the Tye involvement could backfire and Baron could win by cheap means. Something AJ has repeatedly warned Corbin against using. I'm gonna go with the former though and say that Styles remains champion. – Sean Garmer
Winner: AJ Styles

Other Staff Predictions: Angel, Patrick: Baron Corbin. Harry, Sean, Paul: AJ Styles

WWE World Heavyweight Championship Match
(Champion) Jinder Mahal vs. Shinsuke Nakamura
A feud that has sort of existed on Smackdown, since it started. Honestly, you could probably say this about any Jinder Mahal feud since becoming WWE Champion. Now with the announcement that WWE is indeed doing an India tour in December, the question remains, what do you do until then? Logic would dictate that you probably just have Mahal keep it until then. They could also decide to just let Nakamura win here, or at the Starrcade event, and then Mahal wins it back on the tour. However, although it's happened before, changing the WWE Title on what's still considered a live event, feels weird. The matches between these men have nothing spectacular, and I'd expect about the same from them on this show too. – Sean Garmer
Winner AND STILL CHAMPION: Jinder Mahal
Other Staff Predictions: Sean, Angel: Jinder Mahal. Paul, Patrick, Harry: Shinsuke Nakamura

A Personal One Inside the Cell
Shane McMahon vs. Kevin Owens
What is it with Shane having to be in the big time matches? Taker, Survivor Series, AJ, now KO. It's like he's a glutton for punishment (just see the Survivor Series Murder), and he has the perfect person to dish out the punishment, and the perfect place for it.
The last time KO was inside HIAC, he was in an iffy feud, and turned an iffy match into a pretty awesome one. Expect nothing less here. KO's ability to dish out pain, and Shane's ungodly ability to take punishment and dish his own should make for a match that stands above Shane's match with Taker, and may even push past KO's match with Shane. The only questions are… what insane move will Shane go for this time? And will he hit it? My guy says no, again. – Patrick Ketza
Winner: Kevin Owens

Other Staff Predictions: Everybody else picked: Kevin Owens

Farewell For Now
Well, this concludes our look at WWE Hell in a Cell 2017. If you need more Hell in a Cell 2017 Predictions, be sure to check out Gary Vaughan, Sean, and Paul give their thoughts in audio form on the latest Wrestling 2 the MAX podcast.