After the trio of New Japan Pro-Wrestling Destruction shows, the fall season culminates for NJPW with the October show, King of Pro Wrestling. An event that NJPW's held since 2012. This is the third KOPW in a row that Kazuchika Okada main events, and also the third in a row as the defending IWGP Heavyweight Champion as well. Okada also main evented the first King of Pro Wrestling against Hiroshi Tanahashi in a great match everyone should see. However, in 2017, Okada faces one of the members of Los Ingobernables de Japon in EVIL. Should he succeed, he may not have another title defense until Wrestle Kingdom 12.
The bigger question is, who will he face at New Japan's grand event? Currently, it's slated to be the leader of L.I.J. Tetsuya Naito. However, although a longshot, his CHAOS teammate Tomohiro Ishii could defeat Naito on this show, and become the briefcase holder. Something no one has ever done, take the titleshot away from the G1 Climax winner. There's also the IWGP Junior Heavyweight Championship on the line, as champion KUSHIDA defends once again against the "Aerial Assassin" Will Ospreay. Could this finally be the night that Ospreay holds the title that's eluded him his entire time in New Japan? Or does KUSHIDA continue to hold one against the British wonder? Certainly something worth watching the show for. Also, both tag team titles are up for grabs too. Plus, much more. This is the W2Mnet King of Pro Wrestling 2017 Preview & Predictions.
NJPW King of Pro Wrestling 2017 Preview & Predictions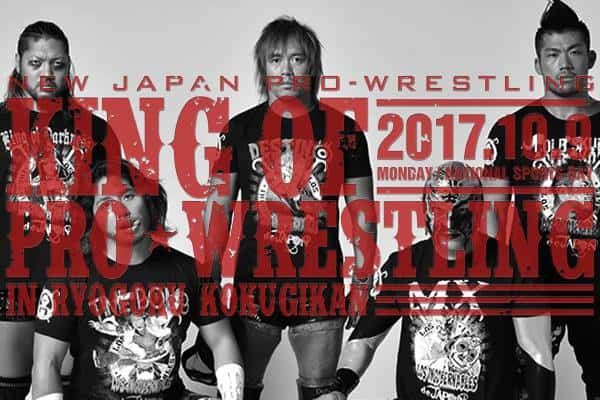 W2Mnet Staff
Sean Garmer, Co-Host of Wrestling 2 the MAX, W2Mnet Editor-in-Chief
Paul Leazar, Co-Host of Wrestling 2 the MAX, W2Mnet Wrestling Dept. Head
Angel Gonzalez, W2Mnet Staff Member
Robert Cooper, W2Mnet Wrestling & Games Contributor
Glenn Smith, W2Mnet Wrestling Contributor
Bullet Club vs. CHAOS
6-Man Tag Match: Bad Luck Fale, Leo Tonga, Yujiro Takahashi (Bullet Club) vs. SANADA, BUSHI, Hiromu Takahashi (Los Ingobernables de Japon)
There is not much to say about his match really. This is spot normally saved for the Young Lions to show their maturation. Instead, we have both Bullet Club and Los Ingobernables de Japon B squads being pitted against each other. Normally, with these six man tags there is a larger story that is trying to be told, this isn't the case. It's simply a way for Leo Tonga to get more experience. Lord knows he needs it. The Guerrillas of Destiny younger brother is one of the greenest guys I have ever seen in a NJPW ring. Probably BC get the win so that Bad Luck Fale can continue to look strong.- Angel Gonzalez
Winners: Bullet Club Team
Other Staff Member Predictions: Everyone else picked: Los Ingobernables de Japon Team.
Suzuki-Gun vs. CHAOS
Hirooki Goto & Toru Yano (CHAOS) vs. Zack Sabre Jr. & Minoru Suzuki (Suzuki-Gun)
Well, there's not too much going on here. Maybe, other than the possible enjoyment of watching Suzuki-Gun argue over how to properly apply torturous submissions to Yano. Who will then question his existence by making the perfect faces to get all of the laughs. Suzuki-Gun gets the win here. – Paul Leazar
Winners: Suzuki-Gun Team.
Other Staff Member Predictions: Angel: CHAOS Team. Robert, Glenn, Sean: Suzuki-Gun Team.
IWGP Junior Tag Team Championship Match
(Champions) Ryusuke Taguchi & Ricochet (Funky Future) vs. ?? (Roppongi 3K)
I am at a disadvantage here. How do you pick a winner for a match in which half the participants are unknown? A popular theory is that Sho Tanaka & Yohei Komatsu AKA the Tempura Boyz are finally coming back from their Ring of Honor and CMLL excursions. Considering how ROH has severely under utilized the Tempura Boyz, it's a strong chance they will be revealed as RPG 3K.
One of wrestling's biggest open secret's is that Ricochet will finally sign with the WWE once Lucha Underground Season 3 is done on TV. The rest of 2017 is essentially his swan song. I think this is where we begin to see Ricochet's NJPW push winding down. Plus why would NJPW reveal a new tag team? Only for them to lose their first match? Sorry to say, but Taguchi Japan are dropping the belts.- Angel Gonzalez
Winners AND NEW CHAMPIONS: Roppongi 3K
Other Staff Member Predictions: Everyone else picked: Funky Future.
IWGP Tag Team Championship Match
Elimination Tornado Tag Match: (Champions) Lance Archer & Davey Boy Smith Jr. (Killer Elite Squad) vs. Raymond Rowe & Hanson (War Machine, ROH) vs. Tama Tonga & Tonga Roa (Guerrilas of Destiny, Bullet Club)
For the fourth time in little over a month, we are treated to another meeting between these three tag teams. However, this time with a twist. This time it is a Elimination style tornado tag match, which should really shake up the formula here. Their matches have gotten better as they've went on. While I felt their first match was decent at best, the third match in their series was a good match, and I think that this upward trend continues. What makes it tricky, is that there will not be nearly as much drama in this match. Since we know that the Guerillas of Destiny do not have a snowball's chance in hell at winning those titles again. Nor do I truly feel that War Machine have any hope of regaining the titles after KES just won them less than a few weeks ago. I think the match is probably chaotic, perhaps even exciting, and overall, something that blows off their triple threat feud. And, hopefully moves the division onto something a little fresher.- Robert Cooper
Winners AND STILL CHAMPIONS: Killer Elite Squad
Other Staff Member Predictions: Everyone else also picked: Killer Elite Squad.
Bullet Club vs. CHAOS AGAIN
Kenny Omega, Cody Rhodes, Marty Scrull (Bullet Club) vs. Beretta, Jado & YOSHI-HASHI (CHAOS)
It's more Faction Warfare featuring Bullet Club vs Chaos. In Bullet Club contingent, there's the IWGP US Champion Kenny Omega. Alongside him, is the Current Ring of Honor Champion Cody and The New WCPW Champion The Villain Marty Scurll. They square off against CHAOS's Jado, Beretta, and the Number One Contender to the U.S. Title YOSHI-HASHI. Yoshi as of late has really got a wave of momentum going his way, with solid wins against members of the Bullet Club towards the end of the Destruction Tour.
Now he needs to continue on this wave. Sadly, the same can't be said for his compatriot Jado. He's taken pinfall losses in several of his matches during the Destruction tour against BC members. But, if there's one person that can shift momentum in their favor is Beretta. Lately, Beretta really has come into his own after the dissolving of RPG Vice. These are some pretty big tests against the likes of these opponents. However, this probably winds up in a good showcase for YOSHI-HASHI and Beretta, but sadly they are going to lose. – Glenn Smith
Winners: Bullet Club Team
Other Staff Member Predictions: Everyone else also picked: Bullet Club.
IWGP Junior Heavyweight Championship Match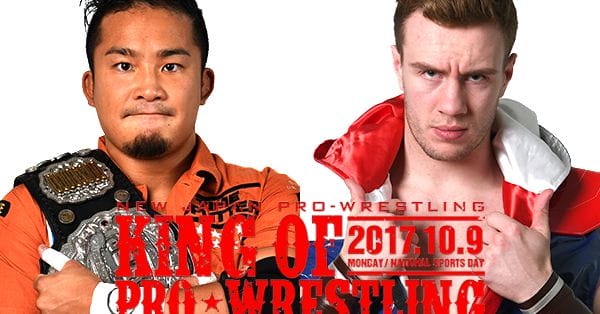 (Champion) KUSHIDA vs. Will Ospreay (CHAOS)
The setup for this particular KUSHIDA and Will Ospreay encounter was not very good. It was the typical who gets to challenge someone first deal. At least, there is a story here. Ospreay has lost to KUSHIDA four times in two years. He's never defeated the Time Splitter. Perhaps in the VTR for this match they may outline this, but this kinda felt like KUSHIDA just taking the match. So, perhaps because it is so under the radar, this may be the time Ospreay gets that win. And this is the perfect time for Ospreay to get the Junior Title. He can then face Hiromu, and then Gedo can decide what happens from there.
However, Ospreay does have a lot going on. He's now got this thing with wanting to make Australia wrestling great. There's a tie to ROH. He's still doing things in the UK too. And although he's very young, those rumblings about somewhere else calling his name, may make New Japan brass hesitant to give him anything. Let alone a IWGP Junior Title. There's been so much talk about whether or not New Japan has wasted the opportunity of Ospreay, or not used him well enough.
Regardless of all that, one thing is guaranteed. This match should follow suit with all of their other contests, and be great. These two have a great chemistry, and their styles compliment each other. If this is to be Ospreay's crowning moment. I'd expect a memorable bout. Let's hope that's the case. – Sean Garmer
Winner AND STILL CHAMPION: KUSHIDA
Other Staff Member Predictions: Paul: KUSHIDA. Angel, Coop & Glenn: Will Ospreay.
Familiar Foes Tag Match
Hiroshi Tanahashi & Togi Makabe vs. Kota Ibushi & Juice Robinson
I am kind of surprised that we are not getting Tanahashi vs. Kota Ibushi at King of Pro Wrestling. Honestly, I would have switched out the IWGP Heavyweight Tag Team match with the IWGP Intercontinental Championship, but what can you do? This is a good warm up for Tanahashi and Ibushi. Their only singles encounters have been at the 2015 & 2017 G1 Climax tournaments, where they had one of the best matches of those tournaments.
At first, I did not get why Gedo would put Juice and Makabe in this match. Then it hit me! This is a hint at what we can expect to see at the World Tag League finals. Makabe alongside his partner in crime, Tomoaki Honma, have back to back tournament victories since 2016. Although, Honma has been out of action since March 2017, he has suggested multiple times he may come back in the fall. Just in time for the start of the World Tag League.
Juice on the other hand, has to be in the running for rookie of the year. Sadly, though it appears there isn't a spot for him in the current storylines. What better way to continue his push, then by having him win the tournament with someone like a David Finlay, a fellow young lion. In my opinion, it makes the most logical sense. As for this match, I suspect Juice gets the win over Makabe.- Angel Gonzalez
Winners: Juice & Ibushi
Other Staff Member Predictions: Everyone else also picked: Juice & Ibushi.
Match for Wrestle Kingdom 12 Title Opportunity Briefcase
(Holder) Tetsuya Naito (Los Ingobernables de Japon) vs. Tomohiro Ishii (CHAOS)
Sometimes in wrestling, in-ring chemistry and understanding can trump a lot of things. These two just get each other, and are both terrific wrestlers. Tetsuya Naito's character has exploded into one of the most beloved in New Japan today. While Tomohiro Ishii is the Pitbull you can't help but cheer for. Why? Because Ishii not only has four star matches in his sleep, but also because he pulls you into his matches. It doesn't matter if he has no chance in hell of winning, like this match, but he will pull you into believing he can. This is why he is a master of his craft. Ishii has been one of the best wrestlers on the planet for about three years plus, mostly because he can have many different matches. Bring in Tetsuya Naito, who has a series of matches in 2014 with Ishii that are legendary.
They had matches last year, and even this year at G1 in USA and the G1 Climax 27 proper. However, many felt they were holding back at the G1. So, now you have the match for all the marbles. The winner gets to go to Wrestle Kingdom 12 and face Okada. The problem is, no one ever beats the briefcase holder. It just doesn't happen. And this won't be the time it happens. Being a huge Ishii fan, I'd love to see it. But there's many reasons why Naito won. They want to have that crowning moment for him. This is step in that story, let's just hope it is another thriller for these two. – Sean Garmer
Winner AND STILL HOLDER: Tetsuya Naito
Other Staff Member Predictions: Everyone else also picked: Tetsuya Naito.
IWGP Heavyweight Championship Match
(Champion) Kazuchika Okada (CHAOS) vs. EVIL (Los Ingobernables de Japon)
What a year it has been for EVIL, the Los Ingobernables de Japon second in command. He is one of the current NEVER Openweight 6-Man Tag Team title holders, and he made it to the 2017 New Japan Cup semi-finals too. But his biggest accomplishment was giving Okada his first loss in almost a year. That loss, sets the stage for this match. Don't get me wrong, there is no way in hell EVIL is winning this match. Let me take that back, with Gedo being the booker, anything is possible.
Let's just say it is highly unlikely EVIL beats Okada for the IWGP Heavyweight title. In my opinion, that is not the overall point of this match. This is a test to see if EVIL can turn the page and become a main event level type of talent. King of Pro Wrestling is not only being held at the Ryogoku Kokugikan (Sumo Hall), one of NJPW biggest venues, it's the biggest show between the G1 Climax and Wrestle Kingdom.
If 2017 has been any indication, I believe EVIL passes with flying colors. The key question will be, at what point does Evil turn on Naito and become his own man? Regardless, years from now we will all look back and see this was a key moment in EVIL's career.- Angel Gonzalez
Winner AND STILL CHAMPION: Kazuchika Okada
Other Staff Member Predictions: Everyone else also picked: Kazuchika Okada.
This concludes our NJPW King of Pro Wrestling 2017 Preview & Predictions. Be sure to checkout out our other content on the site. Also, you can listen to Sean and Paul give predictions on the show, on the latest Wrestling 2 the MAX Podcast.