WWE NXT Review 11.09.16: NXT Championship Contract Signing
Location: The Palladium, Los Angeles, California / Full Sail University, Orlando, Florida
Previously on NXT…
Thank you again for returning to the site! Let's dive into another WWE NXT Review.  As we take another step towards NXT TakeOver: Toronto, we will find out who will advance to the finals of the Dusty Rhodes Tag Team Tournament!  Plus, Samoa Joe and Shinsuke Nakamura meet face-to-face for their NXT Championship contract signing!
 Another Chapter in the Book of Pain
Match #1: #DIY (Johnny Gargano & Tomasso Ciampa) vs The Authors of Pain (Rezar & Akam) (Semi-Final Round of Dusty Rhodes Classic)
Winners: Authors of Pain (pin fall after Last Chapter)
Ciampa and Gargano may have gotten a pass in the previous round, but that was not true here.  The tenaciousness and technical prowess of #DIY seemed to have this one locked up after clearing the ring. The Authors of Pain, however, block two separate attempts at a suicide dive.  The bigger men then take control, and use their strength to keep a slow and painful pace.  Once again, Paul Ellering finds himself taking advantage while the referee isn't looking.  Akam and Rezar deliver a nasty back breaker/foot stomp double team maneuver.  It seems as though the Canadian Backbreaker is becoming a signature of Akam, but Gargano is able to counter with the DDT.
Ciampa then tags in, and after a few strikes, delivers an impressive German Suplex to Rezar.  Unfortunately, the raw power of Rezar proves to be too much as he catches both men, and drops them with a ridiculous Samoan drop/fallaway slam combination.  Gargano somehow finds a way to kick out.  #DIY then reverse the double Powerbomb attempt, send the big guys to the outside, and follow up with some flashy attacks from the apron.  Just as Ciampa goes for the pinfall, Ellering distracts the referee and The Revival—Scott Dawson and Dash Wilder—appear from under the ring and take out Gargano.  This allows The Authors of Pain to capitalize, and end the match with the Last Chapter.
This was a good way to start off the show. #DIY were able to look strong at times, yet still earned some sympathy from the crowd by being cheated out of the win.  The interference of The Revival should 'revive' the feud between the two teams going forward.  Also, Akam and Rezar continue their undefeated streak, albeit with some outside help. RATING: VERY GOOD
Tye Dillinger Interview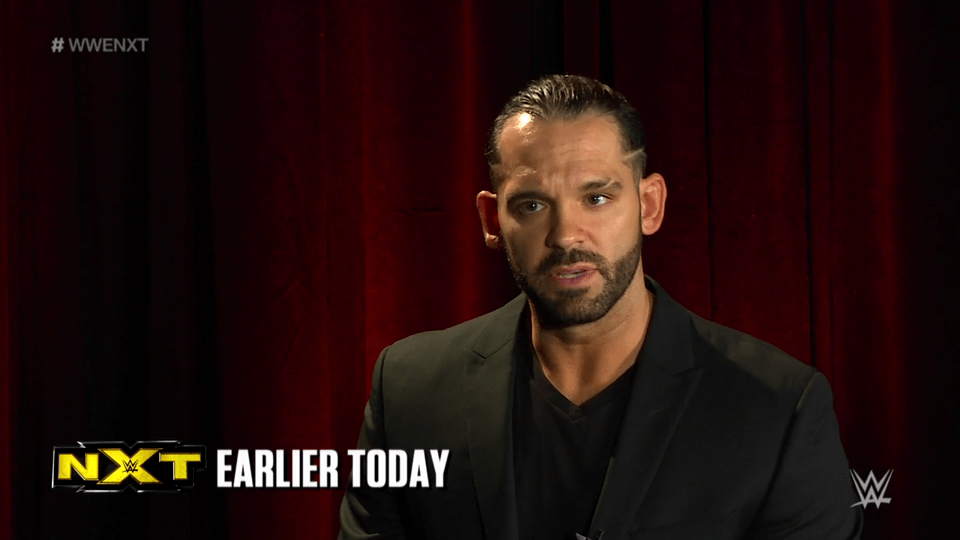 Between matches, we get a pre-recorded look into the upcoming TakeOver match between Bobby Roode and Tye Dillinger.  The Perfect 10 gives his reason for taking this match by explaining his anguish at Roode's lack of teamwork during their tag team match in the opening round of the Dusty Rhodes Tag Team Classic.
The Mighty Don't Kneel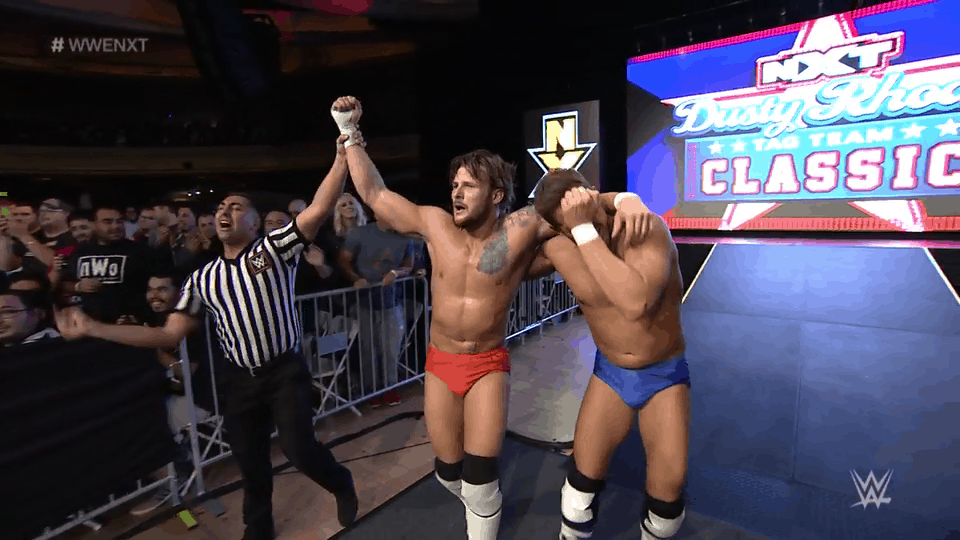 Match #2: TM61 (Nick Miller & Shane Thorne) vs SAnitY (Alexander Wolfe & Sawyer Fulton) (Semi-Final Round of Dusty Rhodes Classic)
Winners: TM61 (pin fall via roll up)
As TM61 enter the ring, they are quickly attacked by Fulton and Wolfe! They then tossed TM-61 to the outside where Eric Young and Nikki Cross continue the beat down before the bell can officially start the match.
After a short commercial break, Thorne is in the ring getting demolished by Sawyer Fulton.  Miller is still unconscious at ringside.  Wolfe and Fulton show some unorthodox tag team moves, as well as some "dancing" as both men try to finish the match quickly.  Once Miller is finally able to climb up to his corner, Wolfe takes him out! This, once again, leaves Thorne by himself to take the punishment.  After another double team, Miller recomposes himself, gets the tag! Miller gains the momentum into the Aussies' favor for short moment.
As SAnitY look to take control yet again, and set up Miller for the same maneuver they won with last week. However, Shane Thorne hits a dropkick knocking Fulton out of the ring.  This allows Nick Miller to catch Wolfe off guard, and manages to pick up the win.
Although it's a relatively short match, there's a good story told here with the underdogs coming from behind to defeat the no longer undefeated SAnitY.  Rating: GREAT!
More NXT TakeOver: Toronto Hype!
And just like that, the final match up in the Dusty Rhodes Tag Team Classic is set! TM61 will face off with The Authors of Pain at NXT TakeOver: Toronto!
In another backstage segment, William Regal announces that due to their interference earlier in the night, The Revival will defend their championships against #DIY at TakeOver: Toronto as well in a two out of three falls match.
After a commercial break, Bobby Roode gives his thoughts on his upcoming TakeOver match.  He explains that Dillinger embarrassed the memory of Dusty Rhodes by calling him a perfect loser and a perfect failure.
Moon Eclipses Evers
Match #3: Ember Moon vs Rich Swann & Rachael Evers

Winner: Ember Moon (pin fall after Eclipse)
The women take to the ring next as the daughter of Paul Ellering—who now goes by Rachael Evers—takes on the exciting Ember Moon.  The action starts off quick with some back and forth chain wrestling.  Moon misses a cross body, and Evers takes control with a powerful gut-wrench suplex.  After Evers shows disrespect by shoving Moon in the face, the irate Ember Moon hits back hard with several forearm and knee strikes.  She nails a cartwheel into an elbow strike to set up the Eclipse (flipping stunner from the top rope), and picks up the three count.
Although still new to NXT, both Ember Moon and Evers impress in this match.  This once again proves that the women's division still has depth down in NXT.  RATING: VERY GOOD
NXT Championship Contract Signing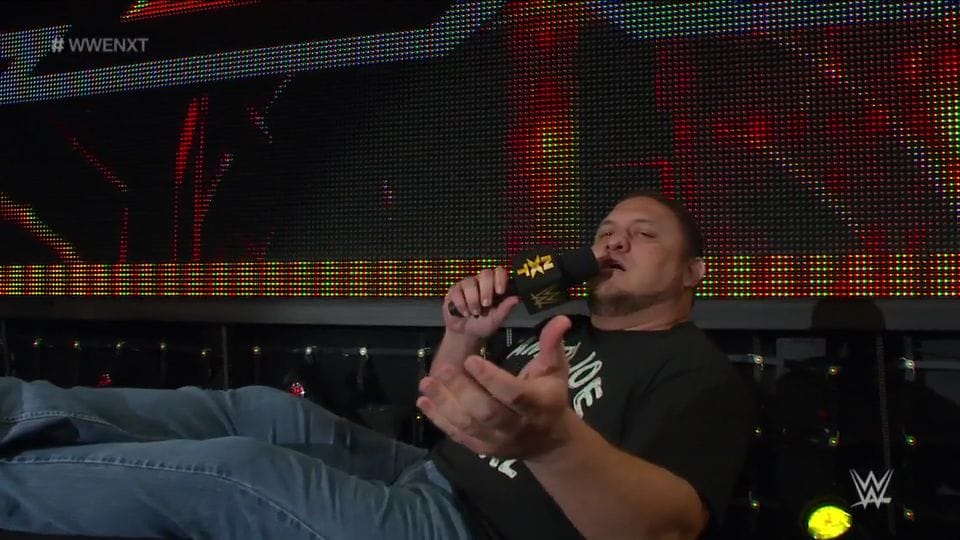 As custom, William Regal oversaw the signing between Samoa Joe and Shinsuke Nakamura. Several members of security stand in the middle of the ring.  As Joe walks out, he quickly takes a look off stage. He walks off, then sets up his own table from the safety of the stage.
Joe delivers an excellent promo while sitting casually at the table.  He claims that he could take out Nakamura at any moment, but will wait for TakeOver.  He then demands that Regal walk out of the ring, and bring him the contract.  Regal shamefully obeys, and Samoa Joe signs.
Shinsuke overlooks the contract, but refuses to sign. He then attacks all six security members, and powerbombs one poor soul through the table in the middle of the ring.  Only afterward does the Champion sign the contract. The episode ends with both men having an intense stare down as we fade to black!
Final Thoughts
Overall Thoughts: 8 out of 10  Each match meant something.  Every superstar was given time to look good.  Despite lacking the star power of Roode, Aries, Strong, and Asuka, NXT just gave a lesson that the main roster should learn from in terms of delivery a quality show.
Tune in next week for the "go home" episode of NXT that leads up to the heavily-anticipated NXT TakeOver: Toronto network special.  Will we see Asuka or Mickie James make an appearance?  How will The Revival react to the newest that will defend their titles in a two-out-of-three falls match?  Also, announced for next week's card, Cedric Alexander will take on Andrade "Cien" Almas.
Thanks for reading and until next week,  Mr. Howkstanding OUT!