WWECW December to Dismember 2006 Review
Date: December 3, 2006
Location: Augusta, Georgia inside the James Brown Arena
Announcers: Joey Styles and Tazz
1. Opening Tag Team Match
The Hardy Boyz (Jeff and Matt Hardy) vs. MnM (Johnny Nitro (nee Morrison) and Joey Mercury) with Melina Perez
Winners: Hardyz defeat MnM when Jeff pins Nitro with a Swanton @ 22:34
Harry: One of the two actually announced matches on the show and also one of the two longest. Only the main event goes longer. The problem there in is that of the four men in this contest, I think only Nitro is an ECW brand exclusive at this time. Regardless, the match itself is entertaining, but definitely on the too long side of the spectrum. There would be a rematch at Royal Rumble 2007, which I feel is a much more cohesive match and is almost a full seven minutes shorter. ***
Patrick: So, who's the best tag team of the modern era? Well… it's neither of these teams. A great match that got WAY too much time. They strained to fill it, definitely. However, some great action as the crowd was treated to two teams who did not like each other. Melina takes an ugly bump on her elbow before the Hardy Boyz pick up the win. ***
2. Singles Match
Matt Striker vs. Ballz Mahoney
Winner: Ballz Mahoney pins Matt Striker with Ball-Breaker (BK Bomb, Rydieen, Sky High) @ 7:24
Harry:I'll be the first to admit that I probably enjoyed the Matt Striker heel teacher gimmick more then most. Plus, you have to admire the dedication of a man who gives up a pretty decent paying career to follow his passion of pro wrestling. Okay match, but nothing really stands out about it. The most memorable thing is the fact that Striker has a picture of himself on the ass of his tights. And Joey Styles questions his decision to do so. In hindsight, I'd have liked a Striker victory here. Ballz Mahoney wouldn't do much with WWECW, whereas Striker found himself as part of the primary storyline for the brand going into Wrestle Mania the next year. **
Patrick: Did anything go right? Striker's ass eating his tights, the match had no promotion AND the wrong guy won! The match itself isn't terrible, but isn't memorable in the long run. When you are trying to build new guys up though, having one of them lose doesn't help. Despite their demands of extreme enforcement of rules. **
3. New Generation versus Originals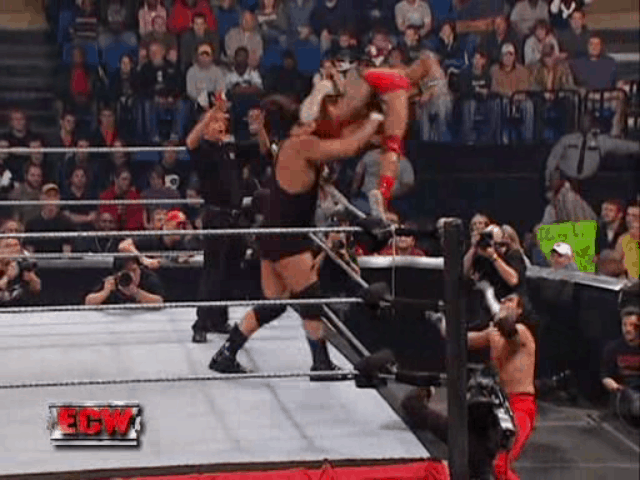 Elijah Burke and Sylvester Terkay vs. The F.B.I. (Full Blooded Italians: Little Guido Maritato and Tony Mamaluke) with Trinity
Winners: Burke/Terkay defeat The F.B.I. when Burke pins Mamaluke with the Elijah Experience @ 6:41
Harry: Another match with very little to no build going into the show. This may have been announced on the ECW TV the week before the PPV, but I might be wrong there. Anyway, as for the match itself, I loved Guido and Tony Mamaluke in the original ECW. However, in the WWE's version, they came across as more shtick then substance. Not to mention, treated as glorified enhancement talent. The example is clear here, as Elijah Burke and Sylvester Terkay pick up a rather one sided win. Crazy that Burke busts out the Stroke of all things as a finisher. His Elijah Express double knees in the corner was a welcome step up from that. *
Patrick: Well, at least the up and coming team won. But anyone that's accompanied by Trinity should not lose. Other than that, nothing about this match was good. This is becoming a show full of TV show matches, and it isn't a good thing. **
4. More Singles Action
Daivari w/ The Great Khali vs. Tommy Dreamer
Winner: Daivari pins Dreamer with a roll-up and a handful of tights @ 7:23
Harry: The match itself was proficient, if not a bit drab. Tommy Dreamer wrestling in matches where no weapons could be used has never really interested me. Mainly because it takes away a good portion of his offense. As for Daivari, I like this version of the character a lot more then the Sheik Abdul Bashir that would follow it in TNA. The most memorable part of this entire thing, is the post match, when Great Khali gives Tommy Dreamer a double handed choke bomb on the ramp. **
Patrick: The match means nothing. Absolutely nothing. It was all about the post match beat down and Tommy being left laid out. It all meant nothing, so the usual for Tommy. *
5. Mixed Tag Team Match
Kevin Thorn and Ariel vs. Mike Knox and Kelly Kelly
Winners: Thorn and Ariel defeat Knox and Kelly Kelly when Ariel pins Kelly Kelly with an choke STO @ 7:44
Harry: What does this PPV need? Arguably the four worst wrestlers on the brand, aside from Snitsky, to compete in a mixed tag. I have long admitted that I find Ariel (Shelly Martinez) to be super attractive. But when that's the best thing a match has going for it, we're all in trouble. Mike Knox walks out on Kelly Kelly at the end. This leads to the finish and a post match save by Sandman. Whatever. *1/2
Patrick: God help us. Remember how bad Shelly Martinez was during her match against Rebel? THIS WASN'T MUCH BETTER!! Knox and Kevin Thorn tried. But, no. This was terrible, aside from seeing a LOT of Ariel's ass. *
6. ECW Championship Main Event
WWECW Heavyweight Championship Elimination Chamber Match : Champion The Big Show vs. Test vs. CM Punk vs. Bobby Lashley vs. Rob Van Dam vs. Hardcore Holly (replacing Sabu)
Winner: Bobby Lashley wins WWECW Heavyweight Title @ 24:45.
Eliminations
*Van Dam pins Punk, 5-star frog splash @ 12:25
*Test pins Hardcore Holly, BOOT~! @ 12:44
*Test pins Van Dam, FED w/ chair off pod @ 14:02
*Lashley pins Test, spear @ 19:40
*Lashley pins Big Show @ 24:45
*Sabu was attacked backstage earlier in the evening and unable to compete. He was replaced by Paul Heyman with Hardcore Holly*
Harry: The match itself is relatively harmless. Sadly, given the quality of the rest of the show, harmless simply wasn't enough here. In fact, the way this match ended up being laid out pissed off Paul Heyman so badly that he issued his resignation to Vince McMahon following this show. He would appear on the following Tuesday's ECW, and that would be his last appearance in the WWE until he came back as the manager of Brock Lesnar in 2012, I believe. The full episode of WU attached below will explain the details of Heyman leaving.
As far as the six men involved, this ends up being just another match. Especially, due to the crowd actively turning against it once Rob Van Dam and C. M. Punk are eliminated. Vince's "you'll get Lashley and like it" philosophy bites him square in the ass here as a loud TNA chant comes through clear as day on a WWE produced PPV. Ring work was passable. Storytelling and booking, not so much. **½
Patrick: Like Sabu? Tough. Like RVD? Tough. Like CM Punk? Tough. You get Bobby Lashley. The only other hyped match still gets bait and switched, with Hardcore Holly goes in for Sabu. Then, it all goes to hell. The two most popular wrestlers get eliminated early, in RVD and Punk. Test, while massive, pulls off an impressive elbow off the pod for an elimination, which stuns everyone. The match isn't terrible, but everything else is. The booking. the ending. Even the winner. Nothing is good aside from the action. They tried… I guess. **
The Show and More
Harry Average Star: 1.83
Patrick Average Star: 1.83
For the 'Big Finish' to find out what we gave best and worst match, our Cash and our Trash and the overall rating for the show as well to hear us go into more detail about the matches you see listed above. Be sure you check out episode 1 of Wrestling Unwrapped: WWECW December to Dismember 2006 on the W2M Network
Overall Match Standings Through Two Reviews
Harry
1: Bret Hart © vs. Owen Hart- WWF Heavyweight Title: cage- WWF SummerSlam 1994- ****½
2: Alundra Blayze © vs. Bull Nakano- WWF Women's Title- WWF SummerSlam 1994- ***
3: MnM vs. Hardy Boyz- WWECW December to Dismember 2006- ***
4: Diesel © vs. Razor Ramon- WWF Intercontinental Title- WWF SummerSlam 1994- **½
5: Big Show © vs. Bobby Lashley vs. Test vs. CM Punk vs. Rob Van Dam vs. Hardcore Holly- WWECW December to Dismember 2006- **1/2
6: Bigelow/I.R.S. vs. Headshrinkers- WWF SummerSlam 1994- **
7: Matt Striker vs. Ballz Mahoney- WWECW December to Dismember 2006- **
8: Daivari vs. Tommy Dreamer- WWECW December to Dismember 2006- **
9: Tatanka vs. Lex Luger- WWF SummerSlam 1994- *½
10: Elijah Burke/Sylvester Terkay vs. Little Guido/Tony Mamaluke- WWECW December to Dismember 2006- *
11: Underfaker vs. Undertaker- WWF SummerSlam 1994- *
12: Kevin Thorn/Ariel vs. Mike Knox/Kelly Kelly- WWECW December to Dismember 2006- ½*
13: Jeff Jarrett vs. Mabel- WWF SummerSlam 1994- ½*
Patrick
1: Bret Hart © vs. Owen Hart- WWF Heavyweight Title: cage- WWF SummerSlam 1994- ***½
2: Alundra Blayze © vs. Bull Nakano- WWF Women's Title- WWF SummerSlam 1994- ***
3: MnM vs. Hardy Boyz- WWECW December to Dismember 2006- ***
4: Diesel © vs. Razor Ramon- WWF Intercontinental Title- WWF SummerSlam 1994- **½
5: Bigelow/I.R.S. vs. Headshrinkers- WWF SummerSlam 1994- **
6: Big Show © vs. Bobby Lashley vs. Test vs. CM Punk vs. Rob Van Dam vs. Hardcore Holly- WWECW December to Dismember 2006- **
7: Tatanka vs. Lex Luger- WWF SummerSlam 1994- **
8: Matt Striker vs. Ballz Mahoney- WWECW December to Dismember 2006- **
9: Elijah Burke/Sylvester Terkay vs. Little Guido/Tony Mamaluke- WWECW December to Dismember 2006- **
10: Underfaker vs. Undertaker- WWF SummerSlam 1994- **
11: Daivari vs. Tommy Dreamer- WWECW December to Dismember 2006- **
12: Jeff Jarrett vs. Mabel- WWF SummerSlam 1994- *
13: Kevin Thorn/Ariel vs. Mike Knox/Kelly Kelly- WWECW December to Dismember 2006- *