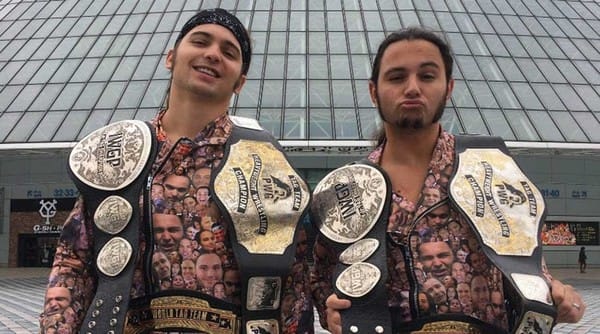 The Young Bucks: Breaking Banks
"They're killing the business. All their matches are the same. They rip off the NWO and D-Generation X."
"They're spot monkeys who rely on no selling, unnecessary flips and an absurd amount of superkicks to get over."
"They suck up to Dave Meltzer and are average at best in terms of work rate."
Over the years I can say I'm guilty of saying all of that about the subject at hand, The Young Bucks. As a traditional fan, I've refused to acknowledge the all of the positives that the Young Bucks have brought to the wrestling world. They are quite possibly the most decorated tag team to hit the scene in the last 20 years with championships held in countless independent promotions, Ring of Honor, and New Japan Pro Wrestling. It's hard to argue that despite the fact you might not like them, clearly, they are doing something right.
You can't say they are marketable either. A recent deal with Hot Topic has seen their shirts, along with other Bullet Club tees, sell out across the country. Not to mention, the countless numbers they've sold at live shows and on the internet. They've done all of this without Vince McMahon's backing as well. It seems that wrestlers tend to struggle to reach outside of the niche indy market. However, Nick and Matt Jackson have managed to break that mold.
As mentioned earlier, their non-traditional route to success has created negative press from their detractors. However, they have stuck to their guns. If you're not on their bandwagon, they toss you the metaphorical middle finger while laughing their way to the bank. The Young Buck's in-ring style might not be everyone's cup tea, but it's undeniable that they are an extremely athletic and innovative duo. While many of you reading this may not enjoy their work, they should still be respected. With everything they have done, they have proven themselves to be dependable, hardworking, and incredibly driven guys.
Some may ask, what changed my mind? I realized I can only watch so much before I'm just picking things apart to the point that I can't enjoy wrestling anymore. Honestly, that's the worst way to be a fan on the outside looking in. I've seen the matches some claim are match of the year worthy, such as The Young Bucks and Adam Cole vs Matt Sydal, Ricochet and Will Ospreay. Originally, I looked at them as over rated spot fests.
You be the judge.
All the while, as my views against the Young Bucks became more jaded as a casual viewer, I started noticing the growth in their following, and the success they've achieved is far from unwarranted. Moves like the Meltzer Driver, The Indytaker, and More Bang For Your Buck are endlessly impressive. They perform awe inspiring spots that manage to stick out from the rest of the show. This and their bombastic charisma proves why they get top billing so often.
You could say they have been "shoved down our throats". Yet, in reality is that a bad thing? The crowd rises to their feet every time to cheer them on! Whether it's against The Briscoes, War Machine, or RPG Vice for the 500th time, The Young Bucks consistently bring athleticism, over the top charisma, and dare I say, even a little attitude with them wherever they go. If I may quote a WWE tag team here, "they don't just raise the bar, they ARE the bar."
So, with that said, I'd like to recognize that The Young Bucks provide more bang for your buck, and that's best for business.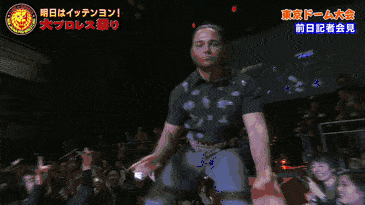 #TooSweetMeBro