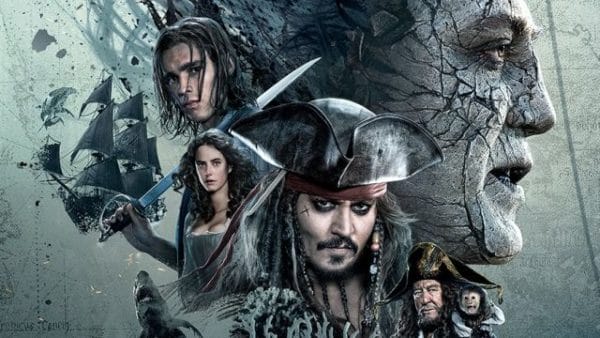 Robert Winfree and Mark Radulich review the latest Pirates of the Caribbean film. Dead Men Tell No Tales, on the latest Damn You Hollywood. Pirates of the Caribbean: Dead Men Tell No Tales (also known as Pirates of the Caribbean: Salazar's Revenge,) is a 2017 American fantasy swashbuckler film. the fifth installment in the Pirates of the Caribbean film series. It's also the sequel to On Stranger Tides (2011).
The film is directed by Joachim Rønning and Espen Sandberg from a script by Jeff Nathanson. Jerry Bruckheimer again serves as producer. Johnny Depp, Kevin McNally and Geoffrey Rush reprise their roles as well. Jack Sparrow, Joshamee Gibbs and Hector Barbossa, respectively. The film also stars Javier Bardem as Armando Salazar. Brenton Thwaites as Henry Turner. Plus, Kaya Scodelario as Carina Smyth. The film also features the returns of Orlando Bloom and Keira Knightley too. Playing Will Turner and Elizabeth Swann respectively. This follows their absence from the previous movie, On Stranger Tides.
The filmmakers cited The Curse of the Black Pearl (2003), as inspiration for the script and tone of the film. Pre-production for the film started shortly before On Stranger Tides. Initially planned for a 2015 release, the film was delayed to 2016 and then to 2017, due to script and budget issues. Principal photography started in Australia in February 2015, after the Australian government offered Disney $20 million of tax incentives, and ended in July 2015. It was released in conventional, Disney Digital 3-D, RealD 3D and IMAX 3D formats on May 26, 2017.
Damn You Hollywood: Pirates of the Caribbean Dead Men Tell No Tales Review
About Radulich in Broadcasting
Mark Radulich has been an internet personality since 2004 with his Progressive Conservatism blog. He then took that blog to the airwaves and created a podcast for it. It then changed to PC Live. After that, he brought out the 411mania Ground and Pound Radio as well.
Also, Mark would partner up with another 411mania alum, Sean Comer, to create the movie franchise review podcast Long Road to Ruin and then Robert Cooper to create the metal album review podcast, The Metal Hammer of Doom. Robert Winfree took over the MMA show and then added his own podcast, Everybody Loves a Bad Guy. That's when the Radulich in Broadcasting Network was born. Joining Winfree in having their own podcasts were super fan's Jesse Starcher (Source Material). Finally Winfree and Radulich added a weekly movie review show to the ever growing lists of podcasts on the Network.
Don't forget to also give that Radulich in Broadcasting Network Facebook page a like to stay up on top of all the great podcasts that they offer. You can also find them at your convenience on blogtalkradio.com, Stitcher, TuneIn Radio, or iTunes! Just search "radulich" to subscribe to the network. Make sure to give the Network a follow on twitter @MarkRadulich.
About Damn You Hollywood
It started out as a just a series of summer blockbuster reviews. It has grown to a nearly weekly movie review show. Robert Winfree and Mark Radulich take on the big budget studio films and animated features that have of late migrated out of the summer season and have dotted the calendar almost all year long. Winfree and Radulich critique all of the elements of the movie, but that's not all. We discuss THE MONEY i.e. budgets, did it open #1, projected worldwide gross, etc. Lastly, we criticize the critics. Radulich reads selected bits from Rotten Tomatoes and Winfree attempts not to have an aneurysm. It's fun for the whole family!
Robert Winfree
Mark and Robert fell into the movie review thing almost by accident. They'd gotten together a couple of times to discuss particularly divisive movies and discovered that his love of big budget blockbusters both complimented and clashed with Robert's perspectives, plus they both genuinely enjoy talking movies with each other. What started out as a summer exclusive series has now expanded to a near year round almost weekly outing because they enjoy talking movies with each other so much. Robert also hosts the 411 Ground and Pound Radio, while also guest hosting on other shows on the RIBN network when possible.