For those of you who watch Total Bellas, or read my reviews on this site, then you'll know that Daniel Bryan has depression. And if you don't watch Total Bellas, or read my reviews on this site, then, uh, not to spoil anything, but Daniel Bryan has depression.
Daniel Bryan's Struggle with Depression
When Bryan was forced to retire from health concerns earlier this year, everyone knew it would be a struggle. This is a man who lived and breathed wrestling. Bryan started wrestling as a teenager and didn't seem to know anything else in life. He was 34 at the time of retirement. He had at least five more years of elite in-ring performances left in him. Sadly, he had to retire on someone else's terms and left years of his career on the table.
Following his retirement, Bryan was slated to due appearances throughout Wrestlemania season, but was pulled for unknown reasons. Total Bellas confirmed that those reasons were related to his depression. He couldn't be around the company and his friends knowing that he wasn't able to get in the ring to compete. He was frustrated by the situation, and that frustration led to struggle.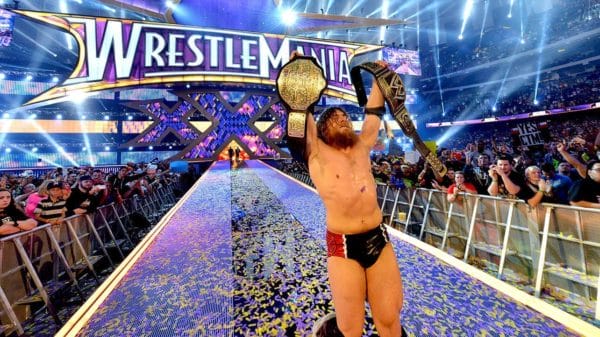 Elite athletes struggle with retirement all of the time. It's tough to break a routine that you've been in for 20+ years and it's why so many athletes remain in the sport as announcers, executives, and coaches. Elite wrestlers seemingly have the hardest time coping with retirement. They continue to appear on TV, work in the business, or have a podcast about the business.
Bryan has remained in the business, but he's not getting the same satisfaction out of being general manager of Smackdown Live as he got out of competing. It's why he still brings up wanting to wrestle and why he still appears frustrated by the whole situation. There's no doubt in anyone's mind that if Bryan had his choice, he'd be wrestling tomorrow.
Depression is a tough thing to understand. When he appeared on Total Divas, he always seemed like the happiest person in the world. He smiled and cracked jokes. Bryan acted goofy, sarcastic and relatable. Sure, there were moments of struggle, but we all struggle in life. It felt like Bryan was handling those struggles like any person with a camera on them 24/7 would.
My Own Battle with Depression
What we didn't know was just how much he struggled. Like Bryan, I have depression. I try to hide it when I'm out in public. If you asked my friends, they probably wouldn't have a clue because I make sure that I'm always smiling and laughing around them. They don't know that I've spent nights contemplating whether life is worth it after a tough day.
With depression, the highs are great, but the lows are lower than anyone can imagine. There's simply no great solution. Anti-depressants can only do so much, and if you miss a day of medication, your whole life gets thrown out of balance. People say, "get over it. Move on," but it's really not that simple. If it were, depression wouldn't exist. Everyone deals with depression differently. Some like to talk about their issues. Others like to be left alone. Most have some type of outlet that they go to, knowing it'll make them happy and get them away from their thoughts.
Wrestling was probably Bryan's outlet. When you take away that outlet of happiness from anyone, it's going to upset and frustrate them. It's even worse when taken away from someone with depression, because they are basically strand out on an island with nothing, moments after telling them that their loved ones have passed.
Don't Feel Alone
I don't know exactly what Bryan was going through at the time. I'm sure the reality show didn't capture everything. Certainly, there's no way it could capture the true reality of his depression. I'm writing this because I sympathize with Bryan and want him, and anyone else with depression, to know they aren't alone.
It oftentimes feels like you're alone in your situation. Even with a loving support system, you can still feel alone because they don't completely relate to your issue. Even when you want to be by yourself, it's a struggle. You may feel its better trying to work through things and sort out your thoughts is better, than acting happy or dragging others down. However, You're still not alone. There are plenty of depressives out there. Put us in a room together and we'd turn that place into Mardi Gras. But one trigger and it quickly becomes a funeral.
Keep Fighting
Daniel Bryan is one of my favorite wrestlers in the last ten years. He was not only damn good at his job, but he also seemed fun and relatable. I identified with Bryan. A simple man who wanted to live a small life. He was passionate about one thing and never gave up on that dream. A man who grows a hell of a beard, and is a bit of a nerd. I identify with him even more, now.
To Daniel Bryan and anyone struggling with depression. Just keep fighting. It never seems worth it at the time. Honestly, I don't even believe my own advice when I get down. But I promise that things will work out and it will be worth it. Don't hide your depression. Don't let others tell you that things aren't a big deal. Do what makes you happy and most of all, keep fighting.