Impact Wrestling continues to go through corporate changes, re-brands, and other major moves. New owner Anthem wants to restore a bit of prestige to a company that's gone through so much tribulation throughout it's now 15 year existence. Not to long ago, the company decided to lessen the number of pay-per-views it does, to two a year.
Bound For Glory takes place in October and is their "Wrestlemania" type event. While Slammiversary takes place normally in June, celebrating the month in 2002 when Total Nonstop Action began. This year the show moves to Sunday July 2 and features a struggle for control between Impact and Global Force Wrestling.
Three title unification matches take place on this show. A four team ladder match puts performers from different promotions in one ring to crown new tag team champions. While Rosemary and Sienna battle for the new Knockouts championship. In the main event, it's Alberto El Patron and Bobby Lashley for the Heavyweight Championship too. This is just a slice of the big matches on this card. Read on for our Impact Wrestling Slammiversary XV Preview & Predictions.
Impact Wrestling Slammiversary XV Preview & Predictions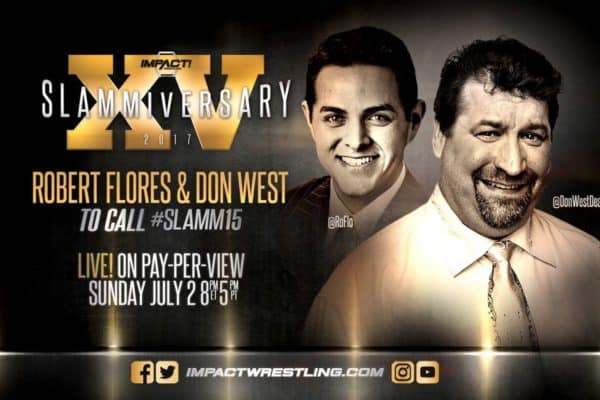 An Introduction To The Article
As someone that has quite a bit of experience doing these roundtable type articles, I wanted to do this a bit differently than some others. Instead of having numerous people all give thoughts on each match, I felt it better to assign one match to each person. So, one of our staff members will give their thoughts on the match itself and predict a winner. – Sean Garmer
W2Mnet Staff
Sean Garmer, Co-Host of Wrestling 2 the MAX, W2Mnet Editor-in-Chief
Paul Leazar, Co-Host of Wrestling 2 the MAX, W2Mnet Wrestling Dept. Head
Angel Gonzalez, W2Mnet Staff Member
Gio Guzman, W2Mnet Wrestling Contributor
Football vs. Wrestling
Tag Match: Moose & DeAngelo Williams vs. Chris Adonis & Eli Drake
DeAngelo Williams furthered his career by finding a foothold with the Pittsburgh Steelers. He showed he's still got it on the football field. Now he enters the squared circle with a former football player, Moose, as his tag partner. Chris Adonis has kept himself semi relevant since his days as the Masterlock man.
While Eli Drake was actually one of the greatest benefactors of the Dixeland era. He's kinda fizzled out under the Jarrett regime and this doesn't look to be his moment either. There's no way a team featuring DeAngelo Williams is losing. Credit to him for being respectful of wrestling and actually trying, unlike Pacman Jones. But this is a one sided affair. – Sean Garmer
Winners: Moose & DeAngelo Williams
Other Staff Member Predictions: Paul: DeAngelo Williams & Moose Angel: Eli Drake & Chris Adonis.
Announcer Battle
Tag Team Match: Jeremy Borash & Joseph Park vs. Scott Steiner & Josh Matthews
One can make a very strong case that Josh Matthews is the most annoying person in pro wrestling. Obviously that's the point with his character but for many Impact fans, he is one of the many reasons why they stopped watching the show. I was in that same boat earlier this year.
When Josh Matthews turned heel in March 2017, after his twitter controversy (he proclaimed to be the best play by play announcer), he essentially became a second rate villainous Michael Cole from 2010. I hated it back then, I sure as hell hate it now. His constant bickering with Jeremy Borash on the first revamped episode of Impact was one of the worst commentary jobs I have ever heard.
That is when this rivalry began. Josh Matthews was not happy Jeff Jarrett brought back Jeremy Borash as a lead announcer. For weeks both announcers would bicker back and forth. To settle things between the two.
In April 2017, Impact had a Team Borash vs Team Matthews to determine who would be lead announcer. Despite his team losing, Matthews returned to the broadcast booth only to get punched in the face by Borash. This got Borash suspended, but his attorney Joseph Park got him reinstated. They wanted a tag match against Matthews with a partner oh his choosing. Queue in Big Poppa Pump, and now we are here.
Not gonna lie, I am kind of looking forward to this match. I know it most likely will be a train wreck and I'll probably dislike the match from a performance level. But the lead up to this match has been great. The vignettes of Borash training with Parks have been hilarious.
Not to be outdone, Impact has sprinkled expletive filled Scott Steiner promos here and there which is a big plus in my book. Honestly, it doesn't even really matter who wins, I just hope it ends this rivalry for good. I think Matthew's team somehow loses this match. Hopefully, it means he would transition into a manager role. He has shown he can get a lot of heat. Just please Impact take him out of the announcers booth. – Angel Gonzalez
Winners: Jeremy Borash & Joseph Park
Other Staff Member Predictions: Sean & Paul: Steiner & Matthews.
Mixed Tag Grudge Match
Full Metal Mayhem: Davey Richards & Angelina vs. Eddie Edwards & Alisha
After being attacked week after week by his former brother. Then, attacking his wife putting her out of action. Eddie Edwards and his wife Alisha seek revenge. Davey and Angelina on the other hand, simply want to put an end to their former friends once and for all. Both parties settle their differences in a first time ever Full Metal Mayhem mixed tag team match. Who has what it takes to dish out the most pain?
I personally have been very invested in this rivalry. Especially, since Davey betrayed his former friend earlier this year costing him the world title. Since then, he consistently jumps Eddie at every given opportunity. There is also the sheer cruel display of having either Eddie or Alisha held down or handcuffed to the ring rope, as Davey or Angelina beat up on the other.
This match starts out with all four competitors trying to one up each other. The match should pick up, as the match goes on and as the pace quickens, the violence should pick-up too.
I believe Eddie/Alisha fight hard and try to get their revenge. Probably getting a few great shots in the match. But, Davey/Angelina have had both their numbers in the past few encounters and know how to turn up the intensity. I look forward to Davey/Angelina pulling out all the stops and ending their former friends once and for all. – Gio Guzman
Winners: Davey & Angelina
Other Staff Member Predictions: Sean & Paul: The Edwards. Angel: The Richards.
New School vs. Old School
Strap Match: EC3 vs. James Storm
This is actually one of the matches I'm most looking forward to on this PPV. EC3 and James Storm have brought the fire to this feud. EC3 wanting to take out the last vestige of old TNA and also keeping the Carter name around is tremendous. James Storm will be a hall of famer on the same night this match takes place. What a way for him to start his post hall of fame career with a big win. However, I think even Jarrett and Co understand what they have with EC3.
This has been his deal from the beginning, how he got over was beating the older guys. So, EC3 is primed to win this match. But considering that James Storm always brings it in the big match situations. He's not going down without a big fight. This could perhaps be one of the show stealers. – Sean Garmer
Winner: EC3
Other Staff Member Predictions: Everybody also picked: EC3.
Impact X-Division Championship Match
(Champion) Sonjay Dutt vs. Low Ki
This match is some sure fire fun. Old school TNA fans might remember Sonjay Dutt and Low-Ki feuding in the past. Impact have told an incredible story for India's own Sonjay Dutt. Being one of the X-Division pioneers along with AJ Styles and others. The story here, is that Sonjay Dutt always fought for the title. Especially with being in the company for 15 years. Until recently, he always came up short and some could compare him to New Japan's Hirooki Goto as a choke artist. A guy who could just never win the big one.
On the June 22nd edition of impact from India, Sonjay and Low-Ki had a great main event. Sonjay did the unthinkable, proving us all wrong, winning the X-Division title in his home country. Thus, celebrating with friends and family as well.
The following week Low-Ki requested his rematch and it now exists on Slammiversary XV. Now, with the 2 out of 3 falls stipulation, this is sure to be a slobber knocker folks. This is one of the matches on the card I am really looking forward to the most.
I see Low-Ki regaining his title after a great match. I'm sure both these awesome talents are just gonna tear the roof off the place. You don't want to miss this one folks. – Gio Guzman
Winner AND NEW CHAMPION: Low Ki
Other Staff Member Predictions: Sean: Low Ki. Paul & Angel: Sonjay Dutt.
Women's Championship Unification Match:
(Impact Champion) Rosemary vs. (GFW Champion) Sienna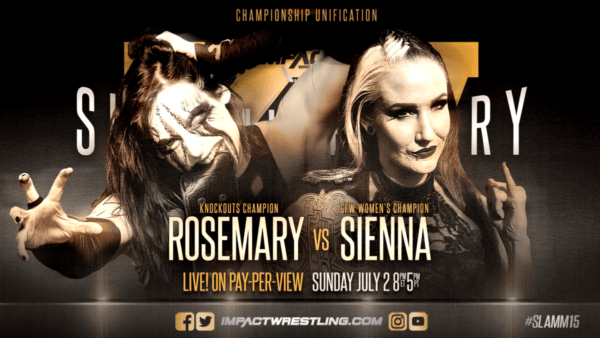 I'm pretty excited for this unification match, as it could turn out really fun. You got Rosemary who won the KO title back last year from Jade in a brutal cage match. Jade was Gail Kim's hand picked star to succeed her. Sienna won the GFW women's title earlier this year beating the former champ Christina Von Eerie.
Since winning the title, Sienna has been picking on Allie and Braxton Sutter. Making their lives hell since the wedding incident and blaming Allie for Maria leaving the company. Fast forward a bit, Rosemary surprisingly comes to Allie aids her after being attacked by Sienna and LVS.
Thus setting up an alliance between the two, and building up towards the title unification match.
Who ever wins this match becomes the undisputed first ever Impact women's/KO champion. Hopefully, with whoever wins this, I hope to see CVE back in the title picture.
I see Rosemary and Sienna having a fun match, which goes back and forth, possibly with run-ins by Sienna's crew. Only to be fought back by Allie and Braxton Sutter in Rosemary's corner. I say Rosemary wins with the mist sprayed in Sienna eyes and the red wedding for the 3 count. – Gio Guzman
Winner: Rosemary
Other Staff Member Predictions: Sean: Rosemary. Paul & Angel: Sienna.
Tag Team Championship Unification Match
(Both Impact & GFW Champions) Latin American Xchange vs. El Hijo de Fantasma & Drago (AAA) vs. Naomichi Marufuji & Taiji Ishimori (Pro Wrestling NOAH), Laredo Kid & Garza Jr.
Now this is the match I am looking forward to the most. The Latin American Xchange (LAX) have been on a tear since making their triumphant return in March 2017. They have laid every team out. While also gaining both the GFW and Impact Tag Team championships.
During the recent Impact India tour, the LAX went on a mini excursion around the U.S. indie circuit scene. It's very reminiscent of the Broken Matt Hardy and Brother Nero's Expedition of Gold tour. The only difference is LAX wasn't looking to win titles. Their mission was to beat some ass, take their money, and just cause chaos.
Although Impact didn't explain why this match is happening, I believe it stems from LAX's tour. In one corner you have Garza Jr and Laredo Kid, a team LAX has had a history with in Impact. They represent a small Mexican promotion called Crash. El Hijo del Fantasma (AKA King Cuerno in Lucha Underground) and Drago are in the second corner from another Mexican promotion AAA.
Lastly thanks to working relationship with Pro Wrestling NOAH we are getting to see Naomichi Marufuji and Taiji Ishimori. Marufuji is one of the best current Japanese wrestlers in the world who has had crazy battles with KENTA (Hideo Itami). Most North American fans would recognize him from his awesome match versus Kazuchika Okada during the G1 Climax 26.
Taiji Ishimori is the longest-reigning GHC Junior Heavyweight Champion, which is impressive when you consider guys like KENTA, Daniel Bryan, and Jushin Thunder Liger have held the titles before.
I honestly don't know what to expect from this match, other than it will the hardest hitting, high flying, just most chaotic match of the night. I expect LAX to continue their dominance over the Impact tag division. – Angel Gonzalez
Winners AND STILL CHAMPIONS: LAX
Other Staff Member Predictions: Everyone else also picked: LAX.
Heavyweight Championship Unification Match
(Impact Champion) Lashley vs. (GFW Champion) Alberto El Patron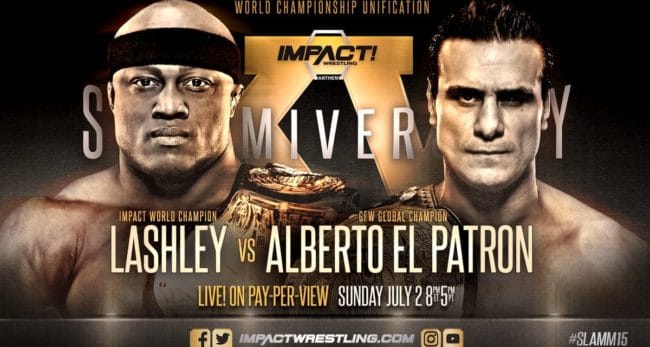 Well, it finally comes down to all of this. Lashley has been a wonderful champ, and every time he holds the Impact World Championship, it always just seems to mean that much more. Since Alberto El Patron has come along to the scene, Impact has buttered him up to be the guy to take the reigns and be their top guy.
The GFW acquisition has given them a reason for all of this to go down. Thus, making it feel like it matters. Even though Global Force Wrestling never lived up to it's potential (or ever really mattered).
We've only seen these two have one match. The ill-fated match that ended in controversy. It wasn't great (but once again, I don't believe it was meant to be all that epic either). However, they have met in several tag team matches leading up to this main event.
So, at least the match still feels fresh, and that's a bonus. The ringside additions of Dos Caras and King Mo don't really add anything for me personally. But I'm sure, we'll see some extracurriculars on the outside.
A day circled for a long time on Impact's calendar. Not just for the PPV, but for the day they crown Alberto El Patron champion in the biggest fashion available. His dad is at ringside, and it all just seems meant to be.
I'm not overly excited for the change, and personally, I'll be pulling for Lashley during the match. It just won't matter a lick once Alberto El Patron holds both of those titles high above his head. – Paul Leazar
Winner: Alberto El Patron
Other Staff Member Predictions: Sean: Alberto El Patron. Angel: Lashley.
Farewell For Now
Well, this concludes our Impact Wrestling Slammiversary XV Preview & Predictions. Be sure to continue on W2Mnet for all of our other great content. Not to mention, leave your predictions in the comments below. Also, check out Gary Vaughan, Paul and Sean give their predictions on-air, on the Wrestling 2 the MAX Podcast below.