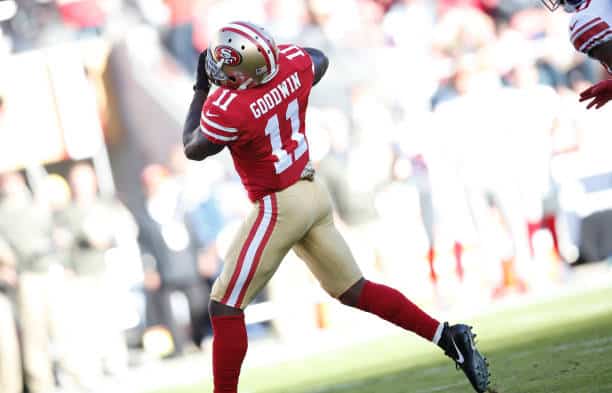 The Kickoff has the whole crew together once again. Harry Broadhurst, Brandon Biskobing, Stephen Ur III, Erik Watkins give their thoughts on the Marquise Goodwin situation. If a certain one loss ACC team would make the College Football Playoff. the return of touchdown celebrations to the National Football League and whether or not teams should be allowed to make-up games after the regular season concludes in College Football.
All that plus the segments you've come to know and love such as 'Get it Together' 'Studs and Duds', the 'Lane Train' and we debut a new format for 'Are You Serious?' as well as, they reveal the current standings for the season long race. That and so much more awaits.
The Kickoff: Marquise Goodwin, Makeup Games, One Loss Teams
About The Kickoff
Ladies and gentlemen, welcome to The Kickoff with Harry Broadhurst, Stephen Ur III and Brandon Biskobing. This is not your traditional football show. Rather than breaking down every single game, we give you all the must know information and the debate. While encouraging each other to speak what we think. Whether we are right, wrong or just plain nuts.
Harry Broadhurst
Harry Broadhurst is a lifelong Buffalo Bills fan based out of Youngstown, Ohio. In addition, he also enjoys torturing himself by watching tons of Reality TV and listening to pop music. When he's not watching the Bills on Sunday's, you'll find him rooting on his beloved Florida Gators on Saturdays as well.
Stephen Ur III
Stephen is the founder of Inside the Arena, an arena football-based website. As well as an NFL and NBA writer for Real Sports Entertainment Network and several other websites. He is also the host of The SCU Show, This Week in the AFL and NAL Now, all on the W2M Network.
Erik Watkins
Erik started out with watching games and staying up late for Sunday and Monday night. It spread to college, and eventually just about every single sport in the book. By the time he graduated from UNF, all his friends and family thought Erik would be better off as a sportswriter. Perhaps a journalist, or a commentator than anything to do with math (boy were they right). So, after wandering around with a degree and looking for a job, he started a blog. The blog turned into some freelance work. After that, work led him right here talking about the game that he loves.
Sean Garmer
Studied Journalism at the University of North Texas Born in Arkansas, his favorite college team is the Arkansas Razorbacks, but all of his professional loves come from the Dallas-Fort Worth area, where he spent 20 years of his life. So, that means Sean is a huge Dallas Cowboys and Dallas Mavericks supporter as well. Sean is an avid fan of watching football game film, learning about the history of NFL, and fantasy football. Most of his professional writing comes from spending years covering soccer in various forms, but he's also covered football, wrestling, and video games as well.
MAIN PHOTO: