Lucha Underground S03E07 "Payback Time" Review
Location: Boyle Heights, California inside The Temple
Lucha Underground Review 10.19.16
First, we open with the usual recap video. Then, Prince Puma and Mil Muertes feud gets highlighted, then Killshot receives notice from Joey Ryan that he left somebody for dead, and Johnny Mundo's continually hunt for the Lucha Underground Championship continues to be foiled by Dario Cueto.
Next, We go backstage where Prince Puma is preparing for his match with Mil tonight. Vampiro shows up, and offers some advice, but Puma tells him he'd rather die then live or take help from Vamp. Vamp says Mil will die by Puma's hands.
Now, it's Dial of Doom time! Matanza walks around the ring, Dario spins the wheel, and the lucky winner of a title match for the evening is… Killshot!
Lucha Underground Title Match!
Matanza Cueto defends against Killshot
Winner and STILL Lucha Underground Champion: Matanza Cueto via Wrath of the Gods
Killshot holds his back as he enters the ring. Mad props for still selling the Weapons of Destruction match Killshot. Matanza pounces as soon as the bell rings, and just destroys him with some huge lariats. Killshot gets out of the fireman's carry position with a finger lock, and tries to mount some offense, but Matanza's power overcomes the attempt. A series of kicks rocks Matanza, and he goes up to the top! He eats a huge forearm though! Killshot starts rolling after fighting out of a second rope tombstone! His back gives him some issues, which causes him to miss the double stomp. That would be all she wrote. That was a hell of a sprint, and I enjoyed it immensely. ***
Killshot gets a huge ovation as he recovers in the ring. AR Fox walks into the ring though, wearing dogtags. Killshot looks happy to see him, and seems incredulous that he's alive. He embraces him, but Fox shoves him away, and floors him with a huge kick. AR Fox beats him down, and plants him with fisherman brainbuster! Fox drops his dogtags on him, and walks out. Looks like the dead have come back to haunt Killshot, but why did he wait until now?
More White Rabbit teasers. They'll be here soon.
Aerostar, Fenix, and Drago come on down to the ring for a match. However, Dario Cueto comes out of his office. He's got some exciting news. In four weeks, AZTEC WARFARE III! If you're unfamiliar with the concept, it's Lucha Underground's Royal Rumble, but with twenty guys, and it's proven to be one of Lucha's best match every season. Matanza will compete it, and defend the championship. Dario feels so confident that nobody in LU can beat his brother, that he's entering Matanza at number one to prove how dominant he is. As for the three gentlemen in the ring, they'll compete in a three way match against each other! The winner gets the "unique opportunity" of being number twenty, but the losers will be unable to enter Aztec Warfare! Well, that stinks.

For #20 In Aztec Warfare III!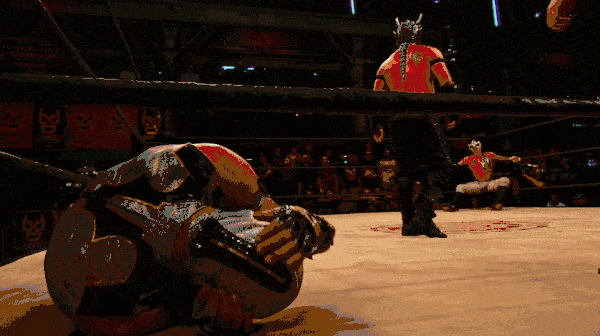 Fenix vs. Aerostar vs. Drago
Winner and #20 in Aztec Warfare: Drago via Blockbuster
Fenix gives Drago and Aerostar the ring, and we get right to the lucha! Drago ends up sending Aerostar out of the ring, Fenix comes in, and the action gets heavy quick! It should be mentioned that they seem hesitant to fight each other at times, but the action stays fast paced. These guys are just diving off the top rope from all kinds of different directions. Fenix gets cut open somewhere during this one (might have broken his nose), and the dives just keep on coming! We're back in the ring, Aerostar just destroys Fenix with a tornado DDT that nets him a near fall. Sweet Christmas, these guys are going one hundred miles per hour.
Aerostar goes for a springboard, but botches it. Fenix quickly covers it by superkicking his head off. Fenix then locks Drago in a submission hold, and Aerostar locks Fenix in a hold! A huge rana from Drago takes Fenix down hard, and he rolls out of the ring! Drago then finishes Aerostar off from there. As fun as the first match was, this one topped it by a mile. These three way matches are starting to become something of a signature for Lucha, and that's a good thing! *** and ¾ *
We go backstage to the bathrooms. This is Drago's favorite hangout after all. Kobra Moon shows up, and says he better win the championship for the tribe. Drago says he left the tribe long ago, and he's never coming back! Random dude walks in, and apologizes because he thought it was the men's room. Interesting happenings here.
Johnny Mundo walks into Dario's office, and says he needs to become Lucha Underground Champion! He has gotten so desperate that he's practically begging, and brings up all the matches his buddies from Worldwide Underground have gotten against Sexy Star for the Gift of the Gods Championship. Mundo brings out the one hundred thousand dollars he fought so hard for during season one, and gives it back to Dario! Dario tells Johnny to clear his schedule for next week, because he'll finally get the Gift of the Gods title match against Sexy Star!
Main Event!
Prince Puma vs. Mil Muertes w/ Catrina
Winner: Prince Puma via 630 Splash
Geez, these guys haven't had a match since Ultima Lucha Uno. Props Lucha Underground. Puma wanted this one to get his mojo back since he hasn't been the same since he lost the title to him. Mil takes advantage early with the power game. Puma, however, isn't playing any games, and goes on the offensive with a nice springboard lariat. Puma then connects with a tope suicidia followed by a corkscrew plancha! A series of strikes from Puma only pisses Mil off, who floors Puma with a huge right hand! PUMA RUNS UP THE GUARDRAIL! MIL KILLS HIM WITH A SPEAR!!! Mil breaks out the chair, and punishes Puma for a while. The fight spills into the risers, and the believers are eating it up. PUMA LEAPS FROM THE RISERS WITH A HUGE CROSSBODY! ARE YOU KIDDING ME!?!?!?!
However, the fight finds it way back into the ring, and Puma goes for the 630, but Mil rolls out of the way. Huge powerslam from Mil gets him a near fall. Puma goes for the Trouble in Paradise, but Mil floors him with another stiff right hand. The two continue to hit some huge bombs on each. Mil spears his arm into the turnbuckle post, and Puma superkicks his head into it from the apron! Puma goes up top, and puts him away from there! Vampiro nods in approval. This was a heck of match that felt completely different from their previous encounter. Go out of your way to watch this one folks. ****
Rey Mysertio Jr. talks with somebody who stays off camera with a while. He talks about his feud with Chavo, and how it's distracting him from the bigger picture. He needs to deal with Chavo, and he wants to make sure him doing so will not led him to war with the rest of Guerrero family. Chavo Guerrero Sr. (aka Chavo Classic) steps onto the scene! Chavo Classic really wants to know if a fight between Rey and Chavo Jr. will be the only way to solve this, and Rey says yes. Rey adds that The Temple isn't big enough for both of them, and says either Chavo leaves, or he does. Well, it appears we won't have to wait to long for Rey Rey versus Chavo to end now.
Overall Rating: 8 out of 10 I loved this episode. All the matches more than delivered, and everything for all the people involved on this kept them moving along to bigger things. AR Fox has problems with Killshot, Aztec Warfare will be in the four weeks, Drago has some more stuff cooking outside of the Trios Titles, Puma seems to have gotten his mojo back, and Rey and Chavo might be over quick (thank the gods). Plus, we get Sexy Star versus Johnny Mundo next week for the Gift of the Gods Title! Lucha Underground seems to be back on track!