Lucha Underground S03E12 "Every Woman Is Sexy, Every Woman Is A Star" Review
Location: Boyle Heights, California inside The Temple
Lucha Underground Review 11.23.16
We get a video package going over the issues with Dante Fox & Killshot, Black Lotus' attack on Pentagon Dark, Johnny Mundo's problems with Sexy Star, and all of the big happenings that happened last week in Aztec Warfare III!
Another video package airs for The Rabbit Tribe, complete with kung fu sequences with carrots! THEY'RE HERE!
Lucha Underground Trios Title Match!
Fenix, Drago, and Aerostar defend against The Rabbit Tribe (Paul London, Saltador, and Mala Suerte)
Winners and STILL Lucha Underground Trios Champions: Fenix, Drago, and Aerostar via Bridging Pin.
Well, the Rabbit Tribe are some weird cats. They do a weird dance around Melissa Santos as well. Paul London we're all familiar with I'm sure, however, I've never seen Saltador or Mala Suerte work before. The Rabbit Tribe open with a series of planchas on the champs, and then triple team Fenix in the ring. The champs start to make a bit of a comeback, but Mala Suerte puts a stop to that with a snap powerslam. Fenix battles right back with some big strikes, but London and Saltador take out Drago & Aerostar as he's about to tag out!
The Rabbit Tribe's attempts at a triple team fails, and the champs take control! Kobra Moon watches over the match, as she's been trying to get Drago to return to the Snake Tribe. Saltador and Fenix battle back and forth. After trading some pin attempts, Fenix manages to out wit Saltador, and come away with the victory. A fine match, with nothing to exciting go on. The Rabbit Tribe should prove to be some interesting characters though, and that's what was on display here. * and ¾ *
Post-match, Kobra Moon informs Drago that sooner or later, he will bow down to his queen.
Back in the locker room, Sexy Star marvels at her championship. The Mack comes in, and pokes some fun at Sexy Star. After the rib, Mack says he's proud of her, but wants to be in her corner tonight in her title match against Johnny Mundo so that way he can't steal the Lucha Underground Championship the same way he stole the Gift of the Gods Title. Sexy says no, and that she needs to prove that she can do this on her own so that everybody knows that she deserves to be the champion.
One on One!
Dante Fox vs. Killshot
Winner: Dante Fox via Fox Catcher
Prepare yourself for some flippies folks. The bell rings, and the two argue some. Fox goes to throw some punches, but Killshot gets the advantage with a shoulder block. Killshot does his thing, and then destroys Fox with a dropkick. After a speedy exchange, Fox sends Killshot to the outside. He hits two planchas, but Killshot cuts off the third with a brutal kick. Killshot then flips off the apron to avoid a Dante Fox dive! Dante won't let him get away, and he flips off the turnbuckle post with a moonsault!
Killshot then destroys Fox with a neckbreaker to the floor! The two find themselves back in the ring, and Dante sells the hatred with some evil stares. An absolutely devastating striking exchange ends with Killshot damn near killing Fox with a leaping cutter! Fox goes for a second rope move, but Killshot catches him in an armbar! Dante fights out of it, and it leads TO A SECOND ROPE LEAPING DEATH VALLEY DRIVER ON THE DAMNED APRON! FOX IS DEAD!!!
Except he's not until Killshot destroys him with a double foot stomp in the ring that gets him near fall! The entire live crowd bit on it! Another speedy exchange filled with reversals lead to Fox hitting a running mafia kick in the corner, a seated springboard Spanish fly, and his big move to put Killshot away! Well, that was a great sprint filled with some absolutely huge spots! Fox did a good job of selling his hatred through the match too. Killshot's stock just continues to rise in The Temple too. The Believer's can't get enough of him, and I haven't seen him have a bad match all season. *** and ½ *
We go to Dario's office, where Johnny walks in. He's upset about Angelico's interference in Aztec Warfare. Johnny's agent/lawyer has sent a restraining order to Dario about keeping Angelico out of the building, which Dario has kept up his end of the bargain. The disdain these two have for each other is palpable.
Black Lotus finds Dario backstage, and says she wants a match with Pentagon Dark and her entire triad. Dario makes a Gauntlet match for next week, where win or lose, Pentagon will face every single member of the Black Lotus Triad.
Lucha Underground Title Match!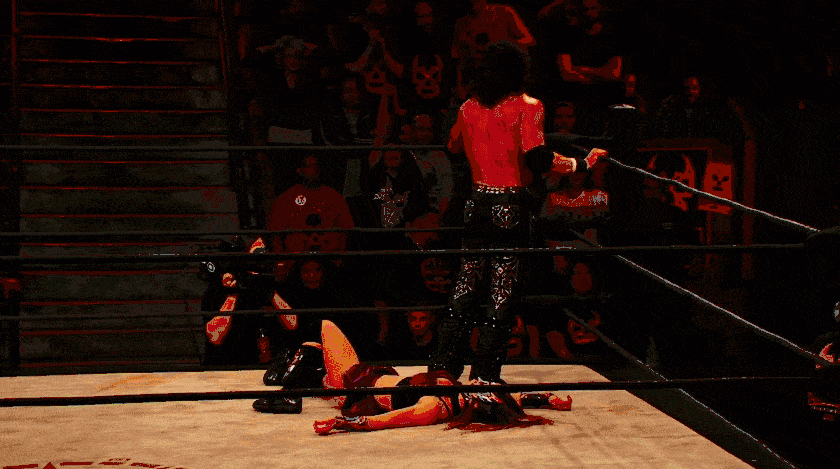 Sexy Star defends against Johnny Mundo
Winner and NEW Lucha Underground Champion: Johnny Mundo via End of the World
The bell rings, we get a stare down, and then they lock up. Mundo locks in a submission hold, and works over Sexy's back before hitting a curb stomp. Johnny continues to try and put Sexy away early. Johnny ties Sexy to the tree of woe, and tees of with some vicious kicks. Sexy gets a couple of hope spots, but Johnny continues the offensive onslaught. Johnny misses The End of the World, and here comes Sexy! After a sitout X-Factor gets her a near fall, she pours on the offense. Johnny turns the tide with a thumb to the eye, and goes right back to the kicks.
Sexy gets another run, and another near fall with a lung blower! Johnny regains the momentum once again, but not for long as Sexy trips Johnny up on a springboard. The fights goes to the outside, where Johnny gets shoved into the guardrails, and gets hit with a somersault senton. Johnny steals a crutch from a fan, but misses! Sexy grabs it, and fights Mundo off! Star goes to help the fan up, but the fan hits her with a punch! THE FIST HAS BRASS KNUCKLES ON IT! Johnny rolls Sexy Star back in, and we have new champion.
The fan turns out to be Taya, Worldwide Underground comes out to celebrate, and they soak in all the heat. The match felt, played out, and ended pretty much in the exact same way as their Gift of the Gods title match did. It all felt like been there, done that, and you don't want that feeling in a main event or in a bout for your top championship. * and ¾ *
And… we're out.
Overall Rating: 6 out of 10 Lucha Underground takes a stutter step here with this one. Dante Fox and Killshot is must see television, but everything else felt like a showcase or "I've already seen this". The segments continue everything else along nicely though, so lets hope Lucha comes firing back hard next week.