RoH Best In The World 2017 Preview & Predictions
First, a quick note here. Kris Wolf has been advertised to debut for Ring of Honor on this show. During the pre-show, Kris Wolf will team up with Sumie Sakai to take on Deonna Purrazzo and Mandy Leon in tag team action. However, this match will not air live. Portions of the match will be shown later on in the broadcast according to over on rohwrestling.com
Ring of Honor versus CMLL
Matt Taven & Vinny Marseglia (The Kingdom) vs. Ultimo Guerrero & El Terrible (CMLL)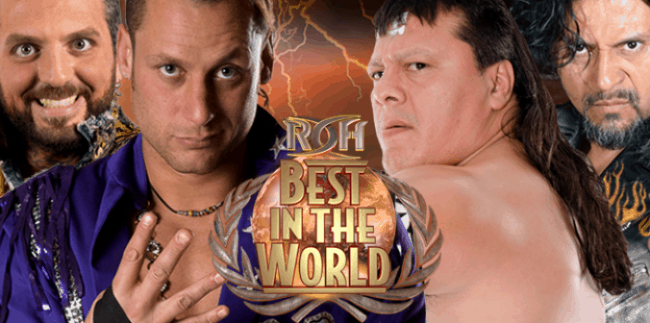 ROH's relationship with CMLL continues to pay off! Although in the US, Ultimo Guerrero and El Terrible are not well known. However, in Mexico, they are rock stars. Between the two, they have a combined CMLL Title reign of 5 years! Ultimo Guerrero faced the Kingdom during ROH World Six-Man Tag Team Championship Tournament back on November 2016. Look for him to be fighting with a purpose to avenge that loss.
I was one of the biggest Matt Taven's skeptics when he informed us melvins that he was reforming the Kingdom. I was very unimpressed when he revealed TK O'Ryan and Vinny Marseglia were the newest members. Very quickly, however, I realized the errors of my ways, and became one of their biggest fans. Sadly, TK broke his leg during the ROH 15th Anniversary show. Since then, Taven and Marseglia have transitioned nicely into the tag team division. Although they haven't really beat anyone of note, a win over two former CMLL heavyweight champions should help catapult them among the upper half of the ROH tag team division. – Angel Gonzalez
Winners: The Kingdom
Other Staff Member Predictions: Everyone Else Picked: The Kingdom
Grudge Match
Jay Lethal vs. Silas Young
This has been a pretty simple feud so far, but that works well. With ROH losing people at will at the end of the last year, they've been fighting to make new stars. Not to mention, better establish the ones that have stuck around. Silas Young is a great example of that, who has been thrust into a feud with Jay Lethal over Lethal's "golden boy" status of Ring of Honor. Silas has beaten Lethal twice on the way to this match, and it's all just a matter of time before Jay gets that win back, and what better place than here at Best In The World? Jay remains one of Ring of Honor's biggest stars, and he's never far away from challenging for the RoH World Championship. I'm picking Jay Lethal to take this one home, and challenge for the championship once again down the line in the very near future. Perhaps, even main eventing Final Battle this year against his biggest rival during this last year, Cody. – Paul Leazar
Winner: Jay Lethal
Other Staff Member Predictions: Gary: Jay Lethal. Angel: Silas Young.
Eight Man Tag Team Match
Losing Team Must Disband: Search and Destroy (Chris Sabin, Alex Shelley, Jay White, and Jonathan Gresham) vs. The Rebellion (Caprice Coleman, Kenny King, Rhett Titus, and Shane Taylor)
This match-up looks to be a fun one just on paper alone. Search and Destroy is a team of amazing athletes who can compete with the best. The Rebellion are a group of talented wrestlers with a grit and grime style to slip past their opponents. This mixture adds up to a bout full of great action.
I look for Jay White and Shane Taylor to be the featured competitors. However, guys like Jonathan Gresham will make big waves in this battle as well. Search and Destroy will come with the heat and make some big splashes. Yet, I believe the Rebellion will take no prisoners, as they set out to create enough chaos to sneak out the victory.
Also, you have to figure in the stipulation points in the direction of a Rebellion win. It makes more sense for a Search and Destroy breakup with guys like Jay White and Jonathan Gresham who have solid singles wrestling careers. It's just not time for the Rebellion to split; especially since they just recently added a heavy hitter in Shane Taylor.  – Gary Vaughan
Winners: The Rebellion
Other Staff Member Predictions: Everybody Else Picked: The Rebellion.
Strap Match
Frankie Kazarian vs. Hangman Page (Bullet Club)
Kazarian is on the war path and out for revenge. Page, on the other hand, is only concerned with eliminating Frankie Kazarian once and for all. Who has more fire in their gut to overcome the pain that will be inflicted all match?
This will start out with both competitors trying to up the other methodically, but I expect the pace to pick up. As the pace quickens, the violence will raise as well. Frankie Kazarian will fight hard, and get some huge offensive licks in on Page. Yet, I doubt Kazarian has the intensity in him to match Page's cruelty. Page is not called the "Hangman" cause he has a conscience. Look for Page to pull out all the stops to win this match. – Gary Vaughan
Winner: Hangman Page
Other Staff Member Predictions: Angel: Frankie Kazarian. Paul: Hangman Page.
ROH World Six Man Tag Team Title Match
(Champions) Bully Ray & The Briscoes vs. Dalton Castle & The Boys
This match is one of the best examples on how great ROH storytelling can be. There doesn't need to be long convoluted reasons for wrestlers to fight. Many times, just a simple misunderstanding will work just as well. Case in point, Jay Briscoe's heated beef with Dalton Castle's Boys. Jay blames them for costing his team of Bully Ray, Dalton Castle and his brother the win vs NJPW's Los Ingobernables de Japon. Bushi sprayed black mist in Jay's eyes after the boys pushed Dalton out of the way, thus causing Jay to get pinned. Since then, Jay's one mission in life has been to kill the boys.
Emotionally speaking, I want to see Dalton win. Surprisingly, he has yet to hold a ROH championship belt. It would be great to finally see him win a title. The rational part of me doesn't see how Dalton can win. The Boys have never been booked strong, so I see this match almost being a 3 on 1 handicap match in favor of the Briscoes. The only way I can see this upset happening would be if Jay's temper somehow costs them the win. Dalton's popularity and skill guarantees him a future championship title reign, but sadly it's not happening any time soon. – Angel Gonzalez
Winners: Bully Ray & The Briscoes
Other Staff Member Predictions: Everybody Else Picked: Bully Ray & The Briscoes
ROH World Tag Team Title Match
(Champions) The Young Bucks (Bullet Club) vs. War Machine
I've always found it interesting how NJPW and ROH view their wrestlers. At NJPW Dominion, the Young Bucks won the IWGP Jr Heavyweight tag team championship for the sixth time. While War Machine lost their IWGP tag team champions belts to GoD. A match up between a Jr tag team and a heavyweight tag team wouldn't occur in a NJPW ring. However, in ROH, there are no weight distinction, so here we are!
War Machine are one of the most dangerous opponents for the Young Bucks in ROH. On paper, War Machine have the Young Bucks beat in size and power. Not only that, but due to their crushing loss in NJPW, War Machine are going to bring hell and fury. To counter that, the Young Bucks will bring the Super Kick party to Lowell, MA. That combined with their wits will be enough for the Young Bucks to retain. – Angel Gonzalez
Winners: The Young Bucks
Other Staff Member Predictions: Everybody Else Picked: The Young Bucks.
ROH World Television Title Match
Marty Scrull (Bullet Club) vs. (Champion) KUSHIDA (NJPW)
It'll be neat to see them get a chance to go all out with each other since their match on television was held back a bit. Marty was a great television champion, and he had great match after great match for the title during his run. I'd have no problem with them switching the championship back, but I'm not real sure where they would go from there. The face side of the roster isn't as thick as it once used to be, and people who I'd like to see hold the championship are involved in other things at the moment. I like KUSHIDA holding the championship personally. With the G1 coming up, KUSHIDA might be able to work in the US more often then Tomohiro Ishii did during his reign as champion. Not to mention, KUSHIDA holding the championship makes future title matches feel incredibly important, and bring that big fight feel to the table. I'm picking KUSHIDA to retain here. – Paul Leazar
Winner: KUSHIDA
Other Staff Member Predictions: Everybody Else Picked: Marty Scrull
ROH World Title Match
(Champion) Christopher Daniels vs. Cody (Bullet Club)
Man, am I looking forward to this one. Since Cody has turned heel, he's been working in the same manner as the people he idolized growing up. You can see a lot of Ric Flair and his father in his matches along with all the stuff he's been doing since day one. This slower style that he's started using should work out really well with Daniels, whose age has started to catch up with him somewhat. That style should gel really well with Cody, whose old school meets new school style should really create something memorable. With Cody originally being announced for New Japan's G1 tournament, and now not being in the tournament, one could only think that's because he's going to be the one walking away from this match as the new Ring of Honor World Champion. – Paul Leazar
Winner: Cody
Other Staff Member Predictions: Angel: Christopher Daniels. Gary:Cody.
Farewell For Now
Hopefully, you enjoyed our ROH Best in the World 2017 Preview and Predictions. Be sure to check out our other content on the website. Not to mention, Sean Garmer and Gary also give their predictions on the show on the most recent Wrestling 2 the MAX.