ROH TV Review 12.10.16
Location: Baltimore, Maryland inside the William J. Myers Pavilion
Following Final Battle, Ring of Honor Television brings us the 2nd Women of Honor TV Special. I greatly enjoyed the first one, so much so that I went out and bought the VOD off of RoHwrestling.com, which I would still recommend to this day. It's $10, and it just flies by. That being said, lets dive into this offering.
Deonna Purrazo gets a quick video package, where she talks about how fortunate she has been to establish a great reputation so early in her career. Candice LaRae also gets a video introduction, where she says she's finally arrived in Ring of Honor after people have been wondering when she would show up.
One on One
!
Deonna Purrazo vs. Candice LaRae
Winner: Deonna Purrazo via Fujiwara Armbar
If you're unfamiliar with either, Candice LaRae usually tags up with Joey Ryan as The World Cutest Tag Team, married to Johnny Gargano, and is just a dynamite wrestler in her own right. Deonna Purrazo is somebody who I've been very high on since I've first seen her. She's won the ECWA's Women's Super 8 Tournament back to back (2015 & 2016), and has appeared on NXT her fair share of times too. I'd like to think that WWE has their eye on both of the Women's Classic they have planned for next year.
They lock up early, and trade some headlocks. The quicken the pace, and trade some more strikes. Candice ends up coming out ahead with a dropkick that sends Deonna to the outside, and then hits the tope suicidia! Candice presses the advantage with some more strikes, and goes for a rope walk move, but Deonna shoves her off, and Candice's arm gets smashed into the ropes on the way down! We return from commercial with Deonna working over the injured arm of Candice. Candice starts to fight back, and hits a big double stomp that nets her a near fall. Purrazo puts a stop to the run, and hits a running knee lift. Deonna starts some rolling suplexes, but Candice fights out of it, and hits some rolling suplexes of her own. Deonna locks in the Fujiwara armbar though! Candice makes it to the ropes!
A tornado DDT and some strikes go awry for Candice, and Deonna brings her to the mat! Candice taps, and it's all over! Not too shabby overall. Ring of Honor has big things planned for Deonna, so it's no surprise she got the win here. **
Tag Team Action
!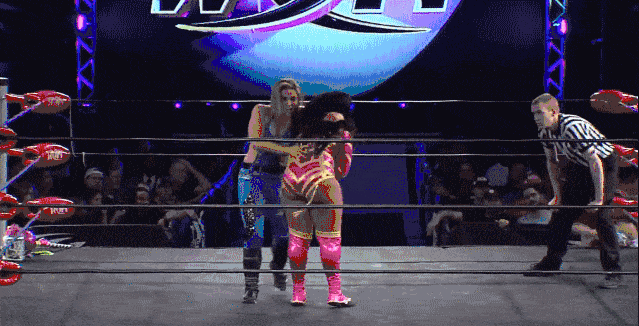 Veda Scott & Kennadi Brink vs. Sumie Sakai & Faye Jackson w/ Solo Darling
Winners: Veda Scott & Kennadi Brink via Anaconda Vice from Brink on Jackson
Well, Veda Scott has just recently left Ring of Honor, so there's that. Kennadi Brink hasn't been with Women of Honor long, but she's more than made an impact. Faye Jackson has only recently graduated from the RoH Dojo, and still looks really raw in the ring. Sumie Sakai has been wrestling for what feels like forever at this point, and used to be a staple around the northeast in the mid 2000's.
Faye and Veda start us off, and the size advantage for Faye comes into play early. The two tag out, and Sumie & Faye send Kennadi into Faye's ample bottom. Sumie connects with an ace crusher on Kennadi Brink, and hits a nice missile dropkick. Kennadi sends Sumie to the ropes, and Veda connects with a kick to the head of Sakai. The heels then cut the ring in half, and work the heat. Veda tags herself in, which infuriates Kennadi, who starts using Veda like a weapon. Faye drinks some of Solo's sugar drink, Sumie manages to tag her in, and Faye runs roughshod over Scott and Brink.
Jackson hits some rough look offense, and gets a near fall. Sumie comes in, but gets taken out by Veda. The two teams battle back and forth some more. Veda takes Sumie out on the outside, Brink takes Faye down, and it's all over from there. The ending sequence was fun, but Faye still needs a lot of work to get up to par. * and ½ *
The main feud in Women of Honor has circled around Mandy Leon and Taeler Hendrix. Hendrix feels like she owns the division, and has undercut Leon at every chance she can get. This has allowed Mandy and Deonna to team up to face against Hendrix and her chosen partner, Jessicka Havok. J-Hav and Leon go one on one, next.
Grudge Match
!
Jessicka Havok vs. "The Exotic Goddess" Mandy Leon
Winners: Mandy Leon via Roll-Up
Mandy Leon has been THE focal point of the division. She's come a long way, and put on a stellar match with Hanna The Huntress back at the first Women of Honor TV Special. J-Hav has been on the bigger stars of women's wrestling for the past decade, and has won championships all over the US. Mandy charges in, and eats a big forearm. Mandy hits a few flurries of offense, and tries to put J-Hav away early to no avail. Havok plants Leon with a huge slam to send us to another commercial break.
Havok continues beating the stuffing out of Mandy as we return to the action. Mandy hits a flying headscissors, and then locks in a sleeper hold! The offense doesn't last long, as J-Hav reasserts control. Havok nails the Beautiful Disaster on Mandy, but pulls her up from the pinfall. MORE PUNISHMENT! Havok grabs a chair, but here comes Deonna, who pulls the chair out of J-Hav's hands! Leon rolls up Havok, and steals the victory. J-Hav goes nuts, and absolutely destroys both of them. A little short to be much of anything, but it told it's story well. **
Next, we get a video package for Kelly Klein, who has gone undefeated in the Women of Honor division. She's a beast folks.
Main Event
!
Kelly Klein vs. ODB
Winners: Kelly Klein via Guillotine Choke
Hopefully, we're all familiar with ODB. She had a memorable run in TNA, and has since her found her way in to the RoH ranks. ODB dominates the early minutes, and the fight goes to the outside. ODB sends Kelly into the ringpost, and the guardrail. Afterward, she sends her back into the ring. Klein baseball slides back to the outside of the ring, but ODB retakes control of the match. Kelly grabs hold of ODB's left arm, and starts hitting a series of strikes. A nice DDT from Kelly sends us to commercial.
Kelly continues to ground and pound ODB into the mat. ODB holds onto the ropes after an irish whip, and forces Kelly to the outside. The two trade strikes, and ODB nails a series of shoulder blocks. Klein takes advantage with a snap german, and then hits a beautiful Northern Lights Suplex for a near fall. ODB connects with a spear from outta nowhere for another near fall. Klein reverses out of a fallaway slam, and locks in a choke! The referee stops the match, and Klein takes home the W to stay undefeated. Solid match overall, but nothing overly special. ** and ¼ *
Next week, Ring of Honor TV will air it's best matches from this year.
Overall Rating: 5 out of 10 This lacked the overall vibe the first Women of Honor TV Special had. It was also missing the one good match the first one had, but this still flies by relatively well. If you're into women's wrestling, give it a look. Otherwise, you can pass on this.