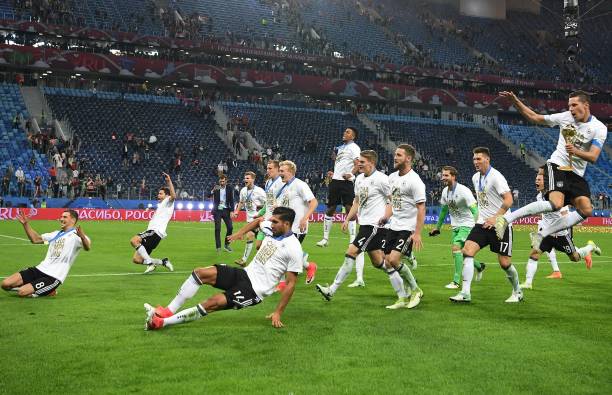 On this week's Weekend Editiion of Soccer 2 the MAX, Sean Garmer, Erik Watkins and Rachael McKriger have their CONCACAF Gold Cup 2017 Predictions. They also discuss the weekend in MLS and NWSL. Plus, final thoughts on the Confed Cup.
Things begin with covering the MLS action from the weekend. Can anyone stop the Chicago Fire? FC Dallas gets a big win in Toronto. Cyle Larin returns for an Orlando City SC win. Montreal get their signing and get a victory. Plus, NYCFC keep rolling and more.
Rachael takes us through the NWSL games of the weekend.
After this, final Confederations Cup 2017 thoughts. Should we really be predicting Germany for next year's World Cup? Is Juan Carlos Osorio in danger in losing his job after Mexico's loss against Portugal?
Finally, it's time to continue the summer of soccer, as the CONCACAF Gold Cup 2017 begins this weekend. The trio discuss the United States Men's National team performance against Ghana. Who stood out? Are we confident in this U.S. squad. Not to mention, predictions are made for the whole tournament. Who do we have winning the whole thing? Listen to find out.
Soccer 2 the MAX: CONCACAF Gold Cup 2017 Predictions, MLS Week 18 Wrap-Up, Confed Cup Final Thoughts
You can also listen to any W2M Network podcast posted on W2Mnet.com, by subscribing to Soccer 2 the MAX, or the W2M Network on I-Tunes, Stitcher, Tune-In Radio, Youtube or anywhere else there are podcasts.
About Soccer 2 the MAX
A podcast about the world's game with a focus on the United States Men's and Women's club and international scenes, with some CONCACAF discussion thrown-in as well. Whether it's breaking down Major League Soccer, NWSL, U.S. Men and Women's National teams, and even some USL in there too. Starring Rachael McKriger, current soccer writer for multiple outlets, and former writers Erik Watkins and Sean Garmer come together to make the perfect attacking triangle each week. All three also played soccer growing up and into high school as well. So, these are three Footy lovers that have discussions about the happenings on this side of the pond. Make sure to tune-in each Sunday night either Live on Spreaker at 9pm ET or on-demand via I-Tunes, Stitcher, Youtube, W2Mnet.com, Last Word Radio or other podcast outlets.
Sean Garmer
Being born into a Latino family, Sean grew up around the game of Futbol. No matter what you deem to call it, Mr. Garmer enjoys the sport. Sean played Defender growing up and then transitioned to Goal Keeper in High School. Due to the University of North Texas not having a Men's Soccer team at the time, his playing career ended in 2005.
However, since then, he's kept up with Soccer by watching his favorite teams and leagues, while also writing as well. Sean was paid to cover the 2010 World Cup, formerly hosted the Football 2 Futbol Podcast, and also wrote about the beautiful game for several other outlets. He mainly follows Major League Soccer supporting his childhood team in FC Dallas. Sean's also a Manchester United Supporter after visiting England in 2003 and picking the Red Devils. Now, he prepares for a brand new venture, in podcasting about Football once again, on the Soccer 2 the MAX Podcast.
Erik Watkins
While he was never really the best on the field, Erik's always had a deep rooted passion for the beautiful game. From discovering it in Maryland thanks to DC United, to cheering on Manchester United since the days of Ruud van Nistelrooy. Not to mention, considering donning purple hair to cheer Orlando City SC today. From MLS to USL and NASL (Viva Armada!) to even dreaming of training and playing in the MASL, if it's soccer, he's usually on it.
Rachael McKriger
Don't let height fool you. Before becoming a journalist, Rachael McKriger, was a goalkeeper. Yes, all 5-feet-two-inches of her. Now, don't ask if she was good or not, because that answer is up for debate. Currently, she doesn't play soccer anymore, unless it's a pickup game in the park or at her former high school. However, she's still closely attached to the sport. Rachael covers the U.S. Men's and Women's National Teams. The MLS and NWSL for Real Sports Entertainment Network and covers the USL's Pittsburgh Riverhounds for the Pittsburgh Sporting News. She loves football with an undying passion. Yes, she calls it football, since she hails from Europe (the colder part, aka Moscow). Rachael's favorite clubs are Borussia Monchengladbach in Germany, the Seattle Sounders in MLS, the Washington Spirit in the NWSL and the U.S. National Teams.
MAIN PHOTO: