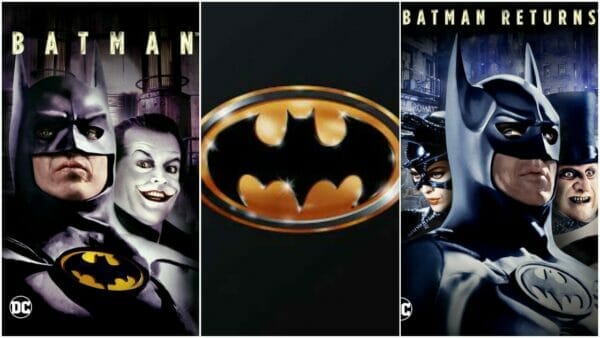 Samer Kadi, Sean Comer and Mark Radulich present their The Tim Burton Batman Films Review!
With The Batman (2022) starring Robert Pattinson in theaters this week we're looking back at the Tim Burton Batman movies! On this episode they discuss Batman and Batman Returns!
Baatman is a 1989 American superhero film based on the DC Comics character of the same name. Produced by Jon Peters and Peter Guber, it is the first installment of Warner Bros.' initial Batman film series. The film was directed by Tim Burton and stars Jack Nicholson, Michael Keaton, Kim Basinger, Robert Wuhl, Pat Hingle, Billy Dee Williams, Michael Gough, and Jack Palance. The film takes place early in the title character's war on crime, and depicts his conflict with the Joker.
Batman Returns is a 1992 American superhero film directed by Tim Burton and produced by Denise Di Novi and Burton, based on the DC Comics character Batman. The sequel to the 1989 film Batman, it is the second installment of Warner Bros.' initial Batman film series, and stars Michael Keaton as Bruce Wayne / Batman, alongside Danny DeVito, Michelle Pfeiffer, Christopher Walken, Michael Gough, Pat Hingle, Michael Murphy, and Vincent Schiavelli. In Batman Returns, Batman faces the Penguin, who plots to kill all of Gotham City's firstborn sons, while dealing with Max Shreck, a corrupt tycoon who allies with the Penguin to bring Gotham City under his control, and Catwoman, who seeks vengeance against Shreck.
Check out our other Batman reviews!
Also check out the W2M Network Discord.
Title card art by Benjamin J Colon: Twitter, Instagram, Twitch, and YouTube.
Check us out on the player of your choice here.
Only one will claim the night. The Tim Burton Batman Films Review
Support the W2M Network
Grammarly Ad: XXXX
Amazon Music Ad: XXXX
For a 30 Day Free Trial of Amazon Music Unlimited head here. Amazon Music is free. Amazon Music Unlimited is not. And for the Grammarly special offer, go here.
About Long Road to Ruin
Mark Radulich and Sean Comer examine the long road that a series took to get where it is now. Discussing the early films in a series and seeing how its roots have formed its popularity, the various actors, directors, and other things that have made this a big deal. Not to mention, they give a review of the films as well to see how they hold up in the present day.
Listen on Your Favorite Podcast Service
Apple Podcasts
Stitcher
iHeartRadio
Spotify
Youtube
Social Media Links
Subscribe to the W2M Facebook Page for more information on all our podcasts.
Twitter: W2M Network, Sean Comer and Robert Winfree.
About Radulich in Broadcasting's Beginnings
Mark Radulich has been an internet personality since 2004 with his Progressive Conservatism blog. He then took that blog to the airwaves and created a podcast for it. It then changed to PC Live. After that, he brought out the 411mania Ground and Pound Radio as well.
Also, Mark would partner up with another 411mania alum, Sean Comer, to create the movie franchise review podcast Long Road to Ruin and then Robert Cooper to create the metal album review podcast, The Metal Hammer of Doom. Robert Winfree then added his own podcast, Everybody Loves a Bad Guy. That's when the Radulich in Broadcasting Network was born. Joining Winfree in having their own podcasts were super fan's Jesse Starcher (Source Material). Finally, Winfree and Radulich added a weekly movie review show to the ever-growing lists of podcasts on the Network called Damn You Hollywood.