Total Divas Season 6 Episode 10 Review: The Big Day
Previously on Total Divas….
IT'S THE MIDSEASON FINALE OF TOTAL DIVAS! AND THIS REVIEW IS NEARLY A WEEK LATE! But the stories on this show are six months old, so a week late review won't kill you.
John Cena and Nikki Bella go out to dinner. They talk about Nikki's comeback and Cena makes sex jokes. If there are two things Cena is good at, it's sex jokes and winning titles.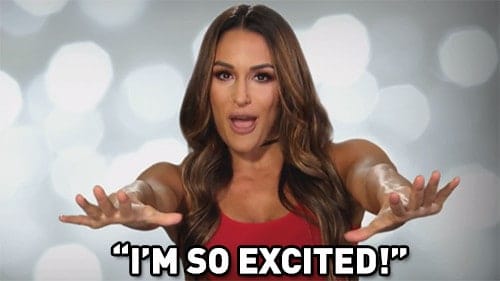 Lana tells Maryse and a group of the girls that she plans on getting Rusev an elephant for their wedding. This sets off Maryse, who explains the kind of horrors elephants go through. "You want to take him away from his family so you can take a selfie?" Animal rights activist Maryse.
Naomi gets her hair done. Jimmy Uso tells her not to worry about the Brand Split.
Maryse tells The Miz about the elephant thing and that she's going to boycott the wedding. The elephant should interrupt the wedding. That's some real pro wrestling.
Renee Young is taking Dean Ambrose to meet her family. "People think Dean is a crazy person." I think "lunatic" is the word you're looking for, Renee.
Naomi is doing an interview about the WWE Draft. She's still worried about being split. It's tough to care about this storyline when the outcome was revealed six months ago.
Renee and Dean head to Canada to meet Renee's family. Dean is wearing a Cincinnati Bengals hat. He's already screwed up this meeting.
SO MANY CUTS! Nikki heads to the doctor's office for her final cat scan. AND ANOTHER CUT!
We're back to Renee and Dean. Renee wants to fix Dean's hair. Dean is wearing his wrestling gear to meet Renee's parents. What a guy! Renee's mom shows up. Dean charms her with compliments. Renee's mom shows off her swollen foot. She's hardcore.
Nikki waits for her results. The doctor clears Nikki for her return. SHOCKING DEVELOPMENT! She's excited to get drafted. You mean she isn't freaking out about possibly being split from John?
Lana watches a video of elephants being mistreated. RUSEV HITS HER WITH A "NOT" JOKE! Something about a flower arch. Rusev doesn't understand why flowers cost so much. Me too, Rusev, me too. Lana wins a swimming race to secure her flower arch.
Nikki tells Nattie that she has been cleared. Then they talk about boob sweat.
Renee, her family, and Dean head to dinner. Some guy reaches over the bushes and steals Renee's hat. Dean goes through the bushes to chase the guy. I thought they were friendlier in Canada. Dean gets the hat back and makes the guy say, "I'm a drunk asshole and I apologize." Renee is upset with Dean. Dean is all, "what's the big deal? Let's just go sit back down and drink." Dean Ambrose is amazing. However, Renee's night is ruined. I hate to say this, but I'm on Team Dean.
Nikki heads to NXT because she needs to learn how to work again. She blows up quick and stumbles through her workout.
Dean and Momma Renee go to a bar to take shots. Renee is ready to go home. But Dean wants to teach Momma Renee how to play human Frogger. What a guy!
The Bella's arrive for the Rusev/Lana wedding. Rusev reveals that he got himself a Lamborghini. Lana is mad that it's not a flower arch.
Dean, Renee, and Momma Renee head out for drinks the next day. Renee is being a downer and her mom calls her out on it. Renee wants Dean to chill out and Momma Renee is like, "let him be himself. He's a great guy." Renee has fallen victim to the curse of Total Divas, where all the women on this show are stupid.
Lana and Nikki discuss the wedding. Lana isn't happy that Rusev isn't taking things seriously. She also doesn't want to take his last name. Nikki, the woman who will never get married because John Cena don't play that, is the one giving wedding/marriage advice. Oh the Irony!
Renee apologizes to Dean. Ambrose responds by taking her to suplex city. They have a birthday celebration for Renee and bust out some nunchucks. They seem like a fun couple. Need a reality show with Brie/Bryan and Dean/Renee.
At the Lana/Rusev wedding, the gang is all there. Nattie and Dean lock-up upon seeing each other. I really hope that's just how they greet each other all of the time. Bryan says they aren't allowed to sleep in the same room tonight. Lana and Rusev. Not Nattie and Dean. Although they shouldn't sleep in the same room either.
Maryse gives Lana art elephants as a gift. This reminds Lana that she was going to get Rusev an elephant and Rusev wouldn't give her a flower arch. DAMN YOU, MARYSE!
Of course, the flower arch is there. SHOCKING DEVELOPMENT!
Rusev and Lana have their first of five weddings. Lana decides during her vows that she will take Rusev's last name. Lana's dad messes up pronouncing Rusev's last name.
The after-party looks like a kids carnival. Wait. It is a kids carnival. Well, if this is what Lana wanted. They cut the cake, and Rusev smears it on Lana's face.
In the middle of the wedding, Nikki gets an email. "The worst email anyone could ever get," says Nikki. We head to commercial for the CLIFFHANGER! Place your bets as to what the email says. The email says, "you are not part of the draft." OH THE HORROR! NO ONE HAS EVER GOTTEN A WORSE EMAIL THAN THAT! So, she gets to pick what show she will be on later? Why should I care? Her over-dramatic selling doesn't help.
IT'S FINALLY TIME FOR THE DRAFT! BUT WE'RE OUT OF TIME! THE TAPE MACHINES ARE ROLLING! COME BACK IN SIX MONTHS FOR THE SECOND HALF OF THE SEASON WHEN EVERYTHING IS A YEAR OLD.