Total Divas Season 6 Episode 9 Review: What Happens In Vegas
Previously on Total Divas…
The girls are going to Vegas. Lana wants to do a Bachelorette party, but she knows Rusev is against it. Naomi and Renee Young are like, "too bad."
Nikki Bella and Brie Bella get their nails done. They talk about John Cena hosting the ESPYs and the whole family walking the red carpet.
Rusev and Lana walk backstage. Lana loves Rusev. Who wouldn't?
It's gonna be one of those episodes isn't it? With 30 second scenes that go nowhere.
Lana, Naomi and Renee get a big suite in Vegas. RUSEV IS THERE IN A ROBE PLAYING BASKETBALL! Rusev is with his best friend and Lana's brother. Renee hustles Rusev and wins $120 off him.
The six go out to dinner. Fans come over and talk to them. Renee gets very friendly and starts asking about bachelorette parties. Then, she exchanges numbers with these fans. I'm starting to think that these people aren't fans. Renee tries to explain Thunder Down Under to Rusev. My fiance went to that show once. And I'm pretty sure I'll never allow her to go again. I'M WITH RUSEV.
Nikki and Brie are in LA getting ready for the ESPYs when Bella Mom and Bella Brother arrive. They talk about Cena hosting and the whole family walking the red carpet.
Renee and Naomi kidnap Lana. But they tell her, they are kidnapping her. So, I'm not sure it's a real kidnapping. THE GUY FROM THE OLD SPICE COMMERCIALS SHOWS UP! LOOK OVER THERE! BACK OVER HERE! NOW BACK TO THERE! Apparently, Lana used to date him. She only picks winners, I see. Naomi is just as excited as I am about seeing the Old Spice Guy. They invite him to a pool party tomorrow. RUSEV VS. OLD SPICE GUY GOING DOWN AT THE POOL PARTY!
The Bella Family go to lunch. They continue to discuss walking the red carpet and smiling for the camera. This is the most boring storyline.
The Vegas Trio rent a pink party bus. Their host joins him. He's really creepy, but don't worry, he's an accountant. He tries to jump into the picture with the girls. Now he wants to gossip with them. Naomi and Lana are creeped out. Renee loves it. This explains why she's dating Dean Ambrose.
They head to Thunder Down Under. Lana is pulled up on stage and given a lap dance by Roman Reigns. And that's how their feud really started. Lana and Renee talk about Lana's relationship with Old Spice Guy and whether or not Rusev is going to kick his ass at the pool party. On second thought, I don't want this fight. Because you know Rusev is doing the job to the part-time guy.
The girls tell Rusev about their Thunder Down Under trip. Rusev is none too pleased. They go to the bar to party it up. The fan from dinner shows up. She's drunk, and she's not with her husband, who was in a wheel chair. The fan says that Rusev is her hall pass. Then, the girl and her friend start fighting. Naomi puts them both in a headlock before security comes over. Rusev is laughing. Lana is pissed at Rusev for him not telling her about the fans indecent proposal. Why is this a big deal?
More red carpet prep for the Bella Family. Ughhhhhh. They do Q & A training. NO ONE CARES! Bella Brother doesn't handle a question about John and Nikki getting married very well. Red carpet is nothing but fluff questions. And no one cares enough about the Bella Family to ask these questions.
The Vegas Girls wear bikinis while getting their makeup and hair done. Lana asks Naomi if she ever had second thoughts. Naomi quickly answers "no." Someone go back to those episodes of Total Divas and see if that's true or not. Not me. I already recap this show every week. That's enough. Lana is having second thoughts because "it's not him. It's me."
They hit up the pool party. There's a crazy cat lady. Old Spice Guy is there. He tells Lana that things will be fine. However, she's scared. Then, she starts crying. Next, she wants to runaway instead of running to Rusev. I imagine that most future wives get scared at some point before the wedding.
Nikki is complaining about bad photos of her. Ughhhhhh. Brie tells her to get social media. Brie, always the voice of reason. Bella Brother throws Nikki's phone in the hot tub. Hope she saved everything to the cloud.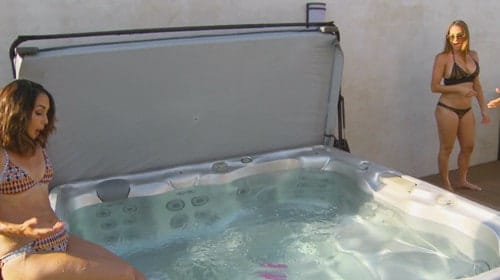 Lana tells Rusev that she's scared and doesn't want to get divorced. Rusev comforts her. He doesn't even care about being married, he just wants to be with her. Rusev says a bunch of smart things and I'm jealous of how well he handled this situation. After that, he's ready to eat.
At dinner, Renee brings in a magician. This excites Rusev so much. The magician brings out some lucha people. They are wearing masks. Their faces are also blurred. Brilliant stuff. Under the masks are the two fans. Renee has pulled the ultimate rib. The party bus guy and cat lady were also part of it. She thinks she's still on Swerved.
We're finally at the ESPYs. Everything goes fine on the red carpet. Shocking.