The second of three New Japan Pro-Wrestling Destruction shows takes place on Thursday night in Hiroshima. The first show on Saturday brought about a surprise title change and a NEVER Openweight Title defense for Katsuyori Shibata as well. Unfortunately, Shibata has a spinal injury that keeps him out for the rest of the tour and perhaps even longer than that. Focusing back onto the current card, there are four main matches on this show. Adam Cole defends the Ring of Honor World Championship against Will Ospreay. Kazuchika Okada faces an old foe in Bad Luck Fale. The Briscoes defend the IWGP Heavyweight Tag Titles against the Young Bucks. Finally, Kenny Omega defends his Tokyo Dome main event spot against Tacos himself, YOSHI-HASHI.
An Introduction to the Article
As someone that has quite a bit of experience doing these roundtable type articles, I wanted to do this a bit differently than some others. Instead of having six people all give thoughts on each match, I felt it better to assign one match to each person. So, one of our staff members will answer a question pertaining to a match, then give their thoughts on the match itself, and finally predict a winner. This continues until the end of the article, when everyone gathers to give their overall thoughts on the event.
W2Mnet NJPW Destruction in Hiroshima 2016 Preview
W2Mnet Staff
Paul Leazar, W2Mnet Wrestling Dept. Head, Co-Host of Wrestling 2 the MAX, Host of The Wrestling Time Machine
Sean Garmer, W2Mnet Editor-in-Chief, Co-Host of Wrestling 2 the MAX
Tom Reese, W2Mnet Wrestling Article Writer, Wrestling 2 the MAX New Japan Correspondent
Match 1: Eight Man Tag Match
Togi Makabe (Great Bash Heel), Teruaki Kanemitsu, Yoshitatsu & Captain New Japan (Bullet Club Hunters) vs. Hiroyoshi Tenzan, Satoshi Kojima, Ricochet & Matt Sydal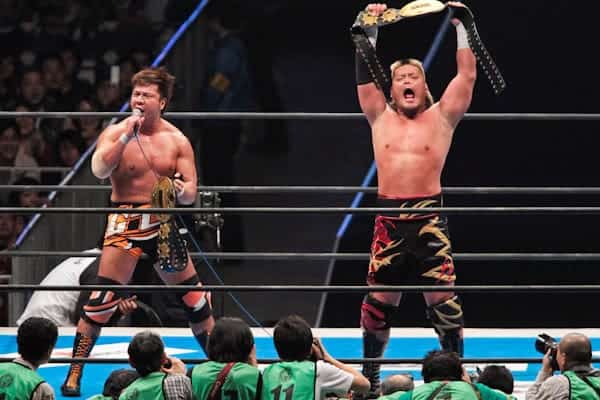 Tenzan and Kojima should get another run with the IWGP Heavyweight Tag Belts?
I'm all for nostalgia runs and both men have had their moments this year. Honestly, if New Japan is set on combining the tag divisions, I don't think this would be such a bad idea. Hiroyoshi Tenzan and Satoshi Kojima have such name value for the company as both a tag team and as singles stars. Imagine how great a Briscoes vs. TenKoji tag title feud could be. It would be a huge feather in the cap for them and could give them even more respect from the Japanese fans as well.
Even a feud with the Young Bucks where there's the clear heels vs. faces dynamic could create buzz too. I don't think it needs to be a sustained run, but something on the shorter side wouldn't be too bad for them.
As for the match, it should be a decent opener for the show. This is obviously one of the two matches affected by the Shibata injury. Makabe really got dealt a bad hand here. He's without his tag partner, and now has to tag with a young lion and the two biggest geeks in all of New Japan as well. Due to the overwhelming odds, this one isn't too hard to predict. This match is still interesting because it is the first of several matches pitting Junior Tag Teams against mostly heavyweights. Sydal and Ricochet are always fun in these type of matches, so I'd pay attention for them in this one. – Sean Garmer
Winners: Team TenKoji
Match 2: More Eight Man Tag Action
Tomoaki Honma (Great Bash Heel), Tiger Mask IV, Yuji Nagata & Manabu Nakanishi vs. ReDragon (ROH), Ryusuke Taguchi & David Finlay Jr.
New Japan should follow through with reports and sign ReDragon to full-time deals?
I've said this many times when discussing ReDragon and New Japan, they belong there. Gedo obviously likes them, because they have been ultra protected anytime they compete as a tag team there. Kyle O' Reilly's star has shone brightly both times he's been in the Best of the Super Juniors tournament as well. Both men have also proven that they are competent singles competitors too. Bobby Fish currently holds the ROH Television Title and had a match in ROH and lost at the previous Destruction show against Shibata for the NEVER Title.
Fish and O' Reilly can work as heavyweights or Juniors, they are liked by the Japanese crowds, and O' Reilly could really flourish if given a full-time deal. I think he could make as big a splash as Michael Elgin has and that's high praise considering all the things Elgin has been able to accomplish in NJ. Sadly though, ReDragon are on the same team as the Young Lion David Finlay. So, this means their team loses this match. The match could still be fun though, watch out for O' Reilly against Yuji Nagata to be a highlight. Taguchi and Nakanishi bring the comedy. While Honma brings the dynamite. – Sean Garmer
Winners: Team Old Men
Match 3: Bullet Club vs. CHAOS Tag Match
Guerillas of Destiny (Tama Tonga & Tanga Roa) (Bullet Club) vs. Roppongi Vice (Beretta & Rocky Romero) (CHAOS)
Tama Tonga should do other things besides teaming with his brother?
Absolutely! Tama Tonga had a shaky start to his G1 Climax 26 run this year, but from the midway point to the end, the dude was on fire. I think he's New Japan's most underrated guy on the roster, and deserves a singles run. I don't know if Tama Tonga fits the tough guy moniker that the NEVER Openweight Title has been sporting since Tomohiro Ishii made the belt famous, but I certainly think a guy who uses misdirection and the like in that division could make for some interesting matches.
This could be a fun match, and another one that helps show the coming merge of the tag team divisions in New Japan. The Guerrillas are former IWGP Heavyweight Tag Team Champions, Roppongi Vice are former Junior Tag Team Champions, and letting Roppongi Vice get the win here would help show that they can compete with the "heavyweight" tag teams in New Japan. Hopefully, it's Tanga Roa who takes the fall here. – Paul Leazar
Winners: Roppongi Vice
Match 4: More Bullet Club vs. CHAOS Tag Action
Yujiro Takahashi & Chase Owens (Bullet Club) vs. Hirooki Goto & Tomohiro Ishii
Goto and Ishii should be a regular tag team going forward?
This pairing of CHAOS stablemates is a Dream Team of sorts for me. This is a perfect pairing at this time. It keeps Hirooki Goto in a featured position and hopefully rebuilds some credibility for him going forward. This should be a showcase match of sorts for Goto and Ishii as they take on the Bullet Club By team of Yujiro Takahashi and Chase Owens. This should be entertaining due to CHAOS. Going forward they can definitely help refresh the tag division with matches against Makabe and Honma, Briscoes, LIJ, and others. Look for a relatively quick victory for CHAOS here. – Tom Reese
Winners: Goto & Ishii
Match 5: Tanahashi and Friends vs. Los Ingobernables de Japon
Hiroshi Tanahashi, (IWGP Intercontinental Champion) Michael Elgin, KUSHIDA & Juice Robinson vs. Tetsuya Naito, EVIL, (IWGP Jr. Heavyweight Champion) BUSHI & SANADA (Los Ingobernables de Japon)
Los Ingobernables have delivered the best tag matches in New Japan this year?
The easy answer is absolutely yes. These four put on an total show, no matter who they are in the ring with at the time. Their feud with CHAOS has been fantastic this year. The multi-man tags have been frequent over so many months and I never once cried foul. Why? Because they are so good. SANADA is just so smooth. BUSHI finds incredible ways to be dastardly. EVIL is the heavy hitter. Then you have the transformed Tetsuya Naito that knows how to get the heat.
He has put all the attention on him since his turn, but without us realizing it, he gave his group members big wins in tag matches. Then they got time to shine in singles action and almost overnight, people didn't just love Naito, they loved the entire group. SANADA and EVIL then went on to have impressive G1's, while Naito almost made it to the final. L.I.J. has been great this year and this match should continue to show everyone why. Juice is in the match to take the fall and I'll say SANADA picks up the win. Elgin and Naito also have an IWGP Intercontinental Title match on the final Destruction show on Saturday, watch out for their interactions in this match too. – Sean Garmer
Winners: Los Ingobernables de Japon
Match 6: IWGP Heavyweight Tag Team Championship Match
(Champions) The Briscoes (ROH) vs. Young Bucks (ROH, Bullet Club)
This match proves it's time to destroy the tag team division barriers?
Absolutely. I think with all the influx of gajin tag teams in New Japan, and both divisions being so thin as it is, it would really help both divisions to kill of the junior tag titles, and just have the main set. I think the Young Bucks winning here, and at All Star Extravaganza at the end of September, will help cement, and ease the transition for New Japan. Plus, we might actually get some storylines built around the tag team division again instead of just matches.
We often talk about how much New Japan stars get to win on Ring of Honor shows, but while they may not be dominating at the top of the card, the Ring of Honor sure do get their fair shake in New Japan too. The Briscoes have been racking up championships there in the last year, and the Young Bucks are 5 time Junior Tag Team Champions. Both teams have also held the NEVER Openweight Six Man Tag Titles too.
These may not be the belts that are bringing all the fans to the arena, but it certainly does put that argument into prospective. This is a such a hard one to call, but I'm going to go with the dream route here. The Young Bucks somehow, someway, walk away from this one with all the tag gold. That way, when the win Ladder War at the end of this month in Ring of Honor, they'll look super legitimate across both brands (as if they need it, but they are guys to do this). – Paul Leazar
Winners and NEW IWGP Tag Team Champions: The Young Bucks
Match 7: ROH World Championship Match
(Champion) Adam Cole (Bullet Club) vs. Will Ospreay (CHAOS)
Adam Cole has the intangibles to get over big in Japan?
I think so. I think very highly of Adam Cole's talent, and the dude has the charisma to really go out there and get himself over both in and out of the ring. His ring style might need a bit of tweaking to fit better in New Japan, but he's more than up to that task. I don't know if he ever makes it to AJ Styles' level, but I certainly think he can get as over as Kenny Omega has in his own way.
By gawd, this should be some kind of awesome. I don't know what kind of reaction Adam Cole is going to get, but he'll be getting some noise by the end. The neat part about this match is that Will is going to be on the UK Tour for RoH as well, so it's possible (even if it is a slim margin) that they could do a title change here. I don't think they will though. The championship has Kyle O'Reily's name on it already come Final Battle, so Adam Cole retains here. This could, however, be the sleeper match of the night. – Paul Leazar
Winner and STILL RoH World Champion: Adam Cole
Match 8: The Rivalry Renewed: Special Non-Title Singles Match
(IWGP Heavyweight Champion) Kazuchika Okada (CHAOS) vs. Bad Luck Fale (Bullet Club)
Kazuchika Okada is the best all-around performer in New Japan right now?
This will be an interesting test for both men. Okada is the current ACE and maybe the best all around guy in NJPW when it comes to the complete package. Fale is coming off his annual good showing in the G1 where he always scores a big win or two. This year he defeated both Okada and Naomichi Marufuji. He also delivered beyond expectations in the ring. I feel this match has several hurdles to overcome. First is the fact that a Fale win is unlikely but not impossible.
This will lead to the next obstacle. Hiroshima is generally a hard crowd sometimes. So convincing them that the outcome isn't predictable will take some doing. And Okada, while considered one of the best, will sometimes perform to the level of his opponent. That would make for a less than stellar match. However, these two worked well together in the past. The match will be as good as Okada allows it to be. Gonna go out on a limb here and predict a win for Fale to set up a future title match. – Tom Reese
Winner: Bad Luck Fale
Match 9: MAIN EVENT: Tokyo Dome #1 Contender's Match
(Briefcase Holder) Kenny Omega (Bullet Club) vs. YOSHI-HASHI (CHAOS)
YOSHI-HASHI has earned himself at least a NEVER Openweight Title push?
The outcome here should be pretty obvious here. The big takeaway here will be the performances by both guys in the main event spot. Both have a similar path to this match. YOSHI-HASHI was always just a guy in CHAOS. Talented, but usually there to take the fall in tag matches. But with a push this year he's more than stepped up. It started with wins over SANADA in the great CHAOS v LIJ feud. Then an impressive G1 showing that included a win over Omega. The fans have also gotten behind him. Omega has been an amazing story in 2016. He's been saying how he wanted main event matches as a heavyweight. I don't think many took him seriously. Myself included. Mainly because of his comedic goofiness as the leader of the Bullet Club.
In January NJPW got hit with the big defections of AJ Styles, Shinsuke Nakamura, and Karl Anderson and Doc Gallows. Styles and Nakamura were two major main event losses. So an opportunity presented itself for Omega. He's had main event big matches with Hiroshi Tanahashi and Michael Elgin and literally hit a home run. Then came the G1. He made it to the f8nal weekend with a chance to win. He then delivered one of the greatest performances ever with back to back victories against Tetsuya Naito and Goto.
So while the outcome here is pretty obvious I think the question is how exciting will this match be. Even with a loss it's a showcase for YOSHI-HASHI. And it's a possible chance to show he's capable for a singles title. With the immediate future of NEVER championship in question due to the uncertainty of champion Shibata's injury this is a chance for YOSHI-HASHI to show his worth. I predict an exciting main event here. – Tom Reese
Winner AND STILL Briefcase Holder: Kenny Omega
OVERALL THOUGHTS
This show should be very intriguing. You know the wrestling is going to be off the charts, but it's sort of one that I think a lot of New Japan execs are keeping an eye on. Omega/Yoshi-Hashi in the main event is sure to be terrific, Okada/Fale should be the usual fare from both, and RoH World Title & IWGP Tag Team Title matches just can't be bad. You can, however, see a lot of mixing between juniors against heavyweights across these shows in the earlier tags. We've talked a lot about breaking down the barrier between the junior and heavyweight tag team divisions. This show seems to be proving ground to see if it can fly. If nothing else, watch for that. – Paul Leazar
The last five matches on this show could make for an incredible second half of the evening. Each one of those matches, has a chance to be good to great. Adam Cole and Will Ospreay should put on quite a spectacle. Los Ingobernables can always be counted on to put on a show. The Briscoes are dynamite with almost anyone and the Young Bucks will certainly match them in the high spot department. Kazuchika Okada puts on the best matches with Fale, aside from maybe Tanahashi. Then you have something that could really surprise people and that's the main event. I enjoyed the heck out of their match in the G1. I think we can expect something similar on this night as well. – Sean Garmer
Really expecting a fun show. Every match has some real talent in it. Ricochet and Sydal are in the opener. RPG Vice get the challenge of Tonga and Loa. Tanahashi, Elgin, and Juice v LIJ will be the sleeper match. Briscoes v Bucks will be out to steal the show and challenge Omega v YOSHI-HASHI for best match. Cole v Ospreay should be fun as well. This could end up being a sneaky great show. – Tom Reese
Goodbye For Now
Hope you enjoyed our NJPW Destruction in Hiroshima 2016 Preview. Look out for our review sometime on Thursday after the show airs and be sure to comeback in just a few days for our thoughts on the Destruction in Kobe show as well.