W2Mnet WWE Hell in a Cell 2016 Preview
WWE stands to make history at Hell in a Cell on Sunday. Not only for having a triple Hell in a Cell match main event on this RAW brand only event, but by having the RAW Women's Championship match go on last. Sasha Banks and Charlotte Flair's feud has been on-and-off since WWE NXT. There's no doubt they certainly deserve the spot. However, the company may decide to go with Roman Reigns against Rusev.
They could also decide to go with the main title is the main event. In that case, the WWE Universal Championship Hell in a Cell match featuring Kevin Owens and Seth Rollins would main event. Regardless, the show seems to have an underwhelming vibe heading into the PPV. The card does have a few more championship matches, which could help raise it a bit. The New Day defend their RAW Tag Team Championships against Cesaro and Sheamus. Not to mention, T.J. Perkins putting up the WWE Cruiserweight Championship against Brian Kendrick as well. Whether it winds up a historic night, or just another show. This is the W2Mnet WWE Hell in a Cell 2016 Preview.
An Introduction to the Article
As someone that has quite a bit of experience doing these roundtable type articles, I wanted to do this a bit differently than some others. Instead of having six people all give thoughts on each match, I felt it better to assign one match to each person. So, one of our staff members will answer a question pertaining to a match, then give their thoughts on the match itself, and finally predict a winner. This continues until the end of the article, when everyone gathers to give their overall thoughts on the event.
W2Mnet Staff
Sean Garmer, Editor-in-Chief, Co-Host of Wrestling 2 the MAX
Paul Leazar, Wrestling Dept. Head, Co-Host of Wrestling 2 the MAX
Patrick Ketza, Wrestling Senior Editor, Host of Wrestling Unwrapped
Noah Mooney, W2Mnet Wrestling & Football Contributor
Cody Howk, W2Mnet WWE NXT Reviewer, Co-Host of Jobber's Court
Angel Gonzalez, W2Mnet Wrestling, Games & Entertainment Contributor
Rick Beslin, W2Mnet Wrestling Article Writer
Thomas Grim, W2Mnet Wrestling Article Writer
Pre-Show Kickoff Six Man Tag Match
Cedric Alexander, Lince Dorado & Sin Cara vs. Tony Nese, Drew Gulak, Davari
WWE has failed to capture what made the Cruiserweight Classic special?
Without a doubt, WWE doesn't seem to understand that the WWE Cruiserweight Classic was much more than some colored ropes. There's no sense of competition in random matches that get little time. The division lacks stories and builds for the other talent. It cannot be all about the Cruiserweight Title feud. It won't happen, but perhaps a ranking system for the Cruiserweights wouldn't be a bad idea. If they want to sign more talent for this division, they have to start making everyone in it feel important.
Right now, what is there to be excited about, if you are an Akira Tozawa or a Gran Metalik. Not a whole lot. Give the fans a sense that these great athletes have a reason for being out there and not just to do "flippy" moves either. Until that happens, the division continues to tread water. This match should be fun to watch and I'd expect Cedric Alexander to get the pin for the face team. – Sean Garmer
Winners: Cedric Alexander, Sin Cara, Lince Dorado
The Underdog vs. The Muscle
Bayley vs. Dana Brooke
Dana Brooke was brought to the main roster too early?
While the dirtsheets have gone as far to say that the people in the back say she Dana Brooke is an embarrassment. I wouldn't go that far. She is pretty bad though. She still has her purpose on the main roster. Even if it is just to maybe help Charlotte here and there. Bayley is going over without a doubt. – Thomas Grim
Winner: Bayley
The Popular Guys vs. The Goons
Enzo & Big Cass vs. Luke Gallows & Karl Anderson
It was a mistake for Gallows and Anderson to go to WWE?
I have to say no it was not a mistake. While I'll agree they haven't been booked correctly this is the WWE. It's the largest and most popular wrestling promotion in the world. The Club definitely needs the win here, more so than Enzo and Cass. Enzo and Cass do not need to win to be over. Enzo's mic work and charisma make the crowd support them. The Club on the other hand, are dangerously close to looking like jokes and losing all credibility. It's a case of one step forward and two steps back with them. They finally started to get some wins and look dominant and then the WWE put them in singles matches against their HIAC opponents and they lost quickly. I'm predicting a Club victory here and hoping for a turnaround in the booking. – Rick Beslin
WWE Cruiserweight Championship
(Champion) T.J. Perkins vs. Brian Kendrick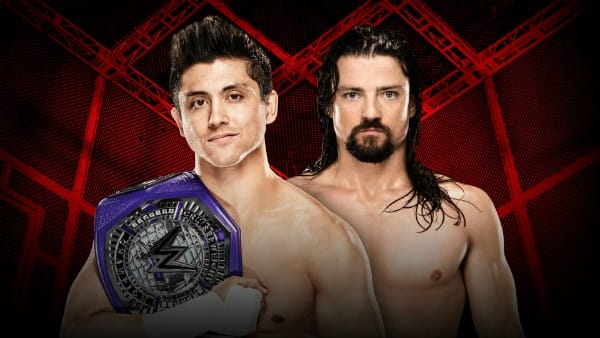 TJP's video game references help build his character?
I can see the thinking behind that, but no, I don't believe it does. Liking video games should be an aspect of his character, and something that helps him be relatable to a younger audience. TJP should be focused on being the best, which is something I think he touches on at points when he's given the opportunity. However, he doesn't always get that chance. Honestly, that's something that you could say about the entire division in general at this point.
Ever since the Cruiserweight division showed up on RAW post CWC, we've yet to see them really cut loose. I really hope both guys get the opportunity to do that this go around. That being said, the build for this sucked, plain and simple. T.J. Perkins was begged by The Brian Kendrick on the last episode of RAW because he believes it's his last chance.
He's had every single title match since the division's inception. What makes you think this one is it? Why couldn't that idea have been built into the build? Either way, I see no reason to take the strap of TJP. I think the WWE has other ideas for who holds the belt next. – Paul Leazar
Winner: T.J. Perkins
RAW Tag Team Championship
(Champions) New Day vs. Cesaro & Sheamus
New Day have grown stale?
I was a huge fan of the New Day's gimmick, but off course WWE had to run it to the ground. What once was fresh, fun, and always made me smile, turned into boring, oversaturated, and overall stale. It is not the New Day's fault, why deviate from the formula that brought you to the dance? In the end it is up to WWE creative to evolve the characters and add layers to their story.
WWE had at least a chance to do something interesting with the New Day when they feuded with the Wyatt family but literally nothing came from that feud. I don't want the group to be broken up, because I think they still have a lot to offer, but they need to lose the titles to shake things up for them. If not the crowd will eventually turn on this talented group.
I was one of the many fans that were more than annoyed when the best of 7 series between ended in a draw between Sheamus and Cesaro. I was even more frustrated when Mick Foley had them team up to challenge the New Day for the Raw Tag Team Championship. Needless to say I am pleasantly surprised how fun this rivalry has become. Week in and week out Sheamus and Cesaro antics have been the bright spot of Raw. WWE has invested a lot show time in this partnership, so I fully expect for them to beat the New Day.
We all know how much WWE likes to put titles on odd couples such as Booker T and Goldust in 2002 and well ass Kane and Daniel Brian in 2012. My only pause for concern is that for some reason WWE creative had this match already occur on Raw, with Sheamus and Cesaro winning cleanly. In the past this would hint that we would get an overproduced idiotic ending, but I have faith that WWE will finally do right by Cesaro. – Angel Gonzalez
Winners: Cesaro & Sheamus
WWE United States Championship Hell in a Cell Match
(Champion) Roman Reigns vs. Rusev
The US Title is just what the doctor ordered for Roman Reigns
Going into this match, I find it becoming harder and harder to root for Roman Reigns as a babyface. Sure, Rusev is anti-America and ruffles the crowd's feathers every time he takes the microphone. However, since Rusev and Lana's wedding, Roman Reigns has played the part of that jerk who peaked in high school but still bullies everybody. So story wise, I haven't been drawn-in because neither competitor has really given me a reason to root for them. What makes this worse is that the US title is on the line, yet it's hardly been mentioned at all.
As far as the match itself, Roman Reigns thrives in stipulation matches. If he was born 15 years earlier, he'd be a poster child for the Attitude Era. Rusev on the other hand is new to this match type, but between the super athlete and "the guy" there is plenty of size and intensity to utilize the steel structure to its full potential. I'm sure the match will be just fine, but as far as the winner goes. Let's have Roman Reigns keep it for the sake of preventing more flip flopping of US Champions.
Making the US Title Matter
Speaking of the US title, it's hardly been a year since John Cena's spectacular run and here we are with a big time stipulation match, but the title itself has barely been mentioned. Let's hope that if Roman does retain, he takes the time and creative allows him the freedom to really make a case for why being the US champion means something. Sure, it's a step down from the main event scene, but Reigns was at the top and lost it big with the fans, in the ring, and with the WWE Wellness Policy violation. Being a midcard champion allows him to stay in the spotlight, but still pay his dues before returning to the top somewhere down the road.- Cody Howk
Winner: Roman Reigns
WWE Universal Championship Hell in a Cell Match
(Champion) Kevin Owens vs. Seth Rollins
This match will be the best one on the entire PPV?
Will it be the best match on the show? If the match isn't overbooked, and they let Seth and Kevin go out there and just destroy each other until there is a clear winner, yes. This should be the best match on the show given the talent inside the structure. Especially, with Seth's face turn, there is a good chance he pulls off a decent amount of stunts that wow the crowd. Also, KO is good playing a vicious role, which will be perfect in the confines of the Cell. These two will undoubtedly put forward a good performance, but with the likely outside interference to end the war puts a damper on a great match. So, while the match has a good chance of being the best on the card, a screwy finish could let another show stealer take its place in match of the night honors.
The Hell in a Cell match between Seth Rollins and Kevin Owens has tons of potential, but also tons of trepidation. While the two ahould be able to put on a historic battle inside the demonic structure, outside threats loom to damper the classic, such as Chris Jericho and/or Triple H. KO and Rollins could and probably will put on a great performance, but with Seth recently turning face, the company most likely won't want him to lose clean, nor win the title, as he has a program with the Cerebral Assassin on the horizon. That's why I am excited for this match, but also cautious.
Some Questions
I have a couple key questions to determine how memorable the bout will be: 1) Do they let Seth fully display his face turn with daredevil spots? and 2) does the end happen clean or with outside interference? I don't think Seth should risk his career, but a few high risk spots will help define his face status and the legacy of the match. Let's face it, no HITC match is truly remembered with a lot of violence or big spots.
As for the second question, I fear the finish will be tainted due to interference. Either Jericho helps KO, or The Game comes back to screw Seth again. This match has the potential to be an all-time classic, but the fear of becoming just another Hell in the Cell match. I think a dusty finish could happen with Chris Jericho or Triple H getting involved. – Noah Mooney
Winner: Kevin Owens
RAW Women's Championship Hell in a Cell Match
(Champion) Sasha Banks vs. Charlotte Flair
There will be blood and a crazy move off the Cell in this match?
I live in a weird time. The Western Bulldogs win the AFL Grand Final for the first time in decades. The Chicago Cubs are in the World Series for the first time since World War II (Go Cubs Go). Also, the Female Superstars will be competing in the Hell in a Cell for the first time ever. It's unreal how far Sasha and Charlotte have come since debuting on the main roster in the Summer of 2015. And now, they will end things inside of the Cell. They have the match, they have the poster.
But, will they have enough in their match to make it all worth it? What will it take? Charlotte wanted to do a moonsault off the cell, and Vince shot her down. (Good, by the way, we don't need super over the top). But, something does need to happen. Truth be told… maybe blood wouldn't be such a bad idea here. There has to be something to make the match memorable, and I think it'll be Charlotte being busted open. The saying is it's easier to ask for forgiveness than to ask for permission. I think Sasha retains the belt in a memorable match that has Charlotte bleeding by the end. This how WWE closes the show. – Patrick Ketza
Winner: Sasha Banks
Overall Thoughts Part 1
The PPV overall looks good, but more of a stop gap between now and Survivor Series. While the top three matches, all Cell matches, should be great, all the winners seem obvious. While Rusev, Seth Rollins, and Charlotte would all be great champions, and therefore worthy challengers, Roman Reigns, Sasha Banks, and Kevin Owens all seem highly likely to retain their titles. From there, the card is a little thin. Therefore, a top heavy card and a predictable outcome for the top matches seems to set up a pretty good, but not necessarily great PPV. – Noah Mooney
a triple main event, huh? Boy, that sounds big. I always like a double main event, but a TRIPLE main event? Ok, let's be honest. Three Hell in a Cell matches might be a little much. The Universal Title, US Title, and Womens Title all being defended in the cell is crazy though. The show has all of the makings of being big. A history making match in the women's HITC match, Kevin Owens' first Cell match, New Day being so close to the longest reign record, this should be a huge show. But, I find myself having trouble being excited for it. I honestly think the mass of PPV's might be getting to me finally. Luckily, after this, we have a few weeks until the six hour long Survivor Series. – Patrick Ketza
Overall Thoughts Part 2
I'm so meh about this card. There's going to be some good wrestling on this card. I don't doubt that, but this build has been so bad that there isn't a whole lot to care about outside of the Universal and Women's title matches. A large part of me is grateful I'm working during this show. So, I can watch it on-demand so I can fast forward through the inevitable dull parts. – Paul Leazar
I'm most looking forward to seeing what Sasha and Charlotte can do inside the Hell in Cell. That seems to be the top bill for this event. Aside from that, im curious what swerve awaits Rollins to prevent him from recapturing the WWE Universal Championship. To be honest, I'm not a fan of multiple Hell in a Cell matches. I'd rather see the last match be one and that's it. Then again, I'm not a fan of the PPV's being named after the match either…Let's om hope this trend that smackdown has had continues in terms of PPV's
I'm always excited to to watch wrestling, but aside from two of the main event matches, I don't really have big expectations. – Cody Howk
Overall Thoughts Part 3
I am very apathetic to this PPV. The Hell in the Cell match is pretty watered down in this PG era. So, I have no idea how WWE will be able to make three HIAC matches unique and captivating. For the most part, the WWE has dropped the ball on giving me a reason to be invested in most of these matches. In the end I just hope there isn't a lot of shenanigans in the matches and that we get clean victories. Additionally, I hope Sasha and Charlotte, who will probably have match of the night, do no kill themselves. – Angel Gonzalez
Match of the night contrary to anyone's favoritism and biases will be Roman vs Rusev. I may be wrong but I believe it will be a hard hitting affair. I don't see any titles changing hands. Overall on paper this ppv sounds like it should rock. I'm hoping it does. – Thomas Grim
Overall Thoughts Part 4
Having three Hell in a Cell matches on one show could be a blessing or a curse. I'm totally onboard for Sasha and Charlotte and Owens and Rollins. I don't care about many of the other matches on this card. I hope Perkins and Kendrick get some time to deliver and that Bayley wins. – Sean Garmer
This is one PPV I'm sad to say I'm not that excited about. Hell in the Cell matches in general have been watered down ever since they created a PPV concept centered on the match type. It's cool that the women finally get a chance at it, but I can't help but think we'll just see a women's match surrounded by a cage with no real dangerous spots involved. I'm just not into the main event storyline with Rollins and Owens at the moment either. The rest of the card is just there. I feel like Survivor Series is already overshadowing this RAW specific ppv. – Rick Beslin
Farewell For Now
Well, that's it for our W2Mnet WWE Hell in a Cell 2016 Preview. Let us know your predictions for the show in the comments. In addition, join us later in October for WWE's next PPV Hell in a Cell. There should be a Wrestling 2 the MAX EXTRA review on Monday morning.
Sean, Gary, and Paul have their customary WWE special event preview on this week's Wrestling 2 the MAX. You can click the button below to listen through Sound Cloud or find the podcast on I-Tunes, Stitcher, Youtube, Google Play and many other places.
https://soundcloud.com/w2mnetwork/wrestling-2-the-max-ep-218-pt-2-wwe-hell-in-a-cell-2016-preview-tna-vs-billy-corgan