WWE NXT Review 10.26.16: Round One Concludes
Location: Winter Park, Florida inside Full Sail University
Welcome back to more great wrestling action as we draw closer to completion of round one in the Dusty Rhodes Tag Team Classic as well as inch closer to NXT TakeOver: Toronto.
Dusty Rhodes Classic Tag Team Action
Match #1: Dusty Rhodes Tag Team Classic: #DIY (Johnny Gargano & Tomasso Ciampa) vs Tian Bing & Hoho Lun
Winners: #DIY (pin fall after superkick/running knee double team)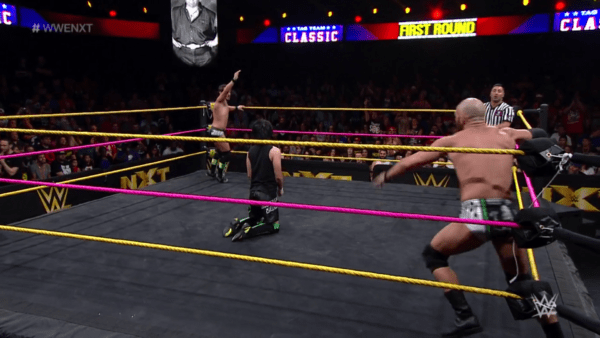 The opening contest begins with the two recently signed, Tian Bing and Hoho Lun going against #DIY.  Despite the amount of hype that was given to Bing as the first Chinese pro wrestler signed to WWE NXT. Johnny Gargano and Tommaso Ciampa made short work of their opponents and pick up the win in quick fashion after delivering the superkick/running knee double team to Lun.
A springboard spear through the ropes from Gargano and some running knees in the corner from Bing and Lun were the high spots, but this was basically a squash.  Bing must still have a lot to learn before creative gives him more to run with. ***
Ibushi's Partner
T.J. Perkins and Kota Ibushi explain how they formed the team after Hideo Itami's injury.  It's a shame to see Itami suffering another long-term injury after just coming back.  His return will be a test to how much stock the company has in him after recovery.
Samoa Joe addresses the NXT universe
Samoa Joe makes a statement about his actions recently toward Shinsuke Nakamura.  The story of one upmanship recently with both physical and psychological effects between the two has been great. This exciting promo continues to build anticipation for the NXT Championship rematch coming soon in Toronto.
The Girls Get It Done
Match #2: Aliyah vs Billie Kay (w/ Peyton Royce)
Winner: Aliyah (pin fall after schoolboy)
The alliance between Billie Kay and Peyton Royce continues to benefit them well. Although, the heel/face alignment for Aliyah hasn't quite been established, her in-ring ability continues to improve. She gains a short rush of momentum in this match with a running axe kick to Kay in the corner. Then follows it up with an Enziguri.  Shortly after Kay takes control, Liv Morgan rushes to ringside to attack Peyton Royce.  This distracts Kay long enough to allow Aliyah to score the roll up pin-fall for an unexpected victory.
After the Match: Liv quickly jumps into the ring to attack Kay. Then, a four-woman brawl happens, which ends with Kay and Royce standing tall.
As unexpected as Aliyah picking up the win was, this segment was much more interesting than I first thought.  Last week, I mentioned the current shortfalls in the NXT women's division and this week, they delivered.
Segment Rating: 7 out of 10
10! 10! 10!
Match #3: Noah Potjes vs Tye Dillinger
Winner: Tye Dillinger (pin fall after Tye-Breaker)
Similar to the first two, match three is another short one.  After a short burst from Noah Potjes, Tye Dillinger takes over by chopping his foe to the ground, dropping a few stomps, lowers the kneepad and ends the match with the Tye-Breaker
After the Match: Dillinger explains how he can't wait to get his hands on Bobby Roode at TakeOver, but before he can finish, Roode hits the sneak attack from behind then delivers the implant DDT at the top of the stage.
The crowd loves Tye Dillinger and it's easy to see why.  After all the years that he's been putting talent over, it's great to see him get a strong storyline.  The build for the match-up between Dillinger and Bobby Roode has been a success so far. This sets up for a sure-fire can't miss battle at Takeover. Simple, yet effective storytelling.
Segment Rating: 8 Out of 10
Look ahead at Round 2
Next, an interview with Shane Thorne and Nick Miller of TM61 gives a preview of round two in the Dusty Rhodes Tag Team Classic. They compare their chemistry in-and-out of the ring to that of Austin Aries and Roderick Strong. Those four men face in the quarterfinals.
The Unbeaten Asuka
Match #3: Thea Trinidad vs Asuka
Winner: Asuka (submission via armbar)
For one whole year, Asuka has remained undefeated in the NXT women's division.  In this matchup, Thea Trinidad attempts to take on the champion. Although, she is able to land a few strikes, The Empress of Tomorrow demonstrates once again why she stands alone at the top of her division. Delivering a beautiful German Suplex transitioning into the Fujiwara Armbar to pick up the submission victory.
After the Match: General Manager William Regal shows up to congratulate the champion on her dominance. In addition, he officially announces the already leaked match-up between Asuka and Mickie James set for TakeOver. 
James then appears on the big screen.  She talks about how she's beaten former Champions in WWE before.
I'm not sure who is more excited for this match, Mickie James or Asuka as both women had undeniable smiles to end this segment.  Although, we've known for a couple of weeks about this matchup, it's good to see James onscreen before the match. 
Segment Rating: 8 Out of 10
House of Pain
In another backstage interview, Paul Ellering and the Authors of Pain discuss how the two big men will execute Paul's "plan" to advance in the Dusty Rhodes Classic against Rich Swann and No Way Jose.
From CWC to DRC
Match #4: T.J. Perkins & Kota Ibushi vs Lince Dorado & Mustafa Ali
Winner: TJ Perkins & Kota Ibushi (submission via kneebar)
Although many fans are concerned about the state of the Cruiserweight division on Monday Night Raw, it's evident that the crowd down at Full Sail University loves this style of wrestling. The four men put on a show of highly energetic and extremely athletic feats on display in this one.  T.J. Perkins breaks out the kneebar early, but Mustafa Ali is able to get to the ropes.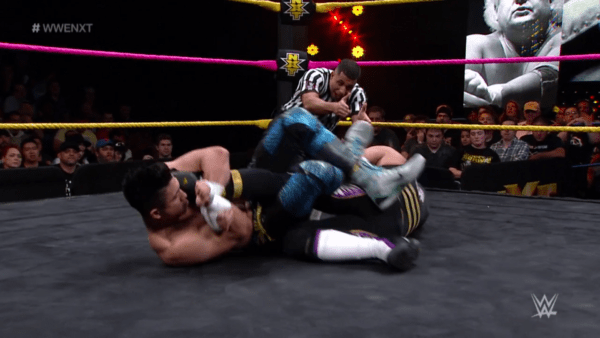 Lince Dorado tags in and takes to the skies with a dive to the outside followed up with a cross body from the top rope. However, Perkins soon finds himself isolated from Kota Ibushi as Ali and Dorado take control for the first half of the match.  Once Ibusi finally tags in, his Strong Style takes off with many devastating kicks and a double Pele kick.
Then, Ibushi tags Perkins back in to deliver a frog splash but not before Ibushi finishes his time in the ring with a second rope moonsault.  Ali manages to get the final tag, but is soon caught in TJ's trademark kneebar and that's the end of this one!
If you loved the WWE Cruiserweight Classic, you love Strong Style. If you love Lucha Libre, you've got to watch this match because it is action packed. ***
Round One Concludes
Overall Thoughts: 9 out of 10 Just like that, round one of the Dusty Rhodes Tag Team Classic has concluded. Round Two kicks off next week. 
Dusty Rhodes Tag Team Classic Round Two
TM61 vs. Aries & Strong
Authors of Pain vs. Rich Swann & No Way Jose
The Revival vs. #DIY
T. J. Perkins & Ibushi vs. SAnity
How will Perkins and Ibushi fair against the seemingly unstoppable and certainly unstable faction known as SAnitY?  Will No Way Jose and Rich Swann be able to dance their way past the Authors of Pain?  Tune in next week because as Porky Pig always said…..THAT'S ALL FOLKS!