The Wrestling Time Machine: The Era of Honor Begins
The Wrestling Time Machine Audio
https://soundcloud.com/w2mnetwork/the-wrestling-time-machine-ep-2-the-era-of-honor-begins
Well folks, it's finally time. The votes have been tallied up, and our first destination has been locked in. Our first journey together will be going down the entire first year of Ring of Honor. Before we all hop into the Time Machine though, I feel like a short look at what's going on with professional wrestling at the time would be worth a look.
A Quick Introduction to the Time
First things first, when we come to the first Ring of Honor show, we aren't even a year removed from Extreme Championship Wrestling and World Championship Wrestling going out of business. Total Nonstop Action hasn't even been founded yet, and independent wrestling isn't anything close to what it is today. Sure, it's existed, but the level that independent wrestling permeates the pro wrestling world is on such a smaller level at this time.
However, everybody has a new tool to play with. Something that keeps them all on equal ground, and if used correctly, can get your name out there to so many different people.
The Internet.
We got dial-up in my house in 1995, and by 2002, file sharing and DSL were in their infant stages. Not to mention all of the online forums, and tons of websites you could already go to to talk about wrestling. I can vividly remember looking around the internet trying to scrounge up whatever I could to watch what was happening in both RoH and TNA. So, if you're expecting some big hubbub about how massive these shows are, you'll be severely disappointed. Ring of Honor might be the biggest, and most famous independent promotion in the USA, but it didn't start that way.
The Code of Honor
As I said in the first episode, Ring of Honor was founded by Rob Feinstein and Gabe Sapolsky. Feinstein's video production company, RF Video, lost it's biggest seller when ECW went belly up in early 2001. Initially, Rob tried to pair up with Combat Zone Wrestling, but nothing ever came from that. So, Rob opted to create his own promotion to sell videos for his company. Ring of Honor was founded on the principles of competition, of creating wrestling showcases, and to nobody's surprise, honor. Most of this was to be exemplified by the "Code of Honor", five rules that everybody on the Ring of Honor roster should follow.
You must shake hands before and after the match. (We'll see this thrown out the window very, very quickly by a certain wrestler.)
No outside interference.
No sneak attacks.
Don't strike the officials.
Any Disqualifications directly violates the Code of Honor.
Basically, these tenants helped to easily establish who the faces and heels were gonna be. They also helped Ring of Honor feel very different from what we were getting at the time from World Wrestling Entertainment, who was rounding out the "Attitude Era", and still very much focused on the entertainment part of wrestling, and less on the sport side. Ring of Honor took the sport side very seriously, and we'll see that as we journey across 2002.
By let's stop all the history talk. Let's dive in to the show.
The Era of Honor Begins
Location: Philadelphia, Pennsylvania inside The Murphy Recreational Center
The show opens with a video package that shows off all the talent making their entrances, and their names, along with name and date of the show.
We then move on to what will be Ring of Honor's first breakout tag team act in Da Hit Squad, Monsta Mack and Danny Maff (known as Mafia), hyping up some fans who were bused in from New York and Boston.
The actual show opens with Christopher Street Connection coming on down to the ring. Buff-E, Mase, and Allison Danger. Buff-E and Mase are guys who "live an alternate lifestyle". The commentary's very uncomfortable with the whole thing. Needless to say this didn't age well guys. The Christopher Street Connection get on the mic, and says they're going to make this place the "Ring of Homosexuality". Da Hit Squad run out, and jump them from behind to the crowd's delight. The bell rings, and we got our first match. We've come a long way people.
Opening Tag Team Match!
The Christopher Street Connection (Buff-E & Mase) w/ Allison Danger vs. Da Hit Squad (Monsta Mack and Mafia)
Winners: Da Hit Squad via Burning Hammer
Seeing as Da Hit Squad got the jump, they pretty much run these guys over. Some sick german suplexes, devastating lariats, and powerful slams absolutely destroy these poor, gay gentlemen. The crowd loves it though. Post-match, Allison tries to exact some revenge, but Monsta Mack grabs her. The spirit of ECW lives on, because they go out and grab a table. They put Buff-E on the table, and powerbomb Allison Danger through Buff-E and the table. Da Hit Squad hop on the microphone afterward, and let us know Ring of Honor isn't about gimmicks or sports entertainment. It's about hard-hitting action! SQUASH
We go backstage with Jay Briscoe, his brother Mark Briscoe and Amazing Red, who cut some short promos about the upcoming math between Jay Briscoe and Amazing Red. The promos are pretty rough around the edges.
One on One!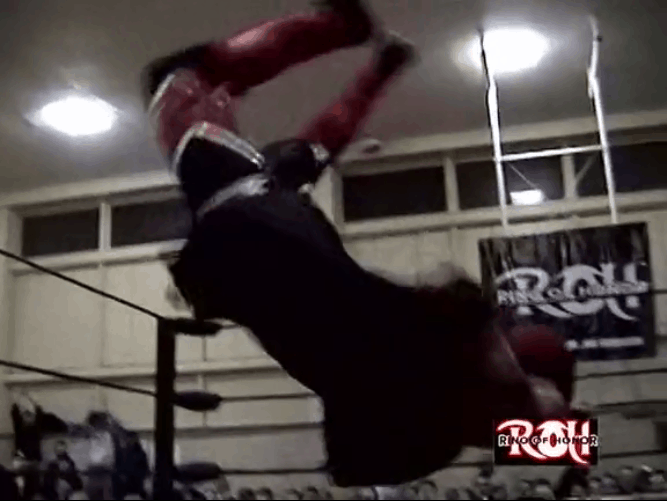 Amazing Red vs. Jay Briscoe w/ Mark Briscoe
Winner: Amazing Red via Red Alert/Standing Shooting Press.
Commentary let us both know that both guys are under twenty, and barely have two years of experience. I'd feel old, but I can't really say much, I was only fourteen when this came out. This plays out like a big showcase for both guys, and it works really well to that effect. Red really gets to show off what he does best, fly though the air, and kick you really hard. If you've watched Ring of Honor at any time, you're familiar with Jay Briscoe's offense. It's still a little rough here and there, but the big moves are all the same.
He nails Red with Jay Driller, and a sick looking half and half suplex. He uses a Cannonball Senton as his finish though, and him missing that on Red eventually costs him the match. The crowd ate this up with a spoon though, and both guys get the standing ovation at the end. ***
Backstage and Beyond!
Low-Ki gets some promo time to talk about the main event tonight, where he'll face off against Bryan Danielson & Christopher Daniels in a three way dance.
Homicide & Boogalou are hanging out in a field in Homicide's old neighborhood, where he reminiscences about all the gang type stuff he used to do. Homicide brings all that talk around to how they're bringing their street style brand of violence to Ring of Honor. Boogalou looks menacing in the background, and has a rubber chicken for some reason. "It'll be an honor to kick all of ya'lls asses." You're the best Homicide!
Xavier runs into a young boy backstage, who has seemingly been left off the card. Xavier tells him to keep his head up in a smug way.
Scoot Andrews talks about how much he's looking forward to growing his career in 2002, especially in Ring of Honor.
More Singles Action!
Xavier vs. "The Black Nature Boy" Scoot Andrews
Winner: Xavier via Arm Trap Neckbreaker
Two names forgotten in independent wrestling's past. Both of these guys were guys who built a name on the east coast in the early 2000's. This match struggles to really click with me, but there are some bright moments. Scoot damn near kills Xavier with his Force of Nature finisher, a pump handle sitout tombstone, but Xavier was too close to the ropes. Andrews then wastes a bunch of time arguing with the referee about the call, allowing Xavier to recover.
Scoot gets Xavier back in, and goes for another Force of Nature, but Xavier reverses out and sends it home from there. They're a lot of slow spots in this one, and some pretty obvious mistakes from both guys in this that take you out of the match. The camera work isn't the greatest either, which might have helped hide some of it, but what can you do? It's the first show. Xavier offers the handshake, and Scoot teases the walkout, but ultimately follows the code. **
Backstage, The Natural Born Sinners scare off some young guys with a chainsaw, and press their faces up against the door.
More Tag Team Action!
The Boogie Knights (Mike Tobin & Danny Drake) vs. The Natural Born Sinners (Homicide and Boogalou)
Winners: The Boogie Knights via disqualification
Well, were are a fair cry from where Homicide will get, but The Natural Born Sinners come out swinging chainsaws, and wearing orange prison jumpsuits. So much for no gimmicks eh? Commentary continues to hype up how dangerous The Sinners are as the beat the living bejesus out of the Boogie Knights. Boogalou tosses them around with ease. Homicide damn near drives his boots through one of the Knights with a double stomp from the top rope. A particularly nasty half and half suplex/lariat double team manuever absolutely flattens one of the Boogie Knights down the stretch.
Despite all the punishment, The Natural Born Sinners never really go for the win. Homicide grabs the rubber chicken from the earlier promo, and starts hitting both of the Boogie Knights in the face with it. "The Extreme Official" HC Loc, our referee and somebody who is going to matter in future reviews, tosses the match out. The Sinners get in his face, and HC Loc ain't backing down. Boogalou jumps HC Loc from behind, Homicide pulls out a spike from his boot, and attacks HC Loc with it! HC Loc bleeds, and Homicide destroys him with The Cop Killa. An extended squash for the most part, but entertaining none the less. * and ½ *
Backstage, The Boogie Knights bail out of the building in fear of The Natural Born Sinners.
The Christopher Street Connection are backstage consoling each other after the beating from earlier in the night. Mase questions whether they belong here or not when Buff-E spots Spanky dancing around in the background in a shiny jacket. Buff-E says they absolutely belong as he mouths "I love him" to the camera, before returning to his fallen partner.
We cut back to the ring, where we see "The Towel Boy" Eric Tuttle cleaning off the ropes. He gets a "towel boy" chant as we cut to the next match.
Ultimate Ariel Elimination Match!
Chris Divine vs. Quiet Storm vs. Brian XL vs. Jose Maximo vs. Joel Maximo vs. Amazing Red w/ Special Guest Referee Mikey Whipwreck
Winner: Quiet Storm via Storm Cradle Driver
Quiet Storm eliminates Jose Maximo with a german suplex
Joel Maximo eliminates Chris Divine after a top rope Spanish Fly
Chris Divine eliminates Brian XL after a Spinal Shock from Quiet Storm
Jose Maximo eliminates Amazing Red with a backslide
Mikey announces to the crowd that all of the guys in the ring were trained by him except Brian XL. He says somebody is missing from the party, and out comes Amazing Red, who joins the fray. With all of Whipwreck's students in the ring (plus Brian XL), we finally get underway. Lucha tag rules are in effect. Basically, if a legal man rolls out of the ring, it counts the same as a regular tag, and the next man into the ring becomes legal. The action starts out fast paced as you'd expect. Everybody dives, everybody does the flippies around the ring, and we get a sick six man tower of doom spot. Brian XL gets to stand out early with his cocky attitude.
We see alliances form between the usual six man teams of Divine, Storm, and Brian and the Spanish Announce Team (Red and The Maximos), which leads to some triple team maneuvers from the SAT. The eliminations then come in a very quick succession, until we get to the final two. Joel nails a sick Blue Thunder Driver on Quiet Storm for the near fall, but it wouldn't be enough for him to pull out the victory. This was a fun spotfest with botches scattered throughout the match. Your mileage will certainly vary depending on how you fell about spotfests. However, I felt the finish lacked the urgency the match set at the beginning. ** and ¼ *
Steve Corino runs off from the commentary table post-match to go take care of some business.
The Natural Born Sinners are backstage, and are all kinds of pissed off with HC Loc. They tell the camera to get out of the locker room with very colorful language.
Rob Feinstein runs up to Prince Nana to tell him he's up next, and he's got the perfect opponent for him. Rob then finds "Towel Boy" Eric Tuttle, and tells him he's got Prince Nana tonight. Eric passes Steve, who tells him to get himself over.
You're Up Towel Boy!
Prince Nana vs. "Towel Boy" Eric Tuttle
Winner: Prince Nana via Double Underhook Belly to Belly Suplex
Prince Nana actually is a real life prince from Ghana. Tuttle works the ring crew cleaning off the ropes. You already know where this one's going. Nana runs him over with a lariat, and proceeds to beat the bejesus out of the kid in a short fashion. SQUASH
We get a peak backstage where Spanky, Michael Shane, Oz, and Ikaika Loa hanging out before their match, talking about how the winner of the match will get an RoH contract.

Texas Wrestling Academy Tag Team Match!
Michael Shane & Oz vs. Spanky & Ikaika Loa
Winners: Spanky & Ikaika Loa via Sliced Bread #2
The winner of the fall gets a contract with Ring of Honor. If you're unfamiliar with the Texas Wrestling Academy, it was the school that Shawn Michaels & Rudy Boy Gonzalez ran in between HBK's stint in the WWE. Michael Shane's also Shawn Michael's cousin. Some of you might know Spanky better as Brian Kendrick from his time in WWE. Ikaika Loa is also working with two herniated discs according to commentary. Due to the contract being on the line, the tags are few and far between. Spanky and Michael Shane work the majority of the match, and have their feud highlighted from TWA about being the next showstopper.
Michael Shane finally tags out to Oz, who gets the house of fire run. He tosses Ikaika over the top rope, who gets caught up in the ropes, and lands on the apron hard. All four guys are in the ring, and the crowd finally starts getting into this one. Spanky eats a devastating superkick from Michael Shane, who then takes out Ikaika. Spanky, however, recovers enough to put Oz away, and win the contract! Rudy Boy Gonzalez and a bunch of the TWA guys hop into the ring to celebrate with all four men. The match ultimately works out to being a fine outing, just nothing too special. The fans really struggled to get into it, as did I, until the final stretch. Right guy goes over though. Spanky's dances move are so hilariously bad. ** and ¼ *
Let's Make Some Stories Guys.
Backstage, Mikey Whipwreck corrals all of his students together and yells at them for how they acted after all the alliances fell apart. So next month, he makes The Maximos vs. Brian XL & Amazing Red vs. Divine Storm in a three way elimination. He even brings in Super Crazy to translate into Spanish because for The Maximos & Red to make sure the point gets across.
HC Loc is backstage, and makes a phone call to somebody. He talks about how he got his butt kicked by The Natural Born Sinners. He's pissed that he's refereeing, and not wrestling. He says he's done paying dues, and he's going to make his own spot. "It's time for them to see the real me… It's time for them to see the real us." He takes off the referee shirt and tosses it away.
IWA Intercontinental Title Match!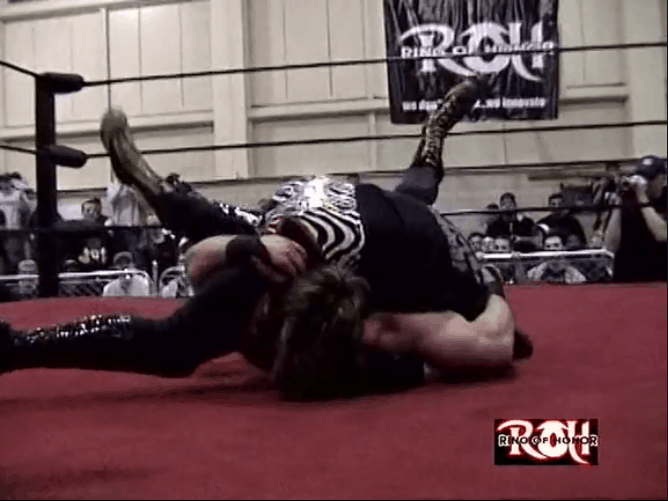 Super Crazy vs. Eddie Guerrero
Winner: Super Crazy via tilt-a-whirl small package
So, I don't know how Ring of Honor got the match to crown IWA's first Intercontinental Champion, but they did. IWA was a promotion in Puerto Rico for those of you who are curious. You also might be wondering what the heck Eddie Guerrero is doing here. Well, back in November of 2001, he got fired from the WWE after a drunk driving incident, and worked the indies for a spell before he made his return to the WWE in April. The noise level is out of this world during the intros for both men, who made their names in Philly. We get some silky smooth chain wrestling at the start before Eddie takes over with some vintage Eddie Guerrero offense. Super Crazy comes firing back with speedy lucha offense.
As the match spills to the outside, Eddie suplexes Super Crazy on the floor, which makes sickening slap. Both men are just so good, and the clinic continues with a top rope hurricanrana from Eddie. He then accordions Super Crazy with a powerbomb for a nearfall. Eddie goes up for the Frog Splash, but Super Crazy rolls out of the way, and gets the flash pin from there! A really terrific match that makes me miss Eddie Guerrero all the more. *** and ½ *
The camera follows Eddie Guerrero & Super Crazy to the back. The camera catches The Fallen Angel shaking his head at both.
Low Ki gets a quick promo to hype up the main event one more time. "Tonight, the main event will prove who the top athlete is in Ring of Honor."
Triple Threat Main Event!
"The American Dragon" Bryan Danielson vs. Low-Ki vs. "The Fallen Angel" Christopher Daniels
Winner: Low-Ki via Ki Krusher
If memory serves me, I think all three of these guys would go on to do pretty okay for themselves. Christopher Daniels has had stints with all the major promotions in the USA (and probably the world for how long he's been wrestling), Low-Ki really makes his name here in Ring of Honor, but he's had stints in TNA and WWE as well. Bryan Danielson, well, WWE switched his name around, and the rest is history. All three guys comes out swinging, and work really hard to avoid the standard formula these matches fall into often. Low-Ki's kicks are absolutely vicious, Danielson brings his inventiveness and technical style to the table, and Daniels is in his prime here. These three guys go out there, and steal the show.
The live crowd can't get enough of it, and give the match about five standing ovations before we even get to the finish. Danielson locks The Fallen Angel into the Cattle Mutilation, and Low-Ki ascends the turnbuckles. Low-Ki then crushes both guys with a picture perfect Phoenix Splash, and then finishes Daniels off. The history of Ring of Honor will be written with these three guys sweat, and this match was only the first chapter.
Post-match, Danielson grabs the microphone, and says that Low-Ki might have won the match, but he didn't beat him. Bryan wants a rematch with Low-Ki next month. The Fallen Angel steals the microphone, and says they can both go to hell! Daniels says it took both of them to beat him, and he says he could beat both of them in singles matches in the same night! Low-Ki proposes a Round Robin Challenge between all three guys for the next show, where each of them will face each other one on one in one night! Low-Ki & Bryan shake hands, but Daniels refuses the handshake. We also get this nice shot of Low-Ki staring at the Ring of Honor sign, which I find very prophetic. It's posted below, and I'm sure I'll be using this still again and again guys. **** and ½ *
We go backstage where Eddie Guerrero tells us what he thinks about Ring of Honor. Eddie extolls the virtues of Ring of Honor, and says this is where he wants to be.
A highlight reel of all the action from the show airs, as well as the date for the next show, Round Robin Challenge, on March 30th, 2002.
We're left with Christopher Daniels walking out of the building, scoffing at the name, Ring of Honor.
Overall Rating: 8 out of 10 This show isn't perfect, but it's pretty damn good. Jay Briscoe/Amazing Red, Guerrero/Super Crazy, and the main event deliver. Depending on your opinion of spotfests, the aerial elimination might be worth your time too. Everything else is fairly run of the mill, or a squash. You do get some stories building into the next show, and for a debut, Ring of Honor hits this one out of the ball park.
Ring of Honor's Best From 2002!
What follows here are the very best that Ring of Honor will have put on in 2002. In case you ever feel like tracking any of these shows, or these specific matches down, you'll know what the cream of the crop are. A quick note about the top matches, anything rated SQUASH will not make the list of obvious reasons.
Ring of Honor Top 10 Matches of 2002
"The American Dragon" Bryan Danielson vs. Low-Ki vs. "The Fallen Angel" Christopher Daniels @ The Era of Honor Begins. **** and ½ *
Eddie Guerrero vs. Super Crazy for the IWA Intercontinental Title @ The Era of Honor Begins. *** and ½ *
Jay Briscoe vs. The Amazing Red @ The Era of Honor Begins. ***.
Chris Divine vs. Quiet Storm vs. Brian XL vs. Jose Maximo vs. Joel Maximo vs. Amazing Red w/ Special Guest Referee Mikey Whipwreck. ** and ¼ *
Xavier vs. "The Black Nature Boy" Scoot Andrews. **
The Boogie Knights (Mike Tobin & Danny Drake) vs. The Natural Born Sinners (Homicide and Boogalou). * and ½ *
Ring of Honor's Top 5 Shows of 2002
The Era of Honor Begins. 8 out of 10.