Lucha Underground S03E03 "Ultimate Opportunities" Review
Location: Boyle Heights, California inside The Temple
Lucha Underground Review 09.21.16
We get the usual highlight video that goes over the previous going-ons for Lucha Underground this season. Dario's Dial of Doom, where the chosen name gets a title shot against Matanza. Pentagon Dark's attempt to break Rey Mysterio's arm, which was foiled by Dragon Azteca Jr., and Sexy Star's brewing troubles with Worldwide Underground, as well as Johnny Mundo's quest for the Lucha Underground Championship.
Rey Mysterio and Dragon Azetca Jr. are training inside of a ring. Rey Mysterio reminds Dragon Azetca that their fight isn't with Pentagon Dark, they have a much greater and dangerous war to wage. Chavo Guerrero shows up, which pisses Azetca off, and charges him. Chavo puts him a half crab, and tells Rey that he apparently hasn't taught him not to mess with Guerreros. I'm sure this lays the foundation for something down the road, but right now, this seemed very pointless.
We cut to Dario standing in front of his Dial of Doom. He hypes it as his greatest idea ever, and gives it a spin. The Dial stops on The Mack!
Lucha Underground Title Match!
The Monster Matanza Cueto defends against The Mack
Winner and STILL Lucha Underground Champion: Matanza Cueto via Wrath of the Gods
Matanza meets The Mack out on the steps, and the brawl is on! The Mack gets a huge string of offense, and I can't remember the last time somebody got that much against Matanza since Mil Muertes. Matanza puts all of that to a stop with a big stalling german suplex. Mack spends the rest of the match getting his tail kicked, but gets a few hope spots here and there. We already knew that The Mack wasn't winning this one, and after Mack misses the big frog splash, it was all formulaic after that. ** and 3/4*
Back at Son of Havoc's mother's house, Son of Havoc is watching a Famous B commercial with Mascarita Sagrada. He expresses his distaste for Famous B, when his mother walks in and offers to make them some Bagel Bites. Mascarita gets all giddy, and I'm dying from laughter.
Johnny Mundo storms into Dario's office. He's still angling for that Lucha Underground Championship match. Dario informs Johnny that he's already got a rematch for the Trios Title tonight with PJ Black and Jack Evans. This pisses Johnny off, who says he won't compete in the match. Taya, who joined Johnny in storming Dario's office, offers to replace him, and Dario agrees.
After Melissa Santo's makes the ring introductions for the next match, Dario steps out from his office. Dario informs both men that they will be competing for THE Ultimate Opportunity!
The Ulimate Opportunity Match!
Texano vs. Cage
Winner: Cage via Discus Lariat
Boy, was this match… average. I like both guys enough, but they never really escalated the match to anything more than them throwing moves. It feels like they didn't really know what they wanted to do out there. Trust me, what we get is fine enough, and their isn't anything bad that happens in the match. It's just lifeless. However, I don't think they ever settled on whether they wanted the match to be about trying to put the guy away fast enough to get The Ultimate Opportunity, or if they wanted to have this big, blowout match. At any rate, Cage going over was the right move. **
Dario comes out after the match, and reveals that Cage will have to beat Texano two more times to figure out what the Ultimate Opportunity will be! This will be a best of five series!
Back in Dario's Office, Dario opens a couple of packages. The first one is an old hat, and the second is a series of black and white pictures with some grizzly scenes on them. It feels like somebody is trying to blackmail Dario here. We'll never know though as Dario tosses them in the trash. Dragon Azteca Jr. enters the room with a purpose, and he wants a match with Pentagon Dark. After Dario jerks him around some, he pencils it in for sometime in the future. Some guy named "Rick" (I believe, Dario mumbles a bit here) walks in, and remarks about the pictures on Dario's desk. They've magically reappeared! Dario gives them to the guy as a gift, and he leaves. Chavo Guerrero walks back in, and informs Dario they need to talk. Curiosity abounds!
Lucha Underground Trios Title Match!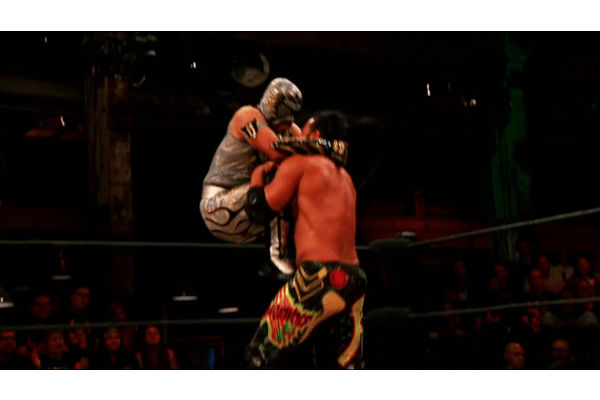 Drago, Fenix, and Aerostar defend against Worldwide Underground (PJ Black, Jack Evans, and Taya)
Winners and STILL Lucha Underground Trios Champions: Drago, Fenix, and Aerostar via Aerostar's Slingshot Codebreaker on PJ Black
Their appears to be some discord between the Worldwide Underground. Jack struggles with his jacket, and blindfolds himself so he mock Drago some. PJ tags himself in, and Taya has had enough of the bullshit. She tags herself in, and we finally get down to business. The match almost seems to be the background behind all of the stuff going with the three members representing Worldwide Underground. By the time they started doing all the dive spots on the outside, I was already checked out. Aerostar hits a huge top rope hurricanrana, which puts him in prime position to finish PJ off. Post-match, Johnny Mundo comes out, and the Worldwide Underground put the beat down on the Trios Champions. Sexy Star comes out to make the save, and return the favor for Worldwide Underground saving her two weeks ago.
And with that, we're out!
Overall Rating: 5 out of 10 After last week's effort from Lucha Underground, this just felt really meh. Their isn't anything inherently wrong with it though. The wrestling was fine enough, other stories are getting some shine, but after the landmark episode in the overall narrative of Lucha Underground, this just felt so second rate. Hopefully, Lucha Underground bounces back strong with it's next episode like it has done in the past.