WWE's annual pre or post Thanksgiving event features superstars from RAW going against superstars from Smackdown in several matches. There's of course the traditional Survivor Series Elimination bouts, which this year are one for the women, and one for the women. While champions from both brands face-off in non-title bouts. This includes both major champions, WWE Universal Champion Brock Lesnar taking on WWE Champion AJ Styles. There's also one championship on the line with Enzo Amore defending the WWE Cruiserweight Championship against Kalisto too.
So, the fall tradition should continue to surprise and delight. This is the W2Mnet WWE Survivor Series 2017 Preview.
WWE Survivor Series 2017 Preview
An Introduction to the Article
As someone that has quite a bit of experience doing these roundtable type articles, I wanted to do this a bit differently than some others. Instead of having numerous people all give thoughts on each match, I felt it better to assign one match to each person. So, one of our staff members will give their thoughts on the match itself and predict a winner. This continues until the end of the article, when everyone gathers to give their overall thoughts on the event. – Sean Garmer
W2Mnet Staff
Sean Garmer, Co-Host of Wrestling 2 the MAX, W2Mnet Editor-in-Chief
Paul Leazar, Co-Host of Wrestling 2 the MAX, W2Mnet Wrestling Dept. Head
Cedric Colón, W2Mnet Wrestling Contributor
Elizabeth Pugliese, Co-Host of Wrestling 2 the MAX Smackdown & 205 Live Reviews, W2Mnet Wrestling Contributor
WWE Cruiserweight Championship
(Champion) Enzo Amore vs. Kalisto
Amore retains here. It makes absolutely no sense for the brand to put the Championship on Kalisto again. If WWE would drop the stereotypical stuff they have going on with him, he would be much more charismatic than his current persona. Amore should retain continuing his purpose of being moved to 205 Live. – Elizabeth Pugliese
Winner: Enzo Amore
Other Staff Member Predictions: Everyone else also picked: Enzo Amore.
Non-Title: Tag Champion vs. Tag Champion
Cesaro & Sheamus (The Bar, RAW) vs. The Usos (Smackdown)
The Bar have proven themselves dominant enough. Where a loss to The Usos won't hurt them. The Usos need a win over a non comedy-ish team. While New Day is of course taken seriously, most of the other teams are not. Usos need a win over a strong team going into their feud with American Alpha 2. It helps elevate their status giving Chad Gable and Shelton Benjamin an eventual big win. – Elizabeth Pugliese
Winner: The Usos
Other Staff Member Predictions: Everyone else also picked: The Usos.
Non-Title: Intercontinental Champion vs. United States Champion
The Miz (RAW) vs. Baron Corbin (Smackdown)
Since coming from NXT, Baron Corbin has shown a glimpse of a good wrestler.  His speed is deceptive for a big man. His strength and smash-mouth offense are well documented. And his signature moves; Deep Six and End of Days, are quite remarkable. Yet, I think he still has much to improve. I have yet to truly acknowledge him as the US champ. Enter The Miz. His amazing mic skills. His wrestling offense, and his ability to make a fan love to hate him, makes The Miz one of the top 10 Intercontinental champions of all time. This night belongs to the A-lister. And his victory is dedicated to his beautiful wife, Maryse, and their unborn daughter. Simply, AWESOME! – Cedric Colón
Winner: The Miz
Other Staff Member Predictions: Paul & Sean: The Miz. Liz: Baron Corbin.
Non-Title: Women's Champion vs. Women's Champion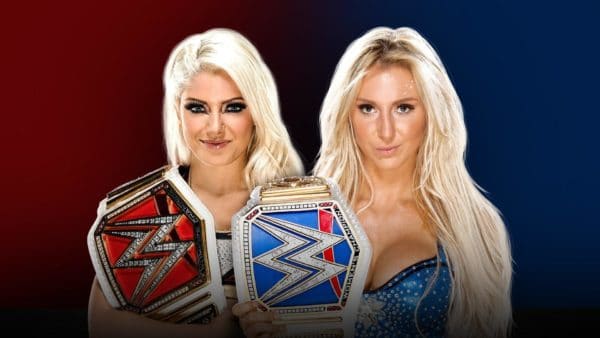 Alexa Bliss (RAW) vs. Charlotte Flair (Smackdown)
Whether you call her "Five Feet of Fury" or "The Goddess of WWE", Alexa Bliss has become one formidable champion. Her unique offense and attributes have made her a four time champion already. Unfortunately for her, she faces "The Queen" and six time champion, Charlotte Flair. The momentum is on her side, coming off an emotional victory over Natalya on Smackdown where she reclaimed her title and throne. Alexa won't make it easy, but the victory goes for Charlotte. Of course, winning with a touch of Flair. – Cedric Colón
Winner: Charlotte Flair
Other Staff Member Predictions: Paul & Sean: Charlotte Flair. Liz: Alexa Bliss.
Special RAW vs. Smackdown 6-Man
The Shield vs. New Day
While the Wyatt Family is almost a figment of the imagination at this point, the love for The Shield is still strong. Their confrontation with the New Day here, has the potential to equal the atmosphere of the match on an Elimination Chamber PPV a few years ago. The Hounds of Justice versus The Prancing Unicorns of Positivity? Who saw this coming a few months ago? Who, who? The New Day had one of their greatest feuds with The Usos, letting the WWE Universe know in an emphatic fashion that tag team wrestling isn't dead. Even in a loss, which saw the tag titles change hands, the cereal-wielding trio's stock jumped a few tiers. But the night belongs to The Shield.
This emotional reunion is what many nostalgic fans have been waiting for. As individuals, the trio of Dean Ambrose, Seth Rollins, and Roman Reigns get mixed reactions. But as a team, the crowd is fully invested on their success. Their unique individual offense just gets that much more violent as a team. It won't be an easy task, but on this night, the HoJ should prove that this is not just a "one and done". The Shield is here to stay and hand out their brand of justice. Believe that! – Cedric Colon
Winners: The Shield
Other Staff Member Predictions: Everyone else also picked: The Shield
Women's 5-on-5 Survivor Series Elimination Match
Alicia Fox (c), Nia Jax, Asuka, Sasha Banks, Bayley (RAW), Becky Lynch (c), Charlotte Flair, Naomi, Carmella, Tamina Snuka (Smackdown)
This match looks incredibly one-sided. RAW has its heavy hitters. Not to mention, two people (who certainly have had their struggles on the main roster) who are also some of the bigger stars of either division. Meanwhile, Smackdown has Becky Lynch, and that's really about it. Whether it ends up being Natalya or Nikki Bella taking Charlotte's spot, or WWE thinking this is a suitable enough place to reintroduce Paige into the fold.
I don't know if it matters much when RAW is bringing Asuka and Nia Jax to the match. I reckon Becky puts up a big fight, and I could even see this coming down to just her and Asuka. However, Team RAW comes out of this one with the W. I like the idea of Asuka being Sole Survivor here as well. – Paul Leazar
Winners: RAW Women's Team
Other Staff Member Predictions: Everyone else also picked: RAW Women's Team.
Men's 5-on-5 Survivor Series Elimination Match
Kurt Angle (c), Triple H, Braun Strowman, Finn Balor, Samoa Joe (RAW), Shane McMahon (c), John Cena, Randy Orton, Shinsuke Nakamura, Bobby Roode (Smackdown)
I'm definitely excited for this one. The one night that Raw's best go head-on with SmackDown Live's best. A few weeks ago I wasn't so intrigued but the last minute changes have made it for some interesting dynamics and potential development for future feuds. On paper, Team Raw seems to have the edge. With a heavy hitter like Samoa Joe. The brute strength of Braun Strowman. The cerebral assassin Triple H, Olympic gold experience of Kurt Angle and the dormant demon/extraordinary athlete in Finn Balor, this one should be in the bag.
It feels like this is going to come down to a family affair. Perhaps with Triple H figuring in the end against Shane McMahon. Things certainly look stacked against the Smackdown team, and for me, I feel like that's just gonna be too much for Team Smackdown. The true winner here is the fans that will witness this explosion of survivors. So many possibilities could seriously come out of this one.- Cedric Colon
Winner: RAW Men's Team
Other Staff Member Predictions: Everyone else picked: Smackdown Men's Team.
Non-Title: Universal Champion vs. WWE Champion
Brock Lesnar (RAW) w/ Paul Heyman vs. AJ Styles (Smackdown)
Sometimes we get wonderful gifts from WWE, like this match. Up until a few weeks ago, things were Jinder Mahal against Brock Lesnar. Then, WWE changed plans and made AJ Styles WWE Champion. Thus, we get this great confrontation, which main events this program. AJ Styles can certainly hang with Lesnar in the ring. He may not be as fast as he used to be, but he's traded the speed for smarts. He can certainly wear down Lesnar with a Calf Slicer. Perhaps he knocks Brock down a peg with a Phenomenal Forearm.
But it's probably not going to be enough, the brute force of Brock is a huge task. If anyone has earned the opportunity for a big win over "The Beast" it's Styles. However, with Royal Rumble on the horizon, it's hard to see it. Perhaps, Paul Heyman gets involved and AJ gets protected. But really, a loss to Brock is almost a win sometimes. Hopefully, we get one of the better Brock matches we've seen in a while, and the show ends in memorable fashion. – Sean Garmer
Winner: Brock Lesnar
Other Staff Member Predictions: Everyone else also picked: Brock Lesnar.
Well, this concludes our WWE Survivor Series 2017 Preview. Leave your predictions in the comments below. Also, check out Gary Vaughan and Sean Garmer giving their predictions on-air, on the Wrestling 2 the MAX Podcast.