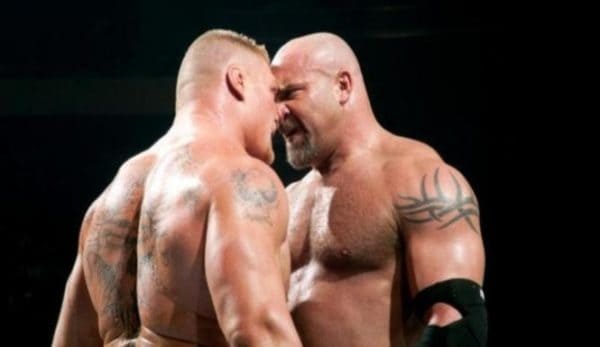 on Monday's episode of WWE RAW, Paul Heyman issued a challenge to Bill Goldberg on behalf of his client Brock Lesnar. This sets in motion what's been rumored for several weeks. Goldberg vs. Brock Lesnar at Survivor Series 2016. Goldberg stated in an ESPN interview that he was coming back, but would need until the end of the year to get ready. This match is being rushed because WWE is counting on it to generate interest in the WWE 2K17 video game. Brock is on the cover and Goldberg is the pre-order bonus and heavily featured in the promotional commercials. This seems to be an annual thing now to bring back a star from the past, and use them for a video game tie-in.
Brock vs Goldberg: Wrong Match
In the past couple years this has been the case with Sting and Ultimate Warrior. However, their returns were centered around Wrestlemania. Although, Sting made an appearance at Survivor Series to start the build to his eventual Wrestlemania match. If Brock vs. Goldberg is set as a one-time match, why not at Wrestlemania instead? My guess is that whatever the plan is for Brock at Wrestlemania, is already set and Vince McMahon doesn't want to change it. Apparently, Brock's Wrestlemania opponent could Shane McMahon. Honestly, I question if Brock vs. Goldberg is even the right match to make. There are better ways to use both Brock and Goldberg.
Goldberg and Brock Beginnings
First, a brief history. Bill Goldberg burst on the scene in the 1990's during the height of the Monday Night Wars. A big athletic monster that had quick squash matches using a few power moves. He caught on quickly with fans. World Championship Wrestling unwittingly found their answer to Stone Cold Steve Austin. WCW ran with it keeping him unbeaten for a long period of time. All by having him do quick squash matches, selling very little, and speaking even less. He was made World Heavyweight Champion with a win over Hollywood Hulk Hogan on WCW Monday Nitro in front of 41,000 fans at the Georgia Dome.
Politics and egos derailed Goldberg's run and subsequently the promotion as well. But the Goldberg name remained strong to fans. Brock Lesnar, a former NCAA Heavyweight champion in 2000 was fast tracked to the main roster from Ohio Valley Wrestling and quickly became a big star and champion himself. Not to mention, even then, was a pretty good worker for a guy of his size. Goldberg signed with WWE in 2003 at the behest of Dwayne "The Rock" Johnson. It was a very specific limited dates deal for only one year. The relationship started to sour almost from the start due to The Rock taking movie offers and WWE wanting more dates out of Goldberg.
The First Meeting
Many know of Goldberg and Brock at Wrestlemania XX in Madison Square Garden. Goldberg's final match in WWE. Goldberg actually was supposed to lose the match. However, Brock's decision to get out of wrestling made Vince McMahon change his mind. Steve Austin was named special referee and the win went to Goldberg instead. The match was a disaster and the fans turned on both men. The fans also knew that this night was the last they would see Goldberg or Brock and they let them know about it. Both Goldberg and Brock's night ended the same way, via a Stone Cold Stunner from a retired Austin.
The Road back to WWE
Coincidentally, Shane McMahon was sitting in ringside seats that night. Goldberg disappeared from wrestling all together, aside from a double shot for All Japan Pro Wrestling later in the year. Lesnar tried his hand at the National Football League before going back to the ring briefly with New Japan Pro Wrestling. Then, Lesnar followed Goldberg's lead and eventually left wrestling too. He turned to Mixed Martial Arts as his next project. Becoming a huge PPV draw as UFC heavyweight champion. However, the UFC run ended prematurely due to illness. After that, Lesnar found his way back to WWE. He returned and faced John Cena in a brutal match that Cena won. Lesnar faced Cena again and won the rematch. Lesnar would go on to do a program with Triple H, which saw him lose at Wrestlemania 29. He would again win the rematch.
Brock losing on the big stage to a part time performer was a bad decision. This appeared even more ludicrous the following year at Wrestlemania, when Brock shocked the world, when he defeated The Undertaker and ended "The Streak." Suddenly, Brock became hotter than ever. A monster that the audience loved. After a few more rematches with Undertaker, which brought a conclusion to that program. He has since been riding his wave of popularity with his limited appearances.
He Goes and Comes Again
The other issue with his limited appearances, is when Brock faces guys like Dean Ambrose or Seth Rollins, he's done little to help them. Although Rollins got a pin on Brock, it was after using the Money in the Bank briefcase. Rollins did get a one on one match, but it never went to a decision thanks to the return of The Undertaker. However, Ambrose didn't even get a sliver of that. Ambrose, a solid star that the company hasn't gotten completely behind. Had a match with Brock at Wrestlemania 32, which was short and uninspiring. It did nothing for Ambrose. The excuse was that Brock was getting ready for a come back to the Octagon.
After his UFC victory, Brock returned to a random match against Randy Orton. No build or real reason for the match. Orton had been out with injuries for a long time. The match was put on last as the main event. Although, to most fans the real main event was John Cena v AJ Styles. The Cena and Styles match was a tremendous match ending with Styles pinning Cena clean in the middle.
Brock's Stale City
Brock v Orton was just a match until the shocking finish. Brock had mauled Orton with vicious elbows to the head, which busted Orton open really bad causing the referee to stop the match. There was no follow up to the program. No swearing revenge. Nothing. There are many that believe the "Suplex City" routine has grown stale. Brock's had successful programs with Cena and Undertaker. But, his matches with Triple H, Seth Rollins, Ambrose, and Orton have been less than stellar. Ultimately, they have helped nobody going foward either.
This is why Brock vs Goldberg is the Wrong Match. The match is taking place at Survivor Series which isn't even the biggest or second biggest show of the year. It's taking place in an arena that's probably already sold out. PPV's are irrelevant with the WWE Network in place. Therefore, I feel Goldberg would be better used as a special attraction, not as a main eventer.
A Better Use of Brock and Goldberg
Goldberg could team with a younger guy. His partner could do the bulk of the work and get the rub teaming with Goldberg in his return. Goldberg would just do his signature spots. Fans would be happy with seeing the entrance, spear, and jackhammer. Then, use Brock against someone that's going to be near the top of the card going forward. Much the same way, Cena has been used in his program with Styles.
While I have no doubt Brock vs. Goldberg will be a spectacle with smoke and mirrors. Certainly, it will be a difficult task to pull off. Goldberg is nearly 50 years-old. He hasn't wrestled in over 12 years. His actual in-ring time, taking into account injuries and time off, is only about four years total. So, using him as a special attraction is a better idea. Meanwhile, Brock can get his Wrestlemania program started. For me, it wouldn't be a singles match with Shane McMahon. That serves no purpose. The only way it works, is if Shane learned from his match with Undertaker and puts someone in his place. It would be a great spot for a Kevin Owens or a former rival in Shinsuke Nakamura. Mainly because it would benefit WWE going forward.