ROH TV Review 09.17.2016
Location: Las Vegas, Nevada inside Sam's Town Hotel & Gambling Hall
Steve Corino makes his grand return to the commentary booth! Kevin Kelly is all kinds of excited, and Steve's hype levels are at the boiling point!
Opening Tag Team Match
All Night Express (Rhett Titus & Kenny King) w/ Caprice Coleman vs. The Guerrillas of Destiny (Tama Tonga & Tonga Loa)
Winners: The Guerrillas of Destiny via Guerrilla Warfare
There are some good pieces and some not so good pieces here. Tonga Loa has been nothing but disappointing since going to New Japan, and has drug his brother down into a hole. Tama Tonga had to work so hard in the G1 to get people to care again, and I'm not a giant fan of RoH keeping the team going. Kenny King's talent astonishes me every time I see him in a ring, but Rhett does nothing for me. I'd pay good money to see Tama Tonga & Kenny King go one on one. This tag match, not so much.
We get the usual fair from both teams. Near the end, Rhett distracts the referee so Caprice can do a top rope move. Tama Tonga don't play that mess, and tosses him right into Kenny King, which sets up the finish. Once again, nothing stellar here, but nothing rotten either. ** and ½ *
A Couple of Promos
We get a recap video of the events that took place between Jay Lethal and Tetsuya Naito last week. Lethal then gets some promo time to talk about how much he's looking forward to taking out some revenge against Naito at All Star Extravaganza.
Shane Taylor then gets some promo time. He talks about his history with Ray Rowe, who trained him in Cleveland, Ohio in 2007. They ran together, they fought together, and then learned together. However, Ray Rowe decided to move to Texas, leaving Shane behind to deal with all the enemies Ray had created. Ray went on to find stardom with War Machine, and Ring of Honor, while Shane scrapped and clawed his way out of Ohio. But now, he's in Ring of Honor, and Ray Rowe will get whats coming to him.
Tag Team Match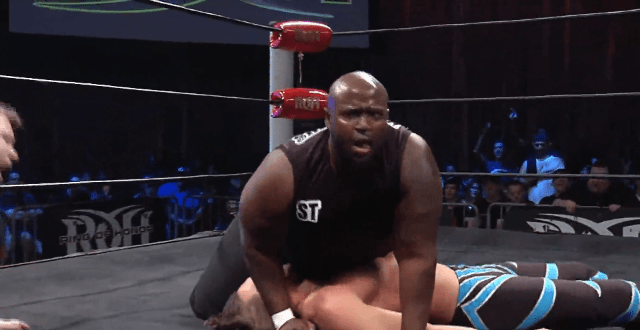 Shane Taylor & Keith Lee vs. Ken Phoenix & Ricardo Rojas
Winners: Shane Taylor & Keith Lee via Powerbomb/Second Rope Splash Combo
Boy, do we already know how this one will turn out eh? Two no names, and two giants. You guessed it folks, Squash City baybay! Taylor & Lee keep it fun the whole time though, because everything Ken & Ricardo can muster does zero to them. Perhaps Taylor and Lee felt merciful on this evening, as this one doesn't go much past the three minute mark.

Post-match, Shane Taylor gets on the microphone. He informs us that they beat War Machine back in Philly, but he wants to finish them tonight! War Machine comes out, and Rowe says that Taylor should have killed them. Rowe says that Taylor and Lee were the last people he expected to stab him in the back. Tonight, though, Rowe says he's only here for violence! War Machine charges the ring, and we go to commercial! SQUASH
Adam Cole gets some promo time to talk about next week's main event. Adam Cole & Hangman Page will take on Hiroshi Tanahashi & Michael Elgin in tag team action!
Tag Team Grudge Match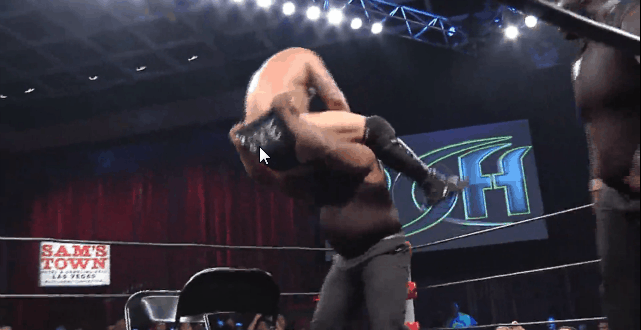 Shane Taylor & Keith Lee vs. War Machine (Ray Rowe & Hanson)
Winners: No Contest via Double Disqualification
Ring of Honor has done a superb job with this feud in my opinion. The matches are great, the promos and booking for it have been solid, and I just can't get enough of it. Once again, neither team disappoints here, but this match plays out more like an angle. Both teams hit their big stuff. Keith Lee looks like an absolute monster as he tosses both Hanson and Rowe around. His Death Valley/Powerslam move is a thing of beauty.
The match spills to the outside, and Shane Taylor decks Ray Rowe with a chair. Hanson tosses another chair at Shane Taylor's face! Keith Lee comes around, and takes care of Hanson with a pounce! Taylor & Lee roll Rowe back into the ring, setup two chairs, and powerbomb Rowe through both of them! Referees and medical staff climb into the ring, as Keith & Shane enjoy the aftermath of the carnage. ***
We get a hype video for the history of Ladder War.
Six Man Tag Team Main Event
The Addiction (Christopher Daniels, Frankie Kazarian) & Kamaitachi vs. Roppongi Vice (Rocky Romero & Barreta) & Kazuchika Okada
Winners: The Addiction & Kamitachi via Best… Meltzer… Ever!
Ring of Honor delivers one heck of a main event here. Matt Taven hops on commentary for this one with the "bombshell" announcement that The Kingdom will return at All Star Extravaganza. Even better, they'll be competing in the RoH World Six Man Tag Team Title Tournament! I'll say this, Matt Taven on commentary has made me more of a fan of his than any of his in-ring work ever did.
That aside, both teams really get to show off their moves. Kamaitachi opens the match by challenging Okada to get in the ring with him. What follows is simply awesome. Kamaitachi mocks him, and Okada visits swift vengeance upon his person. The Addiction work most of the heat on Barreta, before the match breaks down into the controlled chaos most six mans break down too. Romero does the Forever Clothesline spot for what literally feels like forever. Okada works to his usual smooth pace, and I can't speak highly enough of Daniels & Kazarian's ability to work a match so smartly. Daniels takes Romero out with the Angel's Wings, and that would lead to the inevitable demise of the CHAOS contingent. *** and ½ *
Overall Rating: 7 out of 10 There's a lot to like in this episode of Ring of Honor. If you're like me, and have been enjoying the Keith Lee & Shane Taylor/War Machine feud, this episode is for you. The six man tag team match really shines, and helped my excitement for the coming Six Man Tag Team Title tournament. The hour really flies by, and I enjoyed myself greatly.