WWE NXT Review 11.16.16
Location: Full Sail University, Orlando, FL
Here we are folks! It's the go home episode of NXT before this Saturday night's NXT TakeOver: Toronto Special!  Since W2Mnet.com will be making a preview and review for NXT TakeOver: Toronto, this week's review will leave out most of the in between hype, and only cover matches and story advancement.
Liv gets Revenge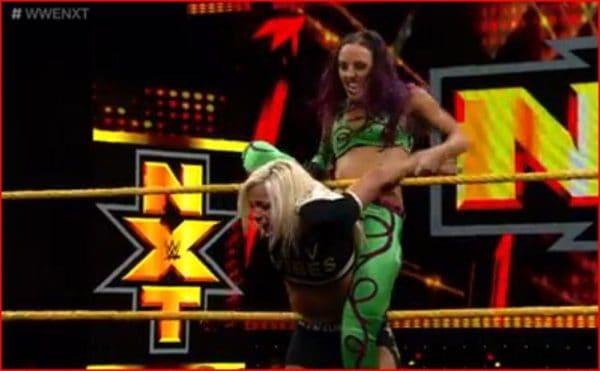 Match #1: Liv Morgan vs Peyton Royce (w/Billie Kay)
Winners: Liv Morgan (via DQ)
The women start off this week's action quick! Both women get right to it, trading  hits once the bell rings.  However, Peyton Royce takes control with some very damaging strikes and submissions.  After a missed rollup, Liv makes her comeback! However, Billie Kay runs interference and triggers the DQ finish.
After the Match:  Royce and Kay put the beat down on Liv Morgan and Aliyah rushes into attempt a save.  Unfortunately, Aliyah gets beaten up too. Finally, Ember Moon appears, and dispatches the two female heels with the help of a recovered Liv Morgan.
The pairing of Kay and Royce has not only brought themselves attention, it has given the division depth by forcing the other women to make alliances as well.  In this match both Royce and Morgan showcase some nice submission work even though it ends in DQ.   RATING: DECENT
The Drifter has returned
Match #2: Elias Sampson vs Nathan Cruz
Winner: Elias Sampson (pin fall after falling neckbreaker)
Before the Match: Elias Sampson stands on stage, playing his guitar and singing (which has gotten worse in his absence).  The crowd isn't having it and boos the heck out of him. Corey Graves says, "On February 3rd, 1959 they say that was the day that music died.  Well tonight, Elias Sampson dug it up and desecrated its corpse." 
Sampson makes his return after recovering from an ankle injury by taking on Nathan Cruz (unknown jobber).  In what is essentially a squash match, Sampson takes his time taking apart his opponent.  Although a brief moment arises where Cruz looks to make a comeback, Sampson quickly counters, hits the neckbreaker, and gets the pinfall.
Elias Sampson has a unique look, but his character is horrible and that translates to his in ring ability.  He introduces a new move that is the basically the same as Roman Reign's Drive-By, but with a knee attack instead of a dropkick. RATING: POOR
The women unite
As a result of the events during the opening match, Liv Morgan, Aliyah, and Ember Moon are interviewed backstage.  They are asked about why they decided to team up against Peyton Royce and Billie Kay.  Aliyah and Ember Moon keep it short and simple while Liv Morgan struggles to deliver a cornball promo about Batman and Popeye before saying that the two heels should find a third to take them on in the ring.
New Attitude for Almas
Match #3: Andrade "Cien" Almas vs Cedric Alexander
Winner: Andrade "Cien" Almas (pin fall after DDT)
Much like the feud between Tye Dillinger and Bobby Roode, the former "one time tag partners" challenge each other after Andrade turned heel a few weeks ago by attacking Cedric Alexander.  Almas begins the match by toying with his opponent, but Alexander soon takes control by delivering some hard chops.  Almas escapes the ring, but gets caught by a wrecking ball dropkick from Alexander.  From here, both men take turns taking control.
After a commercial break, Almas erupts with aggression, and tosses Alexander around the ring like a rag doll.  Cedric Alexander counters with a sunset flip pin attempt, but when Almas kicks out, he returns to his calculated assault by targeting the arm of his opponent.   The crowd begins to really get into the match at this point.  Cedric starts fighting back, but Alamas catches him in a triangle choke in the ropes!
A drop toe hold from Alexander allows him to counter. He sets up in the corner, and hits a few elbows. Then, he hits a back handspring enziguri that sends Almas out of the ring.  At this point, Cedric makes a one armed comeback but is caught off guard again with a roll up followed up with a Powerbomb from Almas.
Just as the match is about to end,  Cedric is able to hit the Lumbar Check, but Andrade rolls to the ropes.  He then uses the ropes to disorient Cedric, and follows up with a hammerlock DDT to end the match.
Arguably, these two are best high flyers in NXT right now and they make this match special by showcasing a wide variety of maneuvers and great story-telling.  RATING: EXCELLENT
Next stop…TakeOver: Toronto!
Overall Thoughts: 8 out of 10  Going into this week, it was already established that it would be more or less a recap of the events leading up to this Saturday at NXT TakeOver: Toronto.  The video packages that NXT put together to build each network special match were excellent, and really do justice to hype every single match on the card.
If you'd like to read more into the build and expectations of NXT TakeOver, please check out the upcoming preview article on W2Mnet.com.
Until next time, Mr. Howkstanding OUT!